Sympathy pour in for KL Rahul on Twitter over 'Koffee With Karan' controversy
Few believe that Rahul said nothing wrong besides sitting next to Pandya.
Updated - Jan 14, 2019 7:01 pm
2.7K Views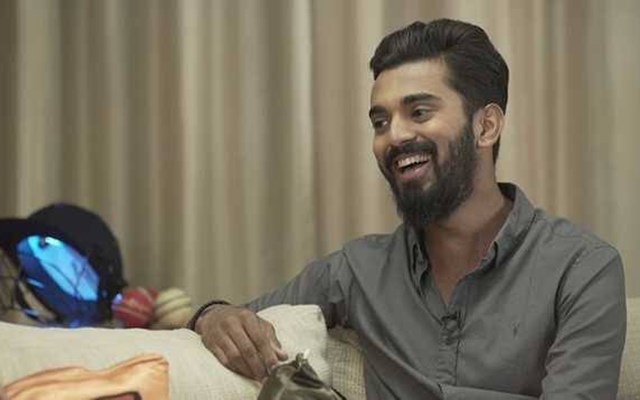 A wrong company can ruin you in no time, is an old saying. And nobody learned it better than Indian cricketer KL Rahul recently. The 26-year-old was on a television show with his India teammate Hardik Pandya anchored by filmmaker Karan Johar where the motormouth all-rounder left nothing to the imagination while getting "carried away by the nature of the show".
The words chosen by Pandya led to an outrage with serious consequences and Rahul, despite not trying to match his partner's verbal pyro-techniques, found himself to be a collateral damage. Both the players have been suspended by the BCCI pending inquiry.
Rahul was clearly not comfortable with Pandya's remarks on the show that were seen as crass and sexist and was much restrained. Though his approach towards women also came under the scanner but he was virtually a non-performer on the show when compared to the all-rounder. Penalising him was seen by the fans as something too severe and they felt the man could have been let off with a warning.
Rahul already struggling with his batting form
For KL Rahul, this episode will be more disturbing since he is already going through a lean phase with the bat. He failed to score even 60 runs in the three Tests that he played against Australia recently and would consider himself to be lucky to get chances despite out of form because of injury to Prithvi Shaw and the personal reason for which Rohit Sharma skipped the fourth Test in Sydney. But he failed to grab those chances.
Rahul, who averages 35-odd in the ODIs, was still retained in the squad for the 50-over series before disaster struck at that 'Koffee With Karan' show. The fact that two players were already roped in as the replacements for the tainted duo could put Paandya and Rahul's prospects of playing in the World Cup under a big question mark.
Here are some reactions that the Twitterati came up with sympathising with Rahul who though was roasted a few days earlier for celebrating India's historic victory in the Test series despite not making much of a personal contribution.
Making semi nude women dance with all dirty poses in public during IPL is fine but suspending KL Rahul who didn't utter a word against women is fair? @BCCI #KLRahul

— Sunderdeep Singh (@SSunderdeep) January 11, 2019
I too felt sad for #KLRahul, But there is only a thin line between being BOLD and being an A**HOLE. I think anyone can recognize, which side @hardikpandya7 falls!

— Pankaj Kumar (@pankajsaurabh_) January 12, 2019
In the Pandya-Rahul case, what Pandya said was crass but by no means heinous that it's being made out to be. And what did Rahul say? And the punishment seems more like a Personal Vendetta now. Someone must intervene to save two young careers#DianaEdulji #HardikPandya #KLRahul

— Anish Sah (@sah_anish) January 13, 2019
KL Rahul ne itna Kya bola jiski sja usko mil rhi hai… KL Rahul ko 2 match ka suspension thik tha.. ab kuch jyada nainsafi ho rhi hai KL Rahul ke sath

— Rahul Patil (@RahulPa90744336) January 14, 2019
#Koffeewithcricketers
Why every1 is behaving like one saas bahu from daily soaps. Howmuch exaggeration can happen on one thing.
They came n said something, big deal??
They aren't the only person doing this.
Pity on #KLRahul !!
#KoffeeWithKaran

— Juhi_Gupta (@Juhigjuhi) January 14, 2019
today, i watch the full episode , some comments are inappropriate and disrespectful but sir my point is why bcci takes such a harsh stand. if they apologies for what they do than bcci should forgive them and kl had not said anything that offensive . @BCCI @klrahul11

— Gaurav Gupta (@Gg77Gupta) January 14, 2019
I thought KL Rahul was decent and in proper control during the show hence he doesn't deserve any harsh punishment. Punish them but both don't deserve the same punishment. #HardikPandya deserves a severe punishment than #KLRahul

— vman (@Varunatorr) January 10, 2019
What is the fault of @klrahul11 ? @BCCI #KLRahul #HardikPandya
I thought we have freedom of speech in India! 🙄 @hardikpandya7 .
Half of the people would have not watched the show, who are commenting against them😹

— Sagar Rajgor (@iamsagarrajgor) January 13, 2019
#KLRahul #BCCI #hardik
Plzz dont take any action against kl as kl has not used any word against women ….Kl is the gift for India#savekl@pandyarahul@imVkohli

— Ritesh Nyk (@RiteshNyk2) January 13, 2019
[interaction id="5c3c85f629da6f7570707783″]