Tale of two captains - The rise and fall of 'next Virat Kohli' Unmukt Chand
Chand, even before his heroics in the U19 World Cup, had made his debut in the Ranji Trophy and had scored 151 runs on a seaming track against a seasoned Railways attack.
Get every cricket updates! Follow us on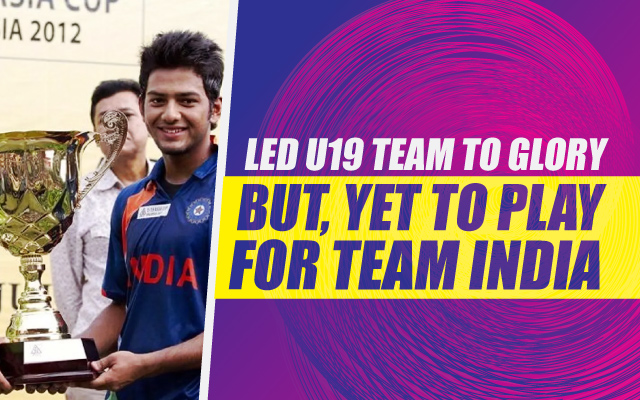 'Superstar in youth cricket– U19 World Cup-winning captain– Welcomed home like a hero– Sweetheart for endorsements and paparazzi00 India debut.'
This two-line introduction reminds us of a certain Virat Kohli, who is in today's time considered one of the modern greats. But this story also describes another player. A player, not too many people remember today– Unmukt Chand. His story missed just one line, rather two words. Unfortunately, they were the last two, 'India debut'.
Unmukt Chand and Virat Kohli can be said to have been cut from the same cloth. 'Top-order, aggressive, Delhi batsmen. Stellar record up till the Under-19 level. Taking over the captaincy and bringing home the World Cup'. But somehow, despite so many similarities, Kohli went on to attain glorious heights, break many records and then go on to become India's most successful Test Captain.
On the other hand, Chand became more irrelevant with every passing year and in 2017, the year Kohli was appointed as Captain in all formats, Chand was dropped from his state team, Delhi and failed to secure an IPL contract a week later and has been without one in the last four years. Unmukt was looked upon as the next big thing just like Virat Kohli. He had scored a match-winning 111 in the finals of the 2012 U19 World Cup final. The youngster was the toast of the nation.
So what went wrong with Unmukt? How did he go from being touted as a future Indian captain to falling into an abyss and never recovering from it? Why did his journey turn out to be so different from Virat Kohli's and can he still make it into the India team?
Unmukt Chand, even before his heroics in the U19 World Cup, had made his debut in the Ranji Trophy and had scored 151 runs on a seaming track against a seasoned Railways attack in Ranji Trophy 2010-11. He had announced himself to the World
In 2012, Unmukt had a string of performances that gave him a tag of a 'big-match player'
A match-winning 94 and a century in the semi-finals and finals of a Quadrangular series against Australia and England respectively. Hundreds again in the semi-finals and finals of the U19 Asia Cup against Sri Lanka and Pakistan followed up by the 100 in the U19 World Cup set him up for greater things to come. He came back and scored another 100 in a knockout match, the finals of the Vijay Hazare trophy. An India debut looked around the corner.
His downfall started from the IPL 2013 which was anticipated to be his final hurdle. There were massive expectations riding on him and in the very first match of the season, first ball, Brett Lee knocked his stumps out of the ground. He could never recover from that and scored another duck in the third game after which he was dropped. The entire season his strike rate barely crossed 100 and he looked to be struggling every time he came to bat.
Unmukt's miserable IPL performance did him no good
His miserable IPL performance did him no good and in the forthcoming domestic season, he couldn't produce any noteworthy performance. And after that, Chand was never the same. He hardly got picked by IPL teams, and while he was in the reckoning for a national spot a lot of times, he just did not have good enough performances to back him up.
After analysing, there are perhaps 3-4 conclusions we can arrive to, as to why this downward fall occurred for Unmukt, and compare to Kohli to see why his story turned out different.
First, is perhaps the most obvious. Chand was just not good enough. In 21 IPL games across 7 seasons, he has just scored 300 runs at a shambolic average of just 15 and a poor strike rate of 100. His performances are no better in domestic leagues.
In first-class cricket, he has scored just 3379 runs in 67 matches at an average of 31.6 which does not reflect highly of any player looking to enter the Indian team. His record perhaps suggests he was someone who was ahead of the grade in youth cricket but couldn't match up the standards of higher-level cricket.
He was perhaps bogged down by the burden of expectations. After Kohli, he was looked upon as the next In line to make it big. He had everything going for him. But sometimes that's what backfires. "I think that was the biggest problem, everyone constantly saying 'ab India khelega, ab India khelega (Now he'll play for India)," Chand said in an interview to Hindustan Times.
A couple of failures here and there and everyone was vying for his blood, and he could perhaps not handle the extreme set of emotions being thrown at him. After 3  failures in IPL games in 2013, he was dropped. After he was picked the next time around, Aakash Chopra made a statement on air stating he had seen him in more advertisements that matches that year.
Which takes us to everyone's favourite point-Unmukt let early fame get to his head. After the U19 World Cup when he returned to India, there was a book contract with Penguin and a Pepsi advertisement with Kohli and MS Dhoni. He wasn't yet out of his teens and everyone wanted a piece of him.
Or is Unmukt just straight out unlucky?
Or was he just straight out unlucky? Till date, he remains the only Indian U19 captain to not have played for India, missing out on selection time and time again.
If we compare his journey to Kohli, a couple of things really make a difference. Firstly, as it is popular knowledge, Dilip Vengasarkar saw Virat scoring 120* in Australia soon after the U19 World Cup which fast-tracked him into the Indian squad. Unmukt never had any of that luck. Kohli was also given a fair run in the first couple of seasons of the IPL while Unmukt was regularly dropped after a couple of failures.
On the other hand, Unmukt hasn't had that one breakthrough innings at the right time that would make selectors take notice. And if we talk about Kohli, he was someone who didn't have the perfect technique at the start of the career, but he was mentally so strong, he drove away all inhibitions, someone who transformed himself physically and mentally to become the best.
Not a lot of people have the kind of drive Kohli possessed to become better. Hence while we can say Kohli has been slightly luckier than Chand, he was someone who made his own luck by giving in performances every step of the way which justified his rise to the top, something Chand could never do in the last 7 years.
Unmukt Chand is still 27. Mike Hussey made his debut at 28. Even his contemporary Mayank Agarwal made his debut a couple of years back at 27. Hence, all is not lost. However, he would have to have a breakout season like Mayank did in 2017 and knock the selector's door down.
Prove to the world and himself that he can still make it. Currently, he is playing for Uttarakhand in the Ranji trophy and we can just hope, that one of India's potential superstar is able to have a career which we envisioned for him on that fateful day of 26th August 2012, when he led India to glory.
~ Written by Ishaan Ahluwalia