The English team got scared because they knew I would win the game for India: Prankster Jarvo [Interview]
Jarvo named Mohammed Siraj and Ravichandran Ashwin as his favourite Indian cricketers.
Updated - Sep 3, 2021 7:02 pm
21.6K Views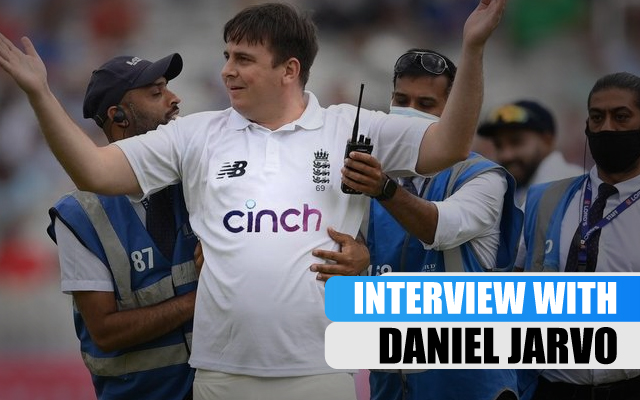 Follow us on Telegram
Test cricket has indeed been at its best in the ongoing series between India and England in UK. While Virat Kohli's men were dominant in the first two games, the Three Lions made a sensational comeback in the third encounter and walked away with an innings victory. As a result, the five-match series is perfectly poised at 1-1 after the first three clashes. While several players from both sides have been impressive, a fan has also made a significant mark.
This name is Daniel Jarvis, famously known as Jarvo. He invaded the field not once but twice in the first three games. While Jarvo is not the first spectator to intrude the field, his antics and ideologies set him apart from others. Although the fan is an Englishman, he supports Team India. This is certainly needless to mention as Jarvo, on both occasions, went into the ground donning Team India's Test jersey.
He first made the headlines by taking the field in the second Test at the iconic Lord's Cricket Stadium. Jarvo simply walked onto the field along with the Indian players and even stated that he also should be allowed onto the field as he's wearing the same jersey. However, he was later escorted out by the security staff at the ground.
Jarvo's second invasion was even more hilarious. It was the third Test at the Headingley Stadium and India lost Rohit Sharma for 59 in their second innings. While everyone was waiting for Virat Kohli's arrival, Jarvo emerged as India's number-four batter. Notably, he put on a full-fledged cricketing gear, including a pad, helmet, and gloves, even wore a mask. However, the security staff took him out again.
Later, English county Yorkshire banned him from entering the Headingley Stadium for life. However, Jarvo's two cameos were enough to make him a talk of the town among cricket fans. Notably, Jarvo, by profession, is a comedian, filmmaker, and prankster. In fact, he has over 100 thousand subscribers on his YouTube channel named 'bmwjarvo.'
In an exclusive interview with CricTracker, Jarvo opened about many things and made some interesting revelations as well. From his plans to enter the field to his conversation with Indian players, let's look at how Jarvo responded to our queries.
Here are the excerpts from Jarvo's interview:
Were your run-ins in India jersey were just publicity stunts or you are really a supporter of Team India?
It's a very long story. I was there with my friends at Lord's and we were drinking. We could see the Indian players practicing and I thought I'll have a chat with them between the balls and they talked like normal and I was like wow what fellas. They are not like the English team who'll ignore you. The Indian players will chat back to you and we really like that. Then, I came with the idea of coming back as an Indian player. So, the next time, I got the kit and everything.
Who is your favourite Indian cricketer?
I liked Mohammed Siraj because he was laughing his head off at Lord's lol. But, also Ravichandran Ashwin for retweeting me.
If England and India play in a World Cup final, whom would you support?
If it's England vs India, I will not lie about this. I'll probably support India because they have been great to me. The England team was moody when I was in the Lord's Stadium. And, I am an Indian now. So, the team means a lot to me.
Did you have any conversations with Indian players when you entered the field?
When I came onto the field, there was laughs; players didn't know what to do. However, an Indian bowler, whose name I can't recall, asked me "which end do I want to bowl from?" So, I like that chat.
If you have to replace one player from the Indian XI that played in the Lord's Test, who he'll be?
There's no individual I can name out to replace in the Indian team. We come as a team, we leave as a team, and we win as a team. I am just there for whenever they need me. I have got India's back.
Have you ever visited India?
No, I have never visited India but that's definitely on my list now. My dream for this decade is to go to every country in this world. I want to go to India soon and I'll do those prank videos.
In the Leeds Test, you intrude the field when India lost their second wicket. Was it unintentional or you wanted to come out to bat at Virat Kohli's number four position? 
I didn't intrude the field, I was meant to be there. It was unintentional. When I got there, the English team got scared because they knew I would win the game for India. So, they made me go out.
Ravichandran Ashwin recently made a tweet on you. Did you try to contact him after that? 
No, not yet. I did retweet his tweet. I'll message him. See what he says.
Did you face backlash for not supporting your own countrymen and donning Team India jersey?
Not really, I find it funny and all that. They enjoyed the show as well. The only people whom I really get annoyed are from security. Apart from them, everyone else loved it. When I was coming back, they were cheering me, asking me for pictures. So, they were fine about it.
Follow us on Google News