'There are different ways of being aggressive than these abusive fights' – Nick Compton has advice for 'foul-mouthed' Virat Kohli
Nick Compton feels Virat Kohli's verbal volleys are way over the top.
Updated - Aug 23, 2021 9:37 pm
1.3K Views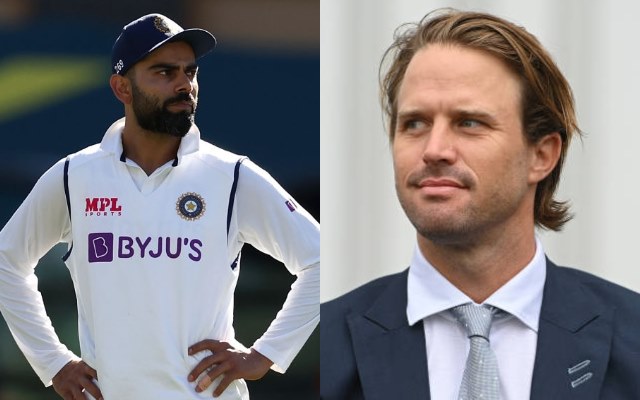 Follow us on Google News
Former England batsman Nick Compton has opined about the Indian skipper Virat Kohli and his on-field behavior. In the recent Test match between England and India at the Lord's Cricket Ground, Kohli was seen having a go at a few English players. The on-field chatter started with James Anderson allegedly abusing Jasprit Bumrah. 
Captain Kohli took upon himself to engage in verbal volleys with the experienced English pacer on day four of the Test. On the final day, England was battling to save the match, Kohli was seen in the mood of having a few words. Most of it though seemed like Kohli giving it 'back' to the English players, especially Ollie Robinson and Jos Buttler. 
In a recent interaction, Nick, who is the grandson of the famous English cricketer Dennis Compton, said that he isn't a huge fan of the way Kohli goes about his business on the field. He took the example of other international captains like Kane Williamson and Joe Root who are much calmer in their approach. 
Kohli is quite foul-mouthed: Nick Compton 
"Don't think it is anything personal. I think if you see the likes of Williamson, Root, they just go about their cricket in a different way. I am not saying whether it is right or wrong," Compton was quoted as saying by Hindustan Times. "The way Kohli goes about it, there is definitely a place for it in the game. I am just talking about his verbals out there. He is quite foul-mouthed. It is not for everyone. I am a fan of quietly going about it, being strong in different ways," Compton added. 
The former England and Somerset batter further said that there are several other ways to be aggressive and Kohli can take up those things. He managed to rub off the fact that the Indian skipper hasn't scored a century in a long while. 
"There are different ways to be aggressive. Kohli can probably do it in a more intelligent way, without having these abusive fights. Sometimes the best way is to say nothing and go out there and get a hundred," Compton added. Kohli's century drought has now gone to 22 months and fans would be hoping that it comes to an end this series. 
Follow us on Telegram