Top Stories: Things that made news in the cricket world today
All the news stories that hogged the headlines today.
Updated - May 4, 2020 8:05 pm
167 Views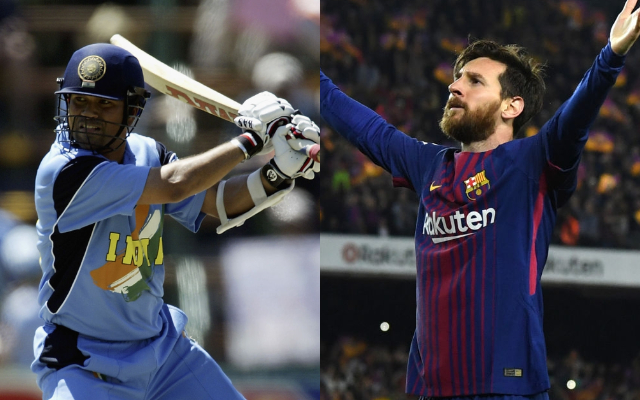 Rahul Dravid was more difficult to bowl than Sachin Tendulkar: Shoaib Akhtar
Pakistan fast bowler Shoaib Akhtar's face-off with Sachin Tendulkar and Rahul Dravid created a lot of buzz around the cricket world.
Even as Akhtar was a tough prospect to deal with, Sachin and Dravid used to put prize tag on their wickets.
In his heydays, Shoaib could ruffle the feathers of the best and in their prime, Dravid and Sachin made bowlers work tirelessly for dismissing them.
Virat Kohli turned towards stands and shouted come on: Andre Russell reveals how he got triggered to play his 13-ball 48 knock in IPL 2019
Since its inception, the Indian Premier League has dished out many enthralling encounters.
Be it explosive batting show or lethal bowling display– the tournament has provided fans with many nail-biting encounters.
Andre Russell, who was in sensational form in the previous season, revealed how he toppled Virat Kohli-led RCB to steer Kolkata Knight Riders to the victory.
Tamim Iqbal likely to bid on Mushfiqur Rahim's bat for COVID fight
Tamim Iqbal, the veteran Bangladesh batsman, has put forth his desires of buying Mushfiqur Rahim's bat from the auction in the COVID-19.
Earlier, the 32-year-old Rahim said that he would be giving away the bat, which helped him become the first from the country to get a Test double century.
He accomplished the milestone against Sri Lanka back in March 2013.
Mumbai Indians or Chennai Super Kings? Ambati Rayudu names his favourite IPL franchise
Recently, Chennai Super Kings were also involved in a live Instagram session with Ambati Rayudu where the right-handed batsman flaunted his lighter side.
He answered a varied range of questions during his live session with the franchise.
Rayudu also picked his favourite time in the IPL.
I am putting a bet that Suresh Raina would make a comeback for India: Ambati Rayudu
Ambati Rayudu and Suresh Raina have come a long way since the 2004 U19 World Cup.
Rayudu was the captain of the side and Raina was an important part of the team.
After the World Cup, the two players had very different paths on which they took on.
Rohit Sharma has learnt the art of captaincy from MS Dhoni: Ambati Rayudu
Ambati Rayudu, the discarded Indian batsman, reckons that Rohit Sharma has learnt captaincy from MS Dhoni.
The 34-year-old is currently a part of the Chennai Super Kings (CSK), led by Dhoni, in the Indian Premier League (IPL).
The veteran has been with the franchise for the last couple of years and though he didn't perform to expectations last season, he was retained.
'Your legacy is very important' – Suresh Raina draws out similarities between Lionel Messi and Sachin Tendulkar
Sachin Tendulkar and Lionel Messi are regarded as legends of their respective sports.
The whole world has been in awe of both the starts for their on-field as well as off-field moments.
Indian international Suresh Raina, who was a part of World Cup-winning squad in 2011, has revealed that he is a huge fan of Barcelona talisman Lionel Messi.
Simon Katich's axing had nothing to do with me: Michael Clarke
Clarke, the 2015 World Cup-winning Australian captain, said he didn't have anything to do with Simon Katich getting dropped from the national team.
Way back in the year 2009, Clarke and Katich had an ugly dressing room scuffle over when the team song should be played.
Following an ankle injury during the 2010-11 edition of the Ashes, the southpaw failed to make a comeback.
If I have to give my life for someone, it would be Anil Kumble: Gautam Gambhir
Anil Kumble, the former Indian leg-spinner, had the privilege of leading the national team as well.
Though he captained in only 14 Tests and a solitary ODI, he has been regarded highly by his former teammates.
And now former batter Gautam Gambhir has heaped praises on Jumbo, as Kumble is popularly known.
'It's unfortunate that you haven't been called up yet' – Tamim Iqbal vouches for Mahmudullah playing in the IPL
Tamim Iqbal, Bangladesh's all-time leading run-scorer, sounded surprised after Mahmudullah hasn't been able to make the cut for the Indian Premier League (IPL).
The southpaw reckons that the Mymensingh-born has done exceptionally in the format over the last few years and deserved a call-up by now.
In the last few seasons, Riyad has gone unsold after even setting himself low base prices.