Twitter calls for Sam Curran's inclusion in RCB camp for IPL 2019
Sam Curran has set a base price of INR 2 crore.
Updated - Dec 12, 2018 10:11 pm
1.4K Views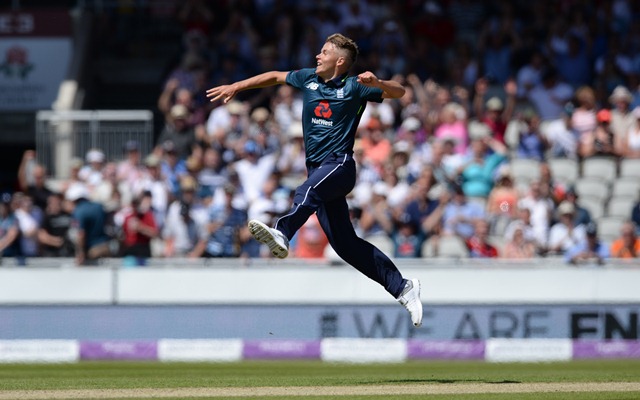 Follow us on Telegram
The build-up to the 2019 edition of the IPL has already begun. With the announcement of the list of players for the auctions this year being made, the eyes are now set for the marquee auction on December 18. As many as 9 players have set their base price at INR 2 crore, the highest base price bracket. Among them is a name that is merely 20 years old. And that name is of Sam Curran.
The young English all-rounder has been a brilliant find for the English national side. In a very short span of time, Sam Curran has made a big name for himself. He did a world of good to his reputation during the India tour of England earlier this year. Not only did he impress with the ball in hand, he also proved to be handy with the bat, taking games away from India almost singlehandedly on a couple of occasions.
His brilliance with the bat and the ball had the Indian skipper Virat Kohli shower praises on the young lad as well.
"They have guys who are fearless down the order, they back their skills, they were braver in tough situations than us, they were more confident about what they wanted to do in tough situations, and that's why they won this Test match," Kohli had said after the Test series in England.
"Those contributions lower down the order have been significant as far as this Test goes and the one Birmingham as well. I would like to congratulate Sam Curran. He has been a nice find for England," he had added further.
Needless to concede, the Twitterverse is already thinking that the Royal Challengers Bangalore camp could go hard at the auctions to buy Sam Curran. Virat Kohli would certainly be interested in having him on the roster. Interestingly, the English cricketers have always been a fancied property at the IPL auctions – be it Andrew Flintoff and Kevin Pietersen in the early editions of the tournament, or be it Ben Stokes in the recent times.
Here is how the fans showed interest in watching Sam Curran play for RCB:
Aiden Markram and Sam Curran will be a good buy for #RCB #IPL2019#PlayBold https://t.co/HQBkHUuBH9

— Samagra Adhikari🇳🇵 (@samagra_1) October 21, 2018
Sam curran toh RCB me hi jayega 😃😂😅

— . (@TukTukCricket) October 20, 2018
Ye dekh Kohli , aise players lene hote h IPL mei.. Dont miss out on him RCB..
Na ki Corey Anderson, Sam Curran aur Markram jese #INDvWI

— NotTooHarsh🤫 (@harshitsakhuja) October 24, 2018
Then Sam Curran is coming to RCB

— Shanujan (@J_Shanujan) November 2, 2018
RCB are going to buy Sam Curran
& Aiden. And at that time,all these happiness of releasing Woakes,
Baz,Corey will fade away.

— arfan. (@Im__Arfan) November 15, 2018
@IndianMourinho RCB have released Woakes. The space for a 7C bid for Sam Curran has been made! https://t.co/No4SoOpQhK

— Aaditya Narayan (@Aaditya_LFC) November 15, 2018
RCB to pick Sam Curran..

— Harisankar (@harish_staycalm) December 5, 2018
Sam Curran & Sikandar Raza to RCB

— $iđđhesh 🇮🇳 (@IamSiddhesh89) December 11, 2018
An early prediction
In the next IPL Sam Curran will be one of the most prime picks and will surely be purchased by RCB … !!!!!

— ArunesH_SinhA (@AruneshhSinhaa) September 20, 2018
with the way kohli talks about sam curran it wouldn't surprise me if a contract with rcb is coming his way

— faith (@faithabigaiI) September 11, 2018
Kohli is super-impressed with Sam Curran. Won't be surprised if he if he gets picked by RCB.

— Vadapalli Adithya🏏 (@TheSwitch_Hit) September 11, 2018
Sam Curran is coming to RCB next auction to break Chris Woakes' price record.

— Soham Sarkhel (@RightArmRubbish) September 11, 2018
Follow us on Google News