Twitter can't keep calm as Cauvery protesters hurl shoe at Jadeja and Faf du Plessis
Twitter says sorry to Faf.
Updated - Apr 11, 2018 9:47 am
5.8K Views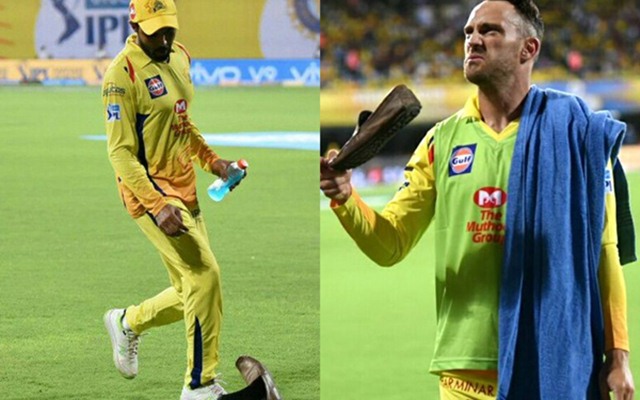 The ongoing Indian Premier League season has been hit with a fresh blow. Three workers of Naam Tamilar Katchi (NTK) were detained for hurling shoes at Ravindra Jadeja and Faf du Plessis in the Chepauk stadium, Chennai during the last night's game between Chennai Super Kings and Kolkata Knight Riders.
The incident took place when KKR was batting and a few Cauvery protesters hurled a shoe from the upper tier of the stands opposite to the main pavilion. The shoe was hurled at Ravindra Jadeja who was standing at the long-on.
Faf du Plessis, who was standing near the boundary rope was very quick to enter the field and remove the footwear. Some reports even suggested that a couple of shoes fell on the stands below. Earlier yesterday, the IPL chairman, Rajeev Shukla met the Union Home Secretary Rajeev Gauba and demanded good security arrangements for all the matches at the Chepauk Stadium, Chennai.
What happened in the game?
Coming to the game, it was Sam Billings' night who made his debut for the CSK side and made it a game to remember for Chennai fans by scoring a quickfire half-century in the game. On the memorable night, Watson all-round brilliance stole the shoe. Eventhough, KKR posted a massive total of 202/6 in 20 overs with the help of Andre Russell's explosive knock, CSK came up with brilliant all-round efforts right from Shane Watson to Sam Billings.
With the last night's victory, Chennai Super Kings sit right on top of the points table with two  victories in two games. CSK will next play against Kings XI Punjab on Sunday in Mohali. Whereas KKR will take on Sunrisers Hyderabad on Saturday at the Eden Gardens, Kolkata
Here's how Twitter reacted to the shoe-controversy during the last night's game
?Apologies for the worst behaviour by one of our bro/sis. #csk vs #KkR #Faf
Faf Du Plessis
Faf Du Plessis
Faf du plessis

— praveen (@udaipraveen) April 10, 2018
Faf Du Plessis Sorry 🙁

— Siva Kumar K (@sivakumarck) April 10, 2018
Faf du Plessis at Chepauk today. @ChennaiIPL #CSKvKKR pic.twitter.com/QzX5rp6YAy

— America Maaplai (@america_maaplai) April 10, 2018
Someone threw a shoe at Faf du Plessis.
Absolutely deplorable behaviour.
Except…
The dude who threw the shoe has a better arm than Vinay Kumar.#CSKvKKR

— Sorabh Pant (@hankypanty) April 10, 2018
Somebody threw a shoe at Faf du Plessis at #Chepauk . Wowww. Throwing a shoe at African player Du Plessis puts everything into place and solves every problem of TamilNadu.
Good going Madras is ??? #IPL2018 #CSKvKKR #ChepaukStadium

— विक्रमादित्य सिंह (@nawab_lucknow) April 10, 2018
Shouting "We want cauvery" while throwing shoe at Faf du Plessis. As if the river flows through Pretoria in South Africa #IPL2018 #CSKvKKR

— Abhishek ?? #408 #KKR ? (@ImAbhishek7_) April 10, 2018
#ChepaukStadium ok throwing shoe and Faf Du Plessis removing them is going to solve cauvery issue.

— krithika sivaswamy (@krithikasivasw) April 10, 2018
Just saw a bunch of protestors run up to F Upper & throw shoes at Jaddu. Police threw them out asap. Faf picked up the shoes, brought it out off field and smiled at the protestors.

Crowd quickly started chanting "CSK CSK".

From shame to harmony again, it is all happening here.

— SA (@Aravind_SA) April 10, 2018
@faf1307 Sorry faf du plessis some people thrwng shoe….
Those people not a Tamilnadu youngsters…..That people are Indian politicians…..We are support CSK team this not a team that's my emotions❤️??

— Gokul Raj (@GokulDhoni) April 10, 2018
This is really bad act !! But chennai people won't do such things to the one who loves Chennai!!Sorry Faf du plessis, Behalf of cheap Guys @faf1307

— Nithya Purushothaman (@Im_nithya07) April 10, 2018
IPL main khel k kia mila?

Faf Du Plessis: pic.twitter.com/BKP94BPtIM

— Ehsan?? (7 May Aisha's BD ? ?) (@Dead_Organism) April 10, 2018