Twitter goes ablaze as Virat Kohli leapfrogs Steve Smith as No.1 ranked Test batsman
Smith didn't have a great series against Pakistan.
Updated - Dec 4, 2019 3:38 pm
5.2K Views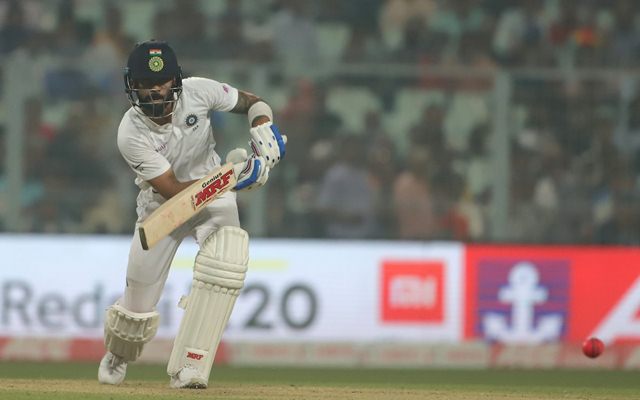 Indian captain Virat Kohli is back to where he belongs. After having lost his No.1 ranking for a Test batsman to former Australian captain Steve Smith in the past few months, regained his numero uno spot after the latest International Cricket Council (ICC) rankings were announced on Wednesday. Steve Smith had overtaken the Indian superstar after having shellacked the English bowlers to the tune of 774 runs in four Tests at an average of 110.
The Indian captain had racked up a valiant 136 in the pink-ball Test against Bangladesh at the iconic Eden Gardens to reach 928 points to narrow down the gap with the Australian. However, Smith endured a rare off series against Pakistan where he managed 4 and 36 across the two innings of the recently concluded Test series at home.
With an average of 20.0- Smith's lowest in his Test career- it resulted in the champion batsman slip from 931 to 923 points. Kohli is now five points clear of Smith in the Test rankings for batsmen.
Smith will look to reclaim his spot against New Zealand
Talking about their ongoing rivalry, Virat Kohli and Steve Smith are daylights ahead of contemporaries in the current era as far as Test cricket is concerned. The former had taken over the former Australian captain when the latter was serving his ban courtesy the horrific ball-tampering scandal in Cape Town in March 2018 by racking up tons in England, Australia and against the West Indies at home.
However, Smith showed his class and pedigree as soon as he returned to Test cricket after serving his ban. In his very first series post the ban, the right-hander proceeded to stonewall the English attack, grinding them into the dust with absolute disdain and along with Marnus Labuschagne, was the lynchpin of Australia's batting unit.
With Kohli not scheduled to play a Test until February 2020, Smith has a great chance to once again reclaim his spot when Australia takes on New Zealand in a three-Test series, starting December 12 in Perth. Meanwhile, Twitterati was excited to see Virat Kohli leapfrog his Australian competitor in the rankings.
Here's how Twitter reacted:
PAK helping Kohli to get back to number one 🙂 Found a way through Smith – get him to the crease with the score reading 2 for 300.

— Bharath Ramaraj (@Fancricket12) December 4, 2019
What a way to help Virat Kohli

Pakistan didn't let Smith bat. Now Virat Kohli makes his way into top

Virat Kohli is the latest No.1 Test batsman

— Ayan khan (@Ayan66_Official) December 4, 2019
As expected Virat Kohli becomes the No 1 ICC Test Batsman overtaking Steve Smith in the latest rankings . This tussle will go on for some years before the definitive shift .

— Anish Ancil (@anishancil) December 4, 2019
King kohli Back to his position in tests 😎😎
Kohli – 928
Smith – 923

— Arjuun (@ArjuunAbhijith) December 4, 2019
Then : Virat Kohli became No.1 because Steve Smith was not playing

Now : Virat Kohli becomes No.1 because Virat Kohli is not playing 😜

— MAHEETH (@pvksmaheeth) December 4, 2019
Virat Kohli is back as the No.1 Test batsman in the ICC rankings #KingKohli. He is also number 1 in ODI. No. 15 in T20 is a bit unusual position for his fans? @ViratKohliFC @Virat_Official @ViratFanTeam @ViratGang pic.twitter.com/bXa9gYspRp

— Vimal Kumar/विमल कुमार (@Vimalwa) December 4, 2019
Kohli takes back in 3 months. Let's see how much time Smith takes to go back to number 1. 😂 https://t.co/UqaUDAZ118

— Lost (@Lost_Poet_) December 4, 2019
Latest ICC Test Rankings:

King Kohli – 928 Points🔥
Steve Smith – 923 Points

Once a King,Always a King😎💥#ViratKohli #KingKohli @imVkohli pic.twitter.com/ozd8pXGVzH

— V I J U V I J A Y A N (@vijuvijayan6) December 4, 2019
Virat kohli regain the number 1 rank in Test.
He is number 1 in Tests and ODI.
Yet some moron called daniel says that Smith is best all format batsman.
😂😂😂#ViratKohli pic.twitter.com/4c832eygBb

— Akki (@Akki8115) December 4, 2019
Virat Kohli back to no1 rank in Tests

Anties : But but but Steve smith banned rawwww 😂🤣

KING @imVkohli 😎#ViratKohli #KingKohli pic.twitter.com/E2SBiTqxbW

— #AlluArjun 🔥🔥 (@SSAA_fanboy) December 4, 2019
Virat kohli dethrones Steve Smith to become No.1 Test batsman in ICC rankings. pic.twitter.com/yRHKtxHdnq

— CricTracker (@Cricketracker) December 4, 2019
Latest ICC Test Rankings:

KING KOHLI – 928 Points 👑
Steve Smith – 923 Points

Another day in office –

Virat Kohli Retains ICC Test Ranking No. 1 😎💗
#ViratKohli #KingKohli pic.twitter.com/oVFrcG2usn

— VIRAT KOHLI FAN CLUB (@viratfanclub18) December 4, 2019
Virat kohli overtakes Steve Smith to become number one ranked test batsman 👑💞
I'm sooo sooo happy 😭💕

— Nitya ❥•• (@_ImNitya_) December 4, 2019
Kohli to Smith 🔥 pic.twitter.com/bm7u8ZJEpX

— G.Ѳ.А.T (@iParth_) December 4, 2019
Virat kohli dethrones steve Smith to rank no. 1 in ICC test batsman ❤👑

— 🔥𝗣𝗮𝘁𝗶𝗹 𝗠𝗼𝗵𝗶𝘁 💝 (@ViratianMohit) December 4, 2019