Twitter lashes out at Gautam Gambhir for criticising Mohammad Azharuddin
Azharuddin was one of the cricketers who was slapped with ban surrounding match-fixing.
Updated - Nov 5, 2018 12:40 pm
7.4K Views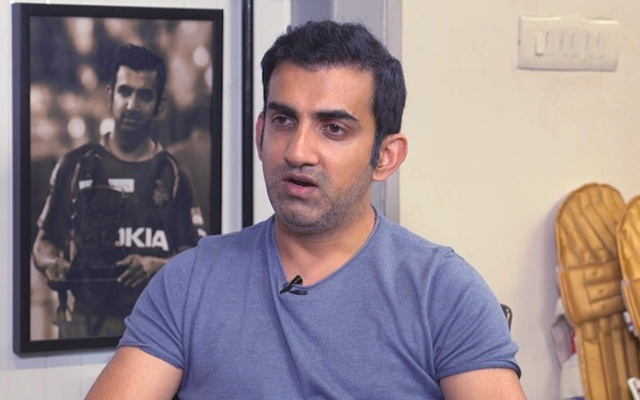 Follow us on Google News
India, yesterday, played the first of the three T20Is against Windies at the iconic Eden Gardens. After bowling the opponents out for a paltry score, their batsmen huffed and puffed, but eventually got home by five wickets in the 18th over. Most importantly, they took a 1-0 lead in the series with the next match scheduled to be played tomorrow in Lucknow. Kuldeep Yadav went on to become the Player of the Match.
Even the two debutants- Khaleel Ahmed and Krunal Pandya- impressed in their respective departments. In the meantime, Gautam Gambhir, the 37-year-old Delhi-born cricketer isn't happy with the Board of Control for Cricket in India (BCCI), Committee of Administrators (CoA) and the Cricket Association of Bengal (CAB), who allowed former Indian batsman Mohammad Azharuddin to perform the auspicious tradition of 'ringing the bell' prior to the encounter.
An unhappy Gambhir
A number of prominent names including the likes of Sourav Ganguly, the President of the CAB and World Cup-winning captain Kapil Dev, also had the privilege of the same. However, Gautam Gambhir isn't happy for the reason the cricketing bodies allowed Azharuddin to perform the same. Azharuddin was one of the cricketers who was slapped with ban surrounding match-fixing.
He took to Twitter and wrote, "India may have won today at Eden but I am sorry @bcci, CoA &CAB lost. Looks like the No Tolerance Policy against Corrupt takes a leave on Sundays! I know he was allowed to contest HCA polls but then this is shocking….The bell is ringing, hope the powers that be are listening,"
Meanwhile, Twitter is somewhat dissatisfied with Gautam Gambhir and they even asked him to join politics going into the future. Even a few days ago, the cricketer slammed Arvind Kejriwal of the Aam Aadmi Party (AAP) for not being able to improve New Delhi's concern of air-pollution, which has been a detriment to the city for quite a while now.
Here is how Twitter reacted
Respect ur seniors

— Bollywood Unplugged (@BollywoodUnplug) November 5, 2018
Gautam by saying this u lost respect from my side… i was ur big fan as a cricketer and human being. It seems that u r going into politics and work for #Bjp ..

— shaikh Azhar (@Azhar4039) November 5, 2018
@GautamGambhir se pehle bhi kai cricketer politics me aaye hain, lekin itna desperation kisi ne nahi dikhaya, na is tarah ki gandh failayi. Dukh hota hai aisi neechtai dekh kar, mai bhi iske prasansako me se ek tha, par ab nahi.

— Pokemon (@samvaadd) November 5, 2018
Gautam Gambhir itna frustration me hai ki lagta hai usko darr hai agar BJP ticket nahi diya toh aage kya hoga?😹😹

— St. Sinner (@retheeshraj10) November 5, 2018
What a shameless Instagram post by Gautam Gambhir about Mohammad Azaruddin on Eden Garden bell incident. Is Gambhir super power above BCCI & CAB? Inquiry must be conducted & he should be summoned to explain his motive behind such Instagram post.

— Devavrat Akolkar (@AdDeovrat) November 5, 2018
I swear to God I want @GautamGambhir to succeed @narendramodi . https://t.co/deIir0hNaU

— Shubhanshu Chawla (@chawla7687) November 5, 2018
Jitna juban Rajneeti me chal rha hai utnq bat ground me chlate to India team me khelte rhte

— Asif Ali Khan (@_asifcool) November 5, 2018
@GautamGambhir you looser u are behaving like u own Kolkata… @azharflicks was cleared by court and he has more rights than you to be there in eden gardens… Ots his home ground…Now just Shut your mouth u crap player… U hardly played for india .. Looser big looser…

— king of hearts (@shinebright9999) November 5, 2018
Now a days he is doing Political stunts to get the ticket of BJP #shameGG

— S A L M A N 🇮🇳💓 (@SALMAN_PATHAN_) November 5, 2018
Gautam Ji high court given him clean chit now if you think court is wrong then nothing to say….if you believe on media reports then you must believe on court first

— Yugal Parashar (@yugal20042016) November 5, 2018
At least respect one of best captain of india greatest fielder and a good human

— #ladkiwale deepveer😍😍 (@the_sunit) November 5, 2018
If fixer like aamir can return to intl cricket and others like jadeja do commentary y can't a former great ring bell before a match. He has been declared innocent by law & even if he did fix tat doesn't diminish his achievements

— Sam (@Sambuddha_RK2) November 5, 2018
tmko bhot dukh Ho raha hai… mil jaega ticket jumla party se don't worry….Indian team ka to ticket ab na Milne wala

— Sagir Abbas Husaini (@SagirHusaini) November 5, 2018
Nowadays pundits like @GautamGambhir have joined the brigade that criticises delhi govt. I knew politics makes people mean but this is lightening quick 🤣

— BuDaThAdU (@budathadu) November 5, 2018
Respect you as a cricket But @azharflicks has been cleared his case by the Respected Court .So how dare you to talk about this !!!!???????

— Jupitar Hussaini (@HussainiJupitar) November 5, 2018
Follow us on Telegram