Twitter lashes out at Virat Kohli for suggesting a fan to leave India
"He is an overrated batsman. Nothing seems special in his batting," a fan had commented about him.
Updated - Nov 7, 2018 12:43 pm
2.9K Views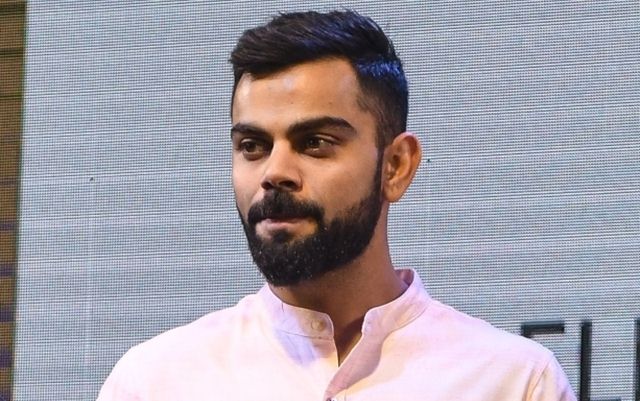 Virat Kohli and Team India have been on a winning spree in the limited-overs format this year. They are currently playing the T20I series against the Windies (Kohli is rested) and have already won two games in the three-match contest. In the preceding ODI series, Kohli broke records by scoring 453 runs in the five outings and went on to smash three consecutive tons. Meanwhile, the Indian captain was irked with one of the Indian fans not liking him and the Indian cricketers and suggested him to leave the country.
The 30-year-old launched his own application on the occasion of his birthday on November 5 and did a Q&A session with the fans in one of the videos. During the same, one Indian fans clearly stated that he doesn't see anything special in Kohli's batting and would rather prefer watching Australian or England batsmen play.
"He is an overrated batsman. Nothing seems special in his batting. I enjoy watching English and Australian batsman more than these Indians," the comment read.
Kohli's response
Virat Kohli didn't express his disappointed but it was clearly visible on his face as he requested the fan to leave the country. He was of the opinion that if one is staying in India and not liking Indian things then he shouldn't live in India. However, Kohli also clarified that he is fine with the fact that the fan doesn't like him.
"I don't think you should live in India. Go and live somewhere else. Why are you living in our country and loving other countries? I don't mind you not liking me. I don't think you should live in our country and like other's thing. Get your priorities sorted, he responded.
Meanwhile, Twitterati is not at all pleased with Kohli's gesture as they pointed out how Herschelle Gibbs was his favourite cricketer during his U19 days. A few of them also reminded Indian captain that even he went abroad to get married to Anushka Sharma and questioned his statement of asking to leave a fan for liking Australian and England cricketers.
Here's how Twitter reacted:
Why @imVkohli lieve in India and love Italy as marriage destination place ? What deshbhakt @imVkohli suggest lover @imVkohli ? @AnushkaSharma

— UnComfortably Dumb (@DudheBhate) November 7, 2018
This is why cricketers should just shut up and play- and not open their mouths

— Ajay Kamath (@ajay43) November 7, 2018
@imVkohli @ICC @CAComms @ECB_cricket isn't it our democracy and rights to love a player of our own choice. Just coz we are from India it doesn't mean we should hate other countries.
Can you make a video again and tell that other than Indians none should like our country? pic.twitter.com/JoUIQw4zkl

— Anirudh karthik (@Anirudh_d_jack) November 7, 2018
@imVkohli hamaari marzi hume jo achha lgta hai woh lgta hai.Teri jal rahi? Toh you better should leave India.

— Rishabh Asrani (@Rishabh_Asrani) November 7, 2018
@imVkohli if are you proud deshvhak then why you married at Italy. Before prich other practice your self

— UnComfortably Dumb (@DudheBhate) November 7, 2018
Cc @GautamGambhir he is following ur footsteps. Kahi isiko ticket na mil jaye 😂😂😂

— Atul (@akb_07) November 7, 2018
Much the same way people of Indian origin in Australia and England cheer for India whilst enjoying the perks of being citizens of those countries. What say @imVkohli ? Please ask all NRIs to support the baggy green on your tour to Australia next month https://t.co/ZPlLWmohc9

— Asif (@asif737NG) November 7, 2018
Reason no. 3718387128 not to like Virat Kohli https://t.co/pTOTCcU8Vs

— Himalay🌈 (@Oxynom) November 7, 2018
He's looking very tired and doesn't actually mean what he's saying. Just momentarily agitated. Am sure he'll apologize. He's a cricketer.

— Tariq Ahsan (@tariqahsan) November 7, 2018
#Foreign #player #love #challenge do all update whom you like other than Indians in cricket to @imVkohli and @BCCI, kohli will get you free pass and tickets to leave the country.

— Anirudh karthik (@Anirudh_d_jack) November 7, 2018
@imVkohli He is Modi bhakt & next tym when a fan loves other international batsmen, He would say Go to Pakistan.

— Er Naseer (@er_naseer1) November 7, 2018
Does kohli use an Indian made phone to read those tweets on?

And don't you endorse Audi, Puma and Tissot, @imVkohli?

— Sandhya Menon (@TheRestlessQuil) November 7, 2018
Anushka and Kohli had a destination wedding right?
Why prefer a foreign land, why "prefer a foreign land"… go live there @imVkohli

— Mr. Bing (@Dr_jordan_JJ) November 7, 2018
@imVkohli His team benfits from massive support from Indians in countries like UK and Australia when they tour. What if those countries apply the same yardstick?

— Deepak J Singh (@deepakjsingh) November 7, 2018
From that logic @sachin_rt who loved and idolized Vivian Richards should have done what captain @imVkohli @cricketaakash @cricketwallah

— Rafat Khan (@Khan_5aha6) November 7, 2018