Twitter Reactions: Controversy erupts in RR vs CSK game after Tom Curran is called back after giving out
MS Dhoni was clearly not happy with the decision.
Updated - Sep 22, 2020 9:36 pm
50.2K Views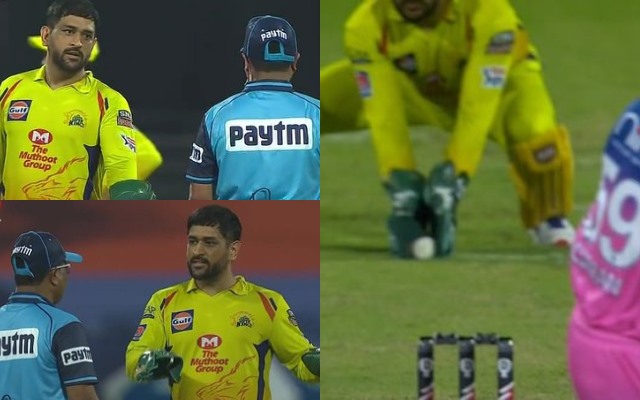 Well something or the other keeps happening in the Indian Premier League (IPL) every other day it seems. After the umpire adjudged a wrong short run a couple of days ago, the umpiring standards were once again under the scanner during the game between Chennai Super Kings (CSK) and the Rajasthan Royals (RR).
It all happened in the 18th over of the Royals' innings when Deepak Chahar got the verdict of the caught-behind against Tom Curran in his favour. The batsman was shell-shocked to be given out as he hadn't nicked it and went for the review. But his teammate Rahul Tewatia had earlier used up the only review and the umpires, after a brief discussion, asked him to leave.
However, suddenly, the officials on the field realised that they will need to check if the ball carried to MS Dhoni and stopped Tom Curran from leaving the field. It was all chaos in the middle and the CSK skipper clearly didn't like as he was seen arguing with the umpires. It seemed as if he was telling them that they should've earlier taken it upstairs before giving it out.
Replays cleared ball was bounced
In the replays, it was clear that the ball had bounced before MS Dhoni grabbed it and eventually it was a right decision. But according to the rules, if a batsman has been given out on the field, then the third umpire shouldn't come into play. Generally, in these circumstances, if umpires have a doubt in mind, they go upstairs to check the catch to make the final decision.
But in this case, it wasn't done and the questions again will be raised about the decision not being reversed in the game between KXIP and DC. Meanwhile, amidst the controversy, the Royals managed to post a huge total of 216 runs for the loss of seven wickets in their 20 overs thanks to half-centuries from Steve Smith and Sanju Samson. Having said that, the controversy was the talking point during the innings.
Here's how Twitter reacted:
Shame on MS Dhoni and Deepak Chahar for wrong appeal against Tom Curran @IPL This is against game spirit. Utter shameful act.

— Vishal Sharma (@TheVishalSharma) September 22, 2020
What the hell is wrong with umpiring standards in IPL, first umpire didn't give Steve Smith, now after taking a long pause they went on to check if it was clear catch or not.
Tom Curran was not out still umpire gives him out #IPL2020 #RRvCSK

— Bhupesh Rawat (@Bhupesh70172543) September 22, 2020
If they can rectify after Tom Curran was given out why can't they rectify #DCvKXIP one short run #RRvCSK

— Nangsanpura Sohtun (@nangsanpura) September 22, 2020
•Dhoni appealed for catch for the bounced ball
•Umpire gives it out
•Tom Curran waits
•3rd umpire gives not out

Then in ball tracking it shows
•Ball was hitting on pads and was LBW

Worst use of technolgy by IPL#Dhoni #csk #ipl #rr #CSKvsRR

— Bhagu (@bhagu_vlogs) September 22, 2020
Is anyone going to talk about how MS Dhoni not only claimed wicket when ball clearly bounced Infront of him but also contested to umpire when he wanted to check the catch,leave aside the part that it didn't hit bat!#Cheats#IPL2020 #CSKvsMI

— Anand Singh (@Rsideofnation) September 22, 2020
#2020 has made even @msdhoni claim a catch which was not a catch….how much more is this year going to show us?#RRvsCSK #IPL2020 @rajasthanroyals @ChennaiIPL #MSDhoni7

— Peacefully Political 🇮🇳 (@samgupt) September 22, 2020
I'm not going to talk about that MS Dhoni's catch appeal.

— yaarivanu_unknownu (@memesmaadonu) September 22, 2020
Can't Dhoni ask for an LBW review when umpire declared Tom Curran not out even after giving him out first?#AskSportsTak @vikrantgupta73

— Rohitash R. Ghintala (@Ghintala_Rohit) September 22, 2020
Turns out that Tom Curran was given out but the ball didn't hit his bat so wasn't out. They checked to see if Dhoni had collected the ball cleanly, he hadn't so it wasn't out. Ha. Wait! It didn't hit his bat, it his his thigh pad. Sooooo….

— Ya(1-cos²)^½ (@YasinD95) September 22, 2020
What do you think about this catch of Tom Curran by Dhoni ?#RRvCSK #CSKvsRR pic.twitter.com/FEY3zDiRRX

— Rohit (@TheGeeKnee) September 22, 2020
@msdhoni Bhai ek baar phir se 🖕🖕🖕🖕
😁😂#CSKvsRR

— Devesh parmar (YUVI 12) (@Deveshparmar6) September 22, 2020
Umpires kya kar rahi #MSDhoni ka match dak ne kiliye khari hya #askstar @StarSportsIndia

— Inja Mul Haque (@inja_haque) September 22, 2020
Disgusting behaviour…that's why sachin is respected more than any other cricketer.

— Jo bhidega wo chudega (@Pinkumatwala) September 22, 2020
Today @msdhoni proved that he play for money……..
And people who compare @sachin_rt are 😏😏😏 #IPL2020 #SachinTendulkar 🙏 God of Cricket 🏏

— Ishan Singh (@IshanSingh1295) September 22, 2020
What a level of poor umpiring, poor leadership (@msdhoni ) and poor commentary .

Why you guys hate @rajasthanroyals so much man? @StarSportsIndia @IPL #Dream11IPL #RRvCSK

— Mr Mohta 🇮🇳 (@abhimohta) September 22, 2020