Twitter Reactions: Fan wins flight to Sydney after taking a blinder in crowd
Updated - Sep 4, 2016 6:10 pm
44 Views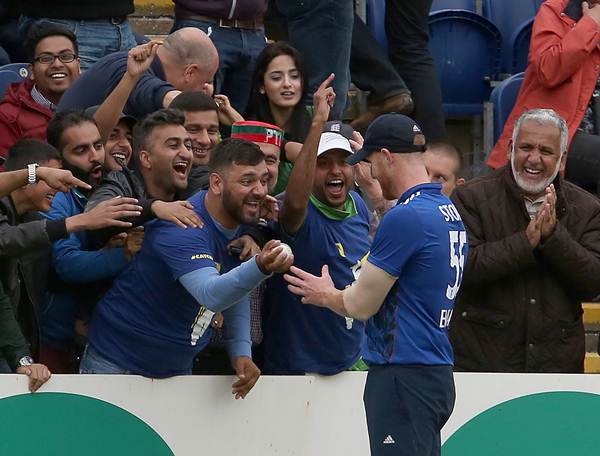 What a day it turned out to be for one of the fans during the final ODI between England and Pakistan at Cardiff. His spectacular catch earned him a flight from London to Sydney, Australia sponsored by Fosters.
It was in the 34th over of the run chase, when Pakistan middle-order batsman Sarfraz Ahmed hooked one off the bowling of Chris Woakes. Ben Stokes, who was placed at the deep mid-wicket, looked interested for a brief while as he ran in the direction of the ball. However, he realised that the ball had been hit hard enough for it to sail over his head and over the fence as well.
The ball went sailing high in the air and just crossed the rope as one of the fans leaned in from the boundary hoardings to take a brilliant one-handed catch. The man was surely enjoying his time in the stands and was all smiles from thereafter. Ben Stokes appreciated his effort as well and congratulated him before taking the ball from him and getting it back in the field for the action.
It was some jubilant scenes around the man as he caught the ball. The fans were ecstatic for sure. In the match, it was Pakistan who eked out a consolation in after being thoroughly outplayed in the first 4 ODIs of the series. Pakistan had their task cut out and were playing for pride after being set a target of 303 for the win.
The target was never going to be easy but some brilliant batting by Sarfraz Ahmed and Shoaib Malik ensured that Pakistan were over the line in right time and savaged a win. The visitors will definitely not be happy with their overall outing but the win will make them feel slightly better. For the fans, it was something to cheer about. And for the fan who caught the ball, this will surely be a night to remember. Here is how Twitter reacted to his catch.
Catches win matches too.
Fan takes a spectacular catch and wins a holiday trip from London to Sydney. #EngvPak pic.twitter.com/SIYHhfRcQj

— Sabuktageen Afridi (@SabukAfridi) September 4, 2016
https://twitter.com/iqbal172/status/772478743503831040
And that brilliant catch earnt the catcher a free trip to Sydney #Cricket #EngvPak pic.twitter.com/GAwe9HJwXP

— Saj Sadiq (@Saj_PakPassion) September 4, 2016
Great catch in the crowd! Not only wins accolade but a trip to Sydney #ENGvPAK

— GG (@GG2105) September 4, 2016
That guy winning the trip to Australia is class. Deserved it for that catch too. Most Pak players wouldn't have pulled that off #ENGvPAK

— Zulfaqar (@7ulfaqar) September 4, 2016
One handed catch kar ke Sydney ka ticket jeet gya. #EngvsPak #EngvPak

— Amir Sohail (@ItsAmirSohail) September 4, 2016
#EngvPak Six by Sarfraz was nice but the catch in the crowd was even better…

— I Love Shahid Afridi (@i_love_afridii) September 4, 2016
#EngvPak Six by Sarfraz was nice but the catch in the crowd was even better… pic.twitter.com/4UJPxpoiui

— PakPassion.net (@PakPassion) September 4, 2016
MILLION DOLLAR CATCH!#EngvsPak #ENGvPAK #PAKvENG https://t.co/jfqJvvyvSv

— Aтιf αfяιdι (@afridey_atif) September 4, 2016
Trip to Australia what a great catch at @GlamCricket #ENGvPAK pic.twitter.com/9i6zkkxCs1

— Naz (@Naz1o) September 4, 2016
Breaking News: The guy who just caught the catch in the crowd is definitely somebody's cousin. #ENGvPAK

— Khushal (@Khushal) September 4, 2016
He was happy af as if someone is giving him money for that catch.

— Izma. (@IzmaSiddiqi) September 4, 2016
One should go well prepared for a match,luck can work any time,one catch in the stands & guy is off to Sydney @azkhawaja1 @riz007_007

— Waqas Sami (@waqassami) September 4, 2016
Grabed a catch and straight to Sydney….What a day that pal is having?✌ #ENGvsPAK

— Waqas Ali Khan (@waqasalikhaan) September 4, 2016
The Spectator won a holiday trip to Australia after taking the superb catch. #ENGvsPAK pic.twitter.com/i1Js5XKNQl

— CricTracker (@Cricketracker) September 4, 2016
This is the guy that won a trip to Australia for taking a catch in the crowd. #fosters @TheFostersTV @silverhubmedia pic.twitter.com/PAjvOxIAY1

— Philip Brown (@dudleyplatypus) September 4, 2016
He's done it ! Free trip to Oz for crowd catch !!

— David 'Bumble' Lloyd (@BumbleCricket) September 4, 2016
What a crowd catch !! Brilliant !!

— David 'Bumble' Lloyd (@BumbleCricket) September 4, 2016
Bloke in the crowd just won a free trip to Australia with a catch in the crowd wearing a Fosters shirt

— Peter Miller (@TheCricketGeek) September 4, 2016
Pretty impressive catch from the Pakistan fan and won a free trip to Australia. Not bad at all #ENGvsPAK

— Dipesh Shah (@dipeshshaha) September 4, 2016