Twitter Reactions: Jasprit Bumrah takes a shot at batting in the nets
Right from calling him as the next Kapil Dev or Irfan Pathan to speculating him as the new No 4 the reactions were just hilarious.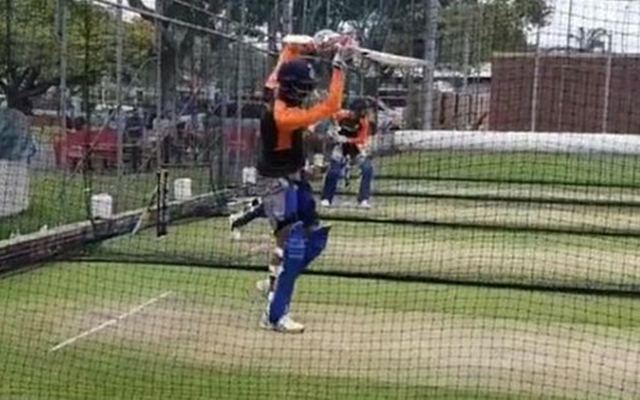 It is an era of fast bowling all-rounders with the emergence of Ben Stokes, Jason Holder, Hardik Pandya, most teams have one of these multi-talented guys. The newcomer Sam Curran has also managed to impress many based on his crucial contributions at the lower order. His all-round exploits against India and now against Sri Lanka has helped England gain edge over the opposition. As the Indian tour of Australia approaches, Jasprit Bumrah took the bat in the nets and initiated a lot of speculation.
In the absence of Pandya, India surely lack a fast bowling all-rounder on the tour. Hence, after watching Bumrah the batsman in full flow, many expect him to double up as an all-rounder. In the video posted by the BCCI, Bumrah is tonking a few as part of his preparation for the first T20I.
Lower order batting has become key especially in the longest format. Many a time, it has been the likes of Ravichandran Ashwin and Bhuvneshwar Kumar contributing when most in the batting order have failed. Hence, it was a pleasing sight to watch the 25-year-old pacer get comfortable with the bat in hand.
Bumrah doesn't have a great batting record. He has an average of 1.42 in Tests, 2.75 in ODIs, 4.00 in T20Is and 8.12 in first-class cricket. The fact that he averages in single digits does go on to prove why Bumrah the batsman needs some practice. Hopefully, the net session has given him enough confidence but India will expect him to shine with the ball more than anything else.
However, Twitter, as usual, saw the funny side of the story. Right from calling him as the next Kapil Dev or Irfan Pathan to speculating him as the new No 4. Many felt that it was a good move citing the importance of contributions from the lower order. There were quite a lot of splendid reactions to the video.
Here are some of the best reactions to Bumrah's batting:
* Bumrah batting *

Wasim Akram's brain :

Don't say it…
Don't say it…
Don't say it…
Don't say it…
Don't say it…
Don't say it…
Don't say it…
Don't say it…
Don't say it…
Don't say it…
Don't say it…
Don't say it…

Wasim : He reminds me of my younger days 😂

— Elite Punekar (@imsgshinde) November 19, 2018
Next Irfan Pathan 😍 https://t.co/FKAkxLAhGS

— Bilal 🇮🇳 (@Ahmadbilal111) November 19, 2018
Opening karao test match main

— rehan_ansari (@BhaiJaddu) November 20, 2018
Next Kapil Dev or Stuart Binny
😂😂

— Ramji B (@ImRamji91) November 19, 2018
Bumrah trying to feel Hardik's absence… Good going…

— Sayan The VIRATIAN (@KohliWorshiper) November 19, 2018
Lg rha hai ki Australia me bumrah open karne ki soch rhe hai

— Shivam Singh Chauhan (@chauhan407) November 19, 2018
New no.4

— babu bisleri (@PUNchayatiii) November 19, 2018
Jasprit bumrah promoted up the order let's see what this boy gonna do today……😂

— Vikas sharma (@Vikas6855) November 19, 2018
Good to see the bowlers are having a go with the bat too. However little it maybe. It'll come very handy if the top order fails and the lower order can perform well and add some vital runs to the score. Great job guys. ❤️

— Shritam Selma (@Shritam007) November 19, 2018
Really will helpful in test matches, As we saw in England how important lower order contribution was.

— Mohamed Naeem (@MohamedNaeem96) November 19, 2018
Definitely important for test cricket.

— manoj kumar (@939394manoj) November 19, 2018
we are waiting for this, bowlers need to bat 😍 #AccheDin

— Vamsi (@RKs_TillLast) November 19, 2018
BOOM 😉🔥 Batting @mipaltan

— AyanRohit (@AyanRo45_offl) November 19, 2018
Haha brilliant 😂😂👌👌
Improve our tail's batting to get the better results.

— Akshay Sharma (@akshaypasu) November 19, 2018
Gud move !!! 100% Bumrah going to be in squad for next 5-10yrs so he need to contribute something in bat !!

No worries in his bowling👍

— Manoj (@sachinmanoj98) November 19, 2018
This guy is a true superstar always trying to improve and no over the top antics. Certainly the best in the business right now

— Ganesh Subramanian (@ganny2037) November 19, 2018