Twitter Reactions: Kieron Pollard smashes Akila Dananjaya for six sixes in an over
Pollard made sure that he put West Indies on the driver's seat with his brute force in the first T20I against Sri Lanka.
Updated - Mar 4, 2021 8:47 am
1.8K Views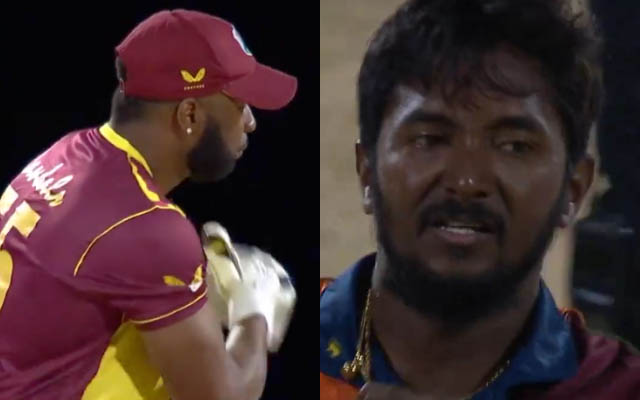 Kieron Pollard, the West Indies skipper, became the second batsman after India's Yuvraj Singh to smash six sixes in an over in a T20I. The Trinidadian veteran accomplished the feat during the first T20I against Sri Lanka at the Coolidge Cricket Ground in Antigua. His knock helped the hosts win by four wickets as they chased 132 runs with as many as 41 balls to spare.
It was the final over of the powerplay during the West Indies' run-chase, and Pollard put his team on the driver's seat with his brute force. He went on to score 38 runs off 11 balls with the help of six sixes at a strike-rate of 345.45 before Wanindu Hasaranga trapped him plumb in front. When he got out, the hosts were at 101 for the loss of five wickets in 6.4 overs.
Kieron Pollard takes Dananjaya to the cleaners
Dananjaya made his comeback to the national team, but hardly did he know that he would be smashed around the park. The tweaker even bowled around the wicket to restrict Pollard, but his efforts went in vain. Pollard also revealed how he accomplished the milestone.
"After the third one, I felt after hitting a couple of sixes, I understood how the pitch plays, it was important to be positive and play your shots on that pitch, back yourselves to clear the boundary – just happy that I managed to contribute to the team's cause at that point of time
"A couple of things went through my mind before the sixth ball – before the last ball, I thought should I go for the six or take the 30 runs in the over, he went around the wicket and bowled it onto my pads, I told myself 'Wait Polly, take a chance'," Pollard told after the match.
"That's how I have played my cricket all along, especially against the spinners. Today was my day, unfortunate for him, but this was a good win for our team," he added.
In the meantime, the netizens on social media platforms lauded Pollard for the stupendous knock. Twitterati were left in awe after the batter picked the bones out of Dananjaya, scripting the thumping victory for the West Indies.
Here's how the netizens reacted:
Akila Dananjaya's roller-coaster ride in #WIvSL first T20I: A hat-trick and 8 sixes in total.

Dot, Dot, Dot, 1, 1, 6
4, W, W, W, 1, 4
6, 6, 6, 6, 6, 6
6, 1, Dot, 1, Dot, 1

— CricTracker (@Cricketracker) March 4, 2021
Take a bow @KieronPollard55!! 666666 Vs a bowler who went WWW in his last over!! Madness! #WIvSL pic.twitter.com/Vdw6YKkr3g

— Wasim Jaffer (@WasimJaffer14) March 4, 2021
Akila Dananjaya today

0 0 0 1 1 6
4 W W W 1 4
6 6 6 6 6 6
6 1 0 1 0 1

to LHBs: 5 runs in 5 balls, 3 wkts
to RHBs: 57 runs in 13 balls, 26.3 RPO#WIvSL @CricCrazyJohns @RusselArnold69

— Nagarajan (@Nagarajansbn) March 4, 2021
What an amazing evenings entertainment we have had…. Akila takes a hat trick then gets smashed for 6 6s in a row by captain Pollard. Then gets hit for a 6 by Holder and has him dropped on the fence next ball. We love T20 cricket in the Windies @WeAreWhisperTV @windiescricket

— Niall John O Brien (@niallnobiobrien) March 4, 2021
Ouch.. @KieronPollard55 follows it up with 6 #sixers in Akila's next over … OMG .. #WIvSL 100 in 6 overs .. Crazy 😁😁😁 Couldn't the @windiescricket just keep sending in lefties 😀

— Russel Arnold (@RusselArnold69) March 4, 2021
6,6,6,6,6,6 by Kieron Pollard in a single over against Akila Dananjaya. History made by the West Indies captain in Antigua. pic.twitter.com/IZ894FUt55

— Johns. (@CricCrazyJohns) March 4, 2021
Ian Bishop – "Gibbs, Yuvraj….You have a company". When Kieron Pollard completed 6 sixes in an over.

— Johns. (@CricCrazyJohns) March 4, 2021
The iconic moment when Kieron Pollard completed 6 sixes in an over. Commentary of @irbishi is amazing as usual. pic.twitter.com/k2awKCJHnQ

— Mufaddal Vohra (@mufaddal_vohra) March 4, 2021
Akila Dananjaya:

Took a hat-trick

Was hit for six sixes in an over by Kieron Pollard

Both Pollard & Dananjaya were part of MI in 2018

Pollard joins Gibbs & Yuvraj to hit 6 sixes in an over in international cricket

— Sarang Bhalerao (@bhaleraosarang) March 4, 2021
Can't sleep so I switch on the #WIvsSL T20 just in time to watch live as Kieron Pollard became the 3rd player to hit six sixes in an over in an international game.

I was lucky enough to be in St Kitts when @hershybru did it AND in Durban when @YUVSTRONG12 achieved the feat! pic.twitter.com/DWysyAU7ng

— Adam Mountford (@tmsproducer) March 4, 2021
Kieron Pollard hit 6 sixes in an over against Sri Lanka T20I today.

He became only the 3rd batsmen after Yuvraj Singh and Herschelle Gibbs who smashed 6 sixes in an over,

Yuvraj Singh v England 2007
Herschelle Gibbs v Netherland 2017
Kieron Pollard v Sri lanka 2021 pic.twitter.com/UbgU9xF0bq

— Jain (@jainszg) March 4, 2021
First he takes a hattrick. Then he gets smashed for 6 sixes in an over by Kieron Pollard. A game of extremes for Akila Dananjaya. Carnage at Coolidge! #WIvsSL

— Aatif Nawaz (@AatifNawaz) March 4, 2021