Twitter Reactions: Sanju Samson's ton goes in vain as Punjab Kings clinch a thriller at Wankhede
Meredith's 8-run penultimate over brought the equation down 13 needed off the last over, which distilled down to 5 needed off the last ball
Updated - Apr 13, 2021 9:44 am
141.8K Views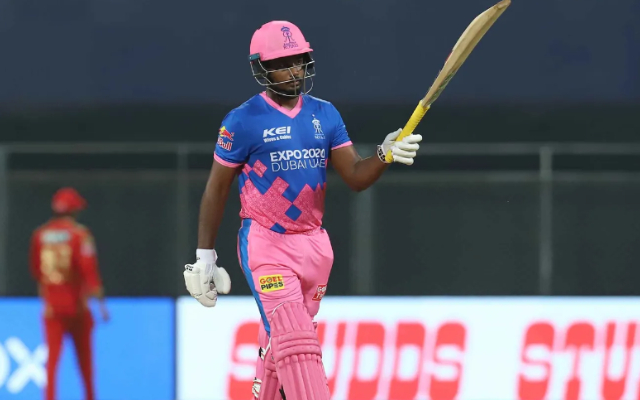 They did it in Sharjah but it ended with a heartbreak at the Wankhede Stadium as Sanju Samson's century went in vain. Chasing a mammoth 222, the newly-appointed skipper kept the fight on until the last delivery but just could not make it.
Having called rightly in a game of debuts, he inserted KL Rahul's Punjab Kings to bat. The Kings included three debutants in Shahrukh Khan, Jhye Richardson, and Riley Meredith as opposed to two from Rajasthan: Chetan Sakaraiya and Manan Vohra.
Given their IPL 2020 performance, the Kings stuck with KL Rahul and Mayank Agarwal as openers, although Sakariya struck in the second over of his spell as the latter nicked him behind. At three, Chris Gayle took a while before smacking Mustafizur Rahman and Chris Morris for boundaries in consecutive overs.
46 at the loss of Agarwal's wicket at the end of the powerplay, Rajasthan gave life to both Rahul and Gayle as Stokes failed to hold onto a tough chance off Gopal, while Rahul Tewatia dropped Gayle off his bowling a couple of overs later.
The duo infused momentum in the partnership, slamming boundaries regularly in overs 6-9, although Gayle holed out to long-on, off Riyan Parag, just when the 67-run partnership had begun to look threatening. Little did Rajasthan know about the carnage that awaited!
KLassy Rahul and Hooda's Hurricane muscle PBKS to a mammoth total
Despite Gayle's exit, Punjab never took its foot off the accelerator. Riding on his luck, KL Rahul brought up his half-century through a maximum off Shivam Dube in the 13th over, the same over where Deepak Hooda – promoted ahead of Nicholas Pooran – went berserk. Hitting sixes for fun, he belted two against Dube and followed by three off Gopal in the next as Punjab made skyscrapers in the over-graphs.
Hooda raced off to his half-century in merely 20 balls, adding 105 off 47 for the third wicket alongside Rahul as he did not spare even the league's most expensive buy, Chris Morris. Although, while trying to send Morris over long-on in the 17th, he picked Riyan Parag instead to bring his ruthless assault to an end. Two deliveries later, Morris got Pooran for a golden duck courtesy of a sensational catch from Sakariya, who dived full length towards his left at short fine leg to grab a ball that was travelling fast.
Appearing set for a century in his team's opening game, Rahul perished nine short of it as Rahul Tewatia redeemed himself after dropping Gayle earlier. Rahul had pummeled a full-length ball from Sakariya towards deep midwicket in the ultimate over, however, Tewatia held his nerves and showed a brilliant presence of mind as he threw the ball into play, came inside the boundary rope, and completed a stunning rebound catch.
Centurion Samson stands tall
It seemed that Rajasthan would lose the plot when Mohammed Shami removed Ben Stokes for a three-ball duck, grabbing a top-edged skier for which three men, including him, ran for. However, Sanju Samson walked in with different ideas.
The game was defined by either sloppy drops or sensational takes. Manan Vohra got a reprieve when Murugan Ashwin juggled a chance in the deep off Jhye Richardson, although Vohra failed to capitalize as Arshdeep Singh took a sensational reflex catch to remove him in the third over. Rajasthan got a tectonic shift in momentum as Samson picked a four off Arshdeep before Jos Buttler, the new man, slammed Richardson for four fours on the trot.
Buttler and Samson's partnership flourished but was cut five short of 50 by Richardson, who cleaned up the former for a 13-ball 25. In the meanwhile, Samson, who, too, was given life at 12 by Rahul, continued in a flawless rhythm and brought up his half-century from 33 balls. Making his RR debut, Shivam Dube got a start and contributed 23 from 15 in the 53-run stand with the skipper, before he picked Hooda at long-off off Arshdeep.
So close, yet so far for Rajasthan
Samson thwacked the pedal hard after Dube's exit, and he was well-assisted by Riyan Parag, as they added another 52 off just 23 for the fifth wicket. The skipper slammed Richardson for a four and six off consecutive deliveries before the duo smoked M Ashwin for three sixes in the 20-run 16th over. Shami's bouncer took Parag's edge before going to Rahul behind, although a 4, 6, 4 from Samson in the 18th over, when he became the first skipper to score a ton on captaincy debut, from Richardson made up for it.
Meredith's 8-run penultimate over, where he got Tewatia caught behind, brought the equation down 13 needed off the last over, which distilled down to 5 needed off the last ball. A heartbreak awaited Samson, who refused a single on the penultimate ball, as Deepak Hooda snaffled him to seal a 4-run win for Punjab.
Here's how Twitter reacted:
Name change luck change. Well done @PunjabKingsIPL for winning this thriller.

— Irfan Pathan (@IrfanPathan) April 12, 2021
One of the GREAT #IPL innings @IamSanjuSamson !!! What a game of cricket … The IPL is bloody incredible … no other T20 comp has so many close games … #India

— Michael Vaughan (@MichaelVaughan) April 12, 2021
What a night for Samson. Started off with an error, ended with another. What happened in between was magnificent though #RRvPBKS

— Amol Karhadkar (@karhacter) April 12, 2021
Boy oh boy!!! I just love ❤️ this @IPL

— Lisa Sthalekar (@sthalekar93) April 12, 2021
Well done saradar ji jo the bahot hi Asardar ji #arshdeepsingh

— Irfan Pathan (@IrfanPathan) April 12, 2021
Sanju had more chances of hitting a six than Morris hitting a four. Don't blame him. #RRvsPBKS

— Manya (@CSKian716) April 12, 2021
What a game of cricket 😮

— Carlos Brathwaite (@TridentSportsX) April 12, 2021
What an absolutely magnificent sport

— Ben Jones (@benjonescricket) April 12, 2021
A keeper backed himself to finish the game but couldn't do it.

Not for the first time, not for the last time either!

:):

— Nikhil 🏏 (@CricCrazyNIKS) April 12, 2021
Under tremendous pressure two uncapped Indians Chetan Sakariya and Arshdeep Singh have bowled the 20th over with aplomb. #RRvPBKS #VIVOIPL #IPL2021

— Moulin (@Moulinparikh) April 12, 2021
— Abhinav mukund (@mukundabhinav) April 12, 2021
Another young star holding his nerve Arshdeep #VIVOIPL #RRvsPBKS Always exciting too see this .. Great chase but Congratulations @PunjabKingsIPL

— Russel Arnold (@RusselArnold69) April 12, 2021
Have to feel for Sanju Samson! An innings like that truly deserves a W to go along with it

— Shai Hope (@shaidhope) April 12, 2021
We have seen two young left arm seamers; Cretan Sakariya and Arshdeep Singh what are 23 and 22 years of age with a great feel for bowling under pressure. Great skill to. What a game #VIVOIPL

— Ian bishop (@irbishi) April 12, 2021
Greater possibility of Samson hitting a six in that form than new batsman in Morris hitting a four. Right call by Samson to keep strike last ball I thought.

— Sanjay Manjrekar (@sanjaymanjrekar) April 12, 2021
Name change luck change. Well done @PunjabKingsIPL for winning this thriller.

— Irfan Pathan (@IrfanPathan) April 12, 2021
Yessssssss @arshdeepsinghh 😬😬😬

— Jimmy Neesham (@JimmyNeesh) April 12, 2021
Compusure. Class. Century. Captain Samson 👏 👏👏

— Mohammad Kaif (@MohammadKaif) April 12, 2021
Naam hi nahi Badla, Shayad kismat bhi badli. Good win for Punjab Kings. Sanju Samson was absolutely brilliant to hit his 3rd IPL century, but Deepak Hooda was top class. His innings was the difference. #RRvPBKS pic.twitter.com/O3cYTKCFvq

— Virender Sehwag (@virendersehwag) April 12, 2021
What a game it was. Feel sorry for #SanjuSamson. Well bowled #ArshdeepSingh congratulations @PunjabKingsIPL on the Victory. @IPL #RRvsPBKS

— Vinay Kumar R (@Vinay_Kumar_R) April 12, 2021
Chris Morris' reaction after Sanju Samson denied him the strike for the final ball. pic.twitter.com/CHPm9yws1F

— Mufaddal Vohra (@mufaddal_vohra) April 12, 2021
For all the money they spent on two overseas, it was the uncapped Arshdeep that saved Punjab Kings the blues today #RRvPBKS

— Sambit Bal (@sambitbal) April 12, 2021
Not a bad decision to deny the single. He was in that zone and anyway they would have needed a boundary off the last ball. Well played Samson.

— Silly Point (@FarziCricketer) April 12, 2021
Ridic game of cricket #RRvPBKS #IPL2021

— Isa Guha (@isaguha) April 12, 2021
Top knock brother @IamSanjuSamson 🙌🏻, hard luck but what a game it was. #ipl at its best 👌🏻

— rishi dhawan (@rishid100) April 12, 2021
119 off 63 balls — Samson ends up on the losing side and is looking a little lost in the post-match chat but what a stunning knock… will be interesting to see if captaincy can bring the best out of him this season…

— Ashish Magotra (@clutchplay) April 12, 2021
Lol when Samson denied that single, Chris Morris' reaction was like
What did they pay me that much money for?

— Ankit Mishra (@editedidea) April 12, 2021
Samson !!! Beautiful to watch !!take them home boy @IamSanjuSamson super ton ! #IPL2021 #RRvsKXIP

— Yuvraj Singh (@YUVSTRONG12) April 12, 2021
Sanju Samson didn't even remove his helmet and celebrated his hundred. Cool, calm and composed under pressure.

— Mufaddal Vohra (@mufaddal_vohra) April 12, 2021
Really happy for @IamSanjuSamson great knock. Top class🔥 #RRvPBKS

— Jasprit Bumrah (@Jaspritbumrah93) April 12, 2021
IPL is a tournament where 8 teams come together after doing days of quarantine, only to watch Sanju Samson smash in the first game of the IPL. #RRvsPBKS

— Manya (@CSKian716) April 12, 2021
Sanju Samson's innings bringing down Tewatia's brand value. Not enough balls and runs to do a Tewatia. #IPL

— Silly Point (@FarziCricketer) April 12, 2021
@IamSanjuSamson what a player u beauty ❤️⭐️🤙 @rajasthanroyals @IPL

— Rahul Sharma (@ImRahulSharma3) April 12, 2021
Magnificent 💯by mighty #Samson, a treat to watch!
This match #RRvPBKS is the best so far in #IPL2021

— Sreedhar Pillai (@sri50) April 12, 2021
Centuries for Sanju Samson in IPL:

v RPS, Pune, 2017
v SRH, Hyderabad, 2019 
v PBKS, Mumbai, 2021*

Next ton for Samson in 2023?#rrvspkbs #Ipl2021

— Umang Pabari (@UPStatsman) April 12, 2021
Can play! 👏🏼 https://t.co/bQl1vYxHbq

— Sam Billings (@sambillings) April 12, 2021
@IamSanjuSamson is the youngest ever player (26) to make three IPL 100s. #someplayer #Ipl2021

— simon hughes (@theanalyst) April 12, 2021
Sam-TON! 💯
Adipoli knock Aliyaa! Whistle Potachu!#RRvPBKS

— Chennai Super Kings (@ChennaiIPL) April 12, 2021
Congratulations to @IamSanjuSamson and to everyone who got their prediction right 😎
Fantasy mein captain kisne banaya ? #IPL2021 #PAKvsSA

— Ridhima Pathak (@PathakRidhima) April 12, 2021
Oh boy ! Will it come down to that brilliant last over from the debutant for @rajasthanroyals Sakariya the man 😃

— Russel Arnold (@RusselArnold69) April 12, 2021
Sanju Samson's 3 IPL centuries

54b vs PBKS in 2021
54b vs SRH in 2019
62b vs RPS in 2017#RRvPBKS #VIVOIPL #IPL2021

— Moulin (@Moulinparikh) April 12, 2021
Questions will always be asked if Captaincy affect a players personal performance. Not for @IamSanjuSamson 👏🏽👏🏽 Now just one more job from him….to finish a glorious chase given that #RR were 25/2 #IPL2021

— Lisa Sthalekar (@sthalekar93) April 12, 2021
Most IPL centuries among Indian players:

Virat Kohli -5
Sanju Samson-3
KL Rahul – 2
Shikhar Dhawan -2
Ajinkya Rahane -2
Murali Vijay – 2
Virender Sehwag -2 #SanjuSamson #RR #RRvPBKS

— CricTracker (@Cricketracker) April 12, 2021