Twitter Reactions:- Sarfraz Ahmed gives up his wicketkeeping gloves to bowl a couple of overs
Twitter was quite enthralled to watch Sarfaraz playing a new role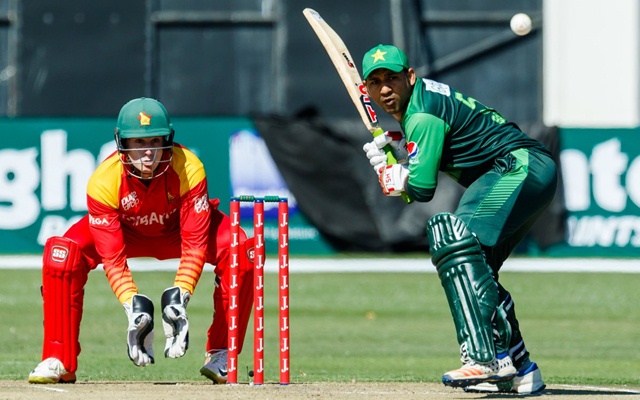 Follow us on Google News
There was an interesting incident that took place during the Pakistan-Zimbabwe encounter in Bulawayo. Zimbabwe had already given up in their run-chase as it was way out of their reach. Just when it seemed that the game was all dull, the crowd witnessed something exciting in the midst.
Pakistani wicketkeeper captain Sarfraz Ahmed donned the ball in his hands as Fakhar Zaman took up the wicketkeeping gloves. With 150 runs required from three overs, Sarfraz could've afforded to get hit for six sixes and yet cause no damage to Pakistan's chances.
In what was the 48th over of the Zimbabwe innings, Sarfraz bowled with a cap on. Showing off his skills as an off-spinner, the skipper conceded just six runs in the over bowling to Elton Chigumbara and Peter Moor. He came back in the last over again only to get smashed for a six on the very first ball.
However, he recovered well giving away only three runs in the last five balls. Pakistan went on to win the game by an astounding margin of 131 runs as they whitewashed Zimbabwe 5-0. Earlier, Pakistan who elected to bat first got themselves off to a stupendous start. While Fakhar Zaman went on to score 85, Imam Ul Haq completed his century.
Fakhar in the process also became the fastest to reach 1000 runs in ODIs. However, it was Babar Azam who was the star batsman of the day with a splendid inning of 106 in 76 deliveries. Pakistan went on to post a massive total of 364/4 in their quota of 50 overs.
Twitter was quite enthralled to watch Sarfraz playing a new role. His figures of 2-0-15-0 weren't that bad and the fans had something entertaining to watch in the end. We may well get to witness the captain don the role again in the future if an opportunity arises.
Here we have some of the tweets as Sarfraz tried to lead the charge with the ball
Sarfaraz Ahmed is bowling. Sums up everything you must know about the #ZIMvPAK series.

— Nikhil 🏏 (@CricCrazyNIKS) July 22, 2018
Sarfraz ahmed 1sh Pakistani Keeper who bowled an Over In an ODI
Another record 😂😂

— Jaleed Wasi Chishti (@JaleedChishti) July 22, 2018
Sarfraz Ahmed is going to bowl. Go watch #PakvsZim

— Konark K. (@konarkkarna) July 22, 2018
Some fun moments at the death as Sarfaraz Ahmed bowls a couple of overs with Fakhar Zaman taking over keeping duties… Zimbabwe finish on 233/4 and Pakistan win the match by 131 runs! #ZIMvPAK

— PakPassion.net (@PakPassion) July 22, 2018
Captain With The Ball😀🤷‍♂️👌#ZIMvPAK pic.twitter.com/rjtj2sFz0h

— Qaisar Abbas (@Qaisar_Abbas19) July 22, 2018
How is it POssible??@TheRealPCB @SarfarazA_54 #ZIMvPAK pic.twitter.com/9NpjHwnUCd

— Ïقru 🇵🇰 (@its_iqru) July 22, 2018
Wicket-Keeper : Fakhar
Bowler : Sarfaraz#ZIMvPAK pic.twitter.com/Li5EXlhwI4

— Babar Khan (@Babarabt01) July 22, 2018
HAHAHAH im enjoying Fakhar's commentary behind the stumps over saifi's bowling #PAKvZIM #ZIMvPAK

— Khushi Bukhari (@Khushi_Bukhari_) July 22, 2018
The legend is bowling ? And who is keeping then ?

Zimbabwe batsman occupying the crease, good sign! They can take a lot of positives from this game atleast. #ZIMvPAK

— srikrishna 🏏 (@1998Srikrishna) July 22, 2018
Fakhar Zaman telling Sarfraz Ahmed what to bowl from behind the wickets.

Never thought I'll type this. #ZIMvPAK

— Nikhil 🏏 (@CricCrazyNIKS) July 22, 2018
Sarfraz is on Banter, bowling couple of the last few overs 😂 #ZimvPAK

— Thomas Shelby 🐎 (@shaqxii) July 22, 2018
Fouji With New Job😀@FakharZamanLive#ZIMvPAK pic.twitter.com/qTX8JyktA9

— Qaisar Abbas (@Qaisar_Abbas19) July 22, 2018
Sarfaraz Bowling 👍👍#ZIMvPAK #Pakistan #Cricket

— Ali Naqvi (@aliameernaqvi) July 22, 2018
Saifi bowling nd fakhar keeping hahaha interesting very interesting #PAKvZIM #ZIMvPAK

— Khushi Bukhari (@Khushi_Bukhari_) July 22, 2018
Saifi bowling right now🙆yar bas kardo Zimbabwe kay mazay lena😂 #ZIMvPAK

— Sehrish (@f_sehrish) July 22, 2018
Sarfraz is bowling, he wanted to do in the last match also… #ZIMvPAK 😂

— P₹akash $inha 🇮🇳 (@Predicto_Praky) July 22, 2018
Follow us on Telegram