Twitter Reactions: Yasir Shah and Pakistan dismantle New Zealand to avenge Abu Dhabi defeat
The Blacks Caps' batsmen showed fight, but their efforts went in vain.
Updated - Nov 27, 2018 5:36 pm
1K Views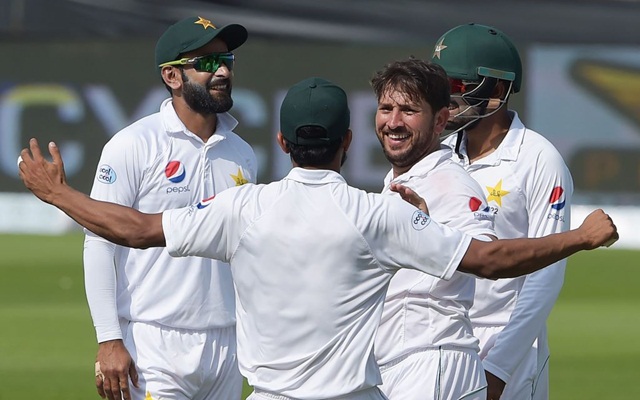 By the close of play on the third day, Pakistan had their nose ahead in their second Test against New Zealand at Dubai International Cricket Stadium. The Black Caps, after getting bowled out for 90 in the first innings, showed resilience in the second innings and tried to defy the inevitable, but Pakistan trumped them by an innings and 16 runs to draw level in the three-match series.
Taylor and Nicholls hold fort
With 197 runs to avoid the follow-on and eight wickets in hand, Tom Latham and Ross Taylor came out to bat. The duo put forth a stand of 80 runs to reignite the Kiwis' hopes of a comeback, but Hasan Ali got rid of Latham for 50 to pick up the day's first wicket. Henry Nicholls joined Taylor in the middle and the duo added 52 runs on the board. Meanwhile, Taylor notched an impressive half-century.
Nevertheless, the veteran fell prey to Bilal Asif's guile and trajectory after scoring 82 runs from 128 balls. Wicketkeeper BJ Watling turned up with a determined approach and put his head down to lend support to Nicholls. Eventually, leg-spinner Yasir Shah nipped out Watling for 27 and all of a sudden New Zealand had half their side back in the hut with plenty of work to be done ahead in the innings.
Yasir stars yet again  
After Watling's dismissal, the Kiwis lost their last five wickets for 57 runs. Colin de Grandhomme smacked a couple of fours and was afterwards cleaned up by Hasan. Ish Sodhi couldn't provide much resistance and he became Yasir's third victim. The tweaker delivered the body blow when he dismissed Nicholls, the last of the recognised batsmen, for 77 runs from 187 deliveries.
Neil Wagner remained in the middle and played out 34 balls. Nevertheless, Yasir Shah worked him out and picked up a five-wicket haul. He experienced campaigner got his sixth wicket in the form of number 11, Neil Wagner and the dismissal brought the curtains down the match. The series now moves to the third and deciding Test match at Sheikh Zayed Stadium in Abu Dhabi.
Here is how Twitter reacted
Congratulations team Pakistan on winning the match. Well played @theharissohail and @babarazam258
Once again excellent bowling by Soora (meaning red face in pushto) @Shah64Y

— Junaid khan 83 (@JunaidkhanREAL) November 27, 2018
That's not appealing
That's just screaming

— Dale Steyn (@DaleSteyn62) November 27, 2018
Phenomenal by @Shah64Y – 14 wickets in the match,great performance by @RealHa55an too who has been fantastic this series! Series 1-1,a fine comeback by the boys in green #PAKvNZ

— zainab abbas (@ZAbbasOfficial) November 27, 2018
Congratulations PAK team thoroughly deserve it ..
Well done yasir Shah what a amazing spell by you.. pic.twitter.com/9yrZsd11UH

— Shoaib Akhtar (@shoaib100mph) November 27, 2018
Best match figures by leg-spinners in Tests

16-136 Narendra Hirwani
14-149 Anil Kumble
14-184 YASIR SHAH (today)
14-199 Clarrie Grimmett#PakvNZ

— Mazher Arshad (@MazherArshad) November 27, 2018
Star performance, Star player. #YasirShah well done you did it single handedly. #PakvNZ

— Muhammad Ibrahim (@Iibrahimlibra) November 27, 2018
Excellent comeback by Pakistan, was a little surprised by the approach in our batting but proved to be right…Yasir Shah the match winner proved his worth once again! Great effort by him! #PAKvNZ #YasirShah #2ndtest

— Mohammad Shauib (Shabba) (@MShauib1) November 27, 2018
For the first time since December 1993, a Pakistani bowler has taken 13 wickets in a match. The last was Waqar Younis against Zimbabwe at Karachi. #PakvNZ

— Israr Ahmed Hashmi (@IamIsrarHashmi) November 27, 2018
Sarfraz ko kaptan say hatany waly dikh nhi rahy kahe #PakvNZ

— آزاد پنچھی (@Ubj90) November 27, 2018
Yasir Shah levels the Imran khan record taking 14 wickets in a test.

Congrts Pakistan team..#PAKvNZ

— Sa Adi (@SaAdi_Rathore) November 27, 2018
ALL OVER! Another Yasir Shah spell accounts for Trent Boult and Pakistan square the series with a magnificent performance as they win the 2nd Test by an innings and 16 runs;
#PAKvNZ

— Sahib Zada Official (@SahibZadaAjm) November 27, 2018
👏👏👏Congratulations team Pakistan on winning the match. Well played @theharissohail and @babarazam258
Once again excellent bowling by @Shah64Y #PAKvNZ 🎉🎉🎉

— SK_01 (@salmankhanno47) November 27, 2018
Great performance #Pakistan ! Brilliantly done @Shah64Y ! #PakvNZ

— Shehzad Ghaffar (@Shehzad4u) November 27, 2018
Congrats Team Pakistan. What a Performance from Yasir Shah 14 Wkts in this Match. #PakvNZ pic.twitter.com/CT9cKBjrBF

— Hamza Gul (@iHamzaGul) November 27, 2018