Twitter requests Supreme Court and BCCI to lift S Sreesanth's lifetime ban
#JusticeForSreesanth is trending on social media.
Updated - Jan 24, 2019 5:08 pm
7.4K Views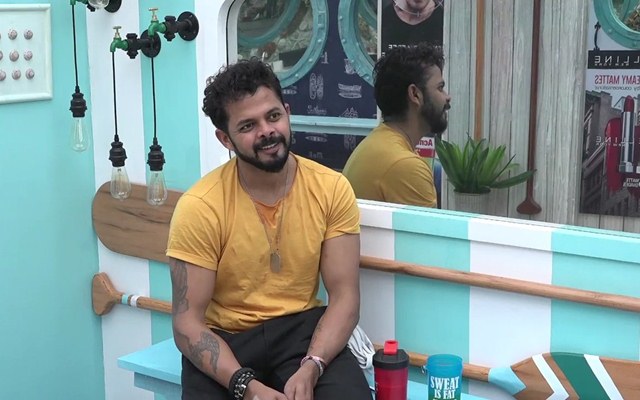 Follow us on Google News
S Sreesanth has been the controversial figure in the Indian cricket for the last few years now. The 2013 season of the Indian Premier League (IPL) turned out to be a nightmare for Sreesanth after he was arrested by the police overnight by alleging him of spot-fixing. He was playing for the Rajasthan Royals then and the life turned upside down for the cricketer. Though he was released of all the fixing charges later, the BCCI has refused to lift the life ban on the fast bowler.
Sreesanth has been battling against the board in the court but to no avail. He recently appeared on the 12th season of the reality show Bigg Boss which is hosted by Salman Khan. A lot of times, controversies followed him on the show and was also lashed out by the fans on social media for questioning the upbringing of one of the contestants in the house.
There were also reports of the cricketer threatening to leave the house multiple times and was involved in an argument with Salman for breaking the rules of the house.
Sreesanth receives affection
However, it seems that the show has helped S Sreesanth clear his image as the fans are showing affection towards him. After losing several times to the BCCI, the Supreme Court has finally decided to hear Sreesanth's case and the cricketer is hoping to make a comeback at least in the domestic circuit before calling it quits from the game.
On Monday, his wife Bhunveshwari Sreesanth took to Twitter to let the fans and followers know about Sreesanth's case and prayed to the God hoping that everything will fall in place for her husband. The supporting tweets flooded for the cricketer then on her timeline. #JusticeForSreesanth started trending on social media since then even as the fans came out with banners outside the court demanding to lift the ban on the tainted cricketer.
Here are some of the tweets:
People realizing that Sreesanth is an innocent & now India wants #JusticeForSreesanth pic.twitter.com/CIJ7p6EAqw

— Sharif(मासूम छोरा)😊 (@sharifgouri00g1) January 22, 2019
@BCCI give it back to @sreesanth36 the jursey no. 36

#JusticeForSreesanth pic.twitter.com/66DeIECwes

— swadhin pattnayak (@I_theswadhin) January 21, 2019
@BCCI aj to Apne bhi dekha hi Hoga sc ke bahar sree ka fan craze . We want him back .

Please do justice with him

Please Bring back Sreesanth @sreesanth36#JusticeForSreesanth #SreesanthDeserveSecondChance

— Ekta 🏏 (@EktaMehra17) January 22, 2019
Dear @BCCI we want sreesanth back in team India plz remove the ban ..@sreesanth36 is innocent. But u keeps life ban on him even after every allegations proved false on him #JusticeForSreesanth pic.twitter.com/J8uy4rf4yI

— Romeo #SreeFam 🏏 (@DashingRomeo) January 21, 2019
#JusticeForSreesanth This is too much..this man is going though So much I didn't even knew about this before 😭 @sreesanth36 I'm going to support you till I'm breathing..🙏 #Sreesanth #SreeFam
BABA NANAK SUKH RAHE 🙏❤️
Bring Back Sreesanth @BCCI@RJohri pic.twitter.com/uqUAfgqp18

— Neyati♏️ Bring Back Sreesanth (@Jenwinget5) January 22, 2019
#JusticeForSreesanth
We want our star player to comeback and make our nation proud….#JusticeForSreesanth
Please everybody support Sreesanth pic.twitter.com/QBMjLZquWR

— Ayush yadav (@Ayushya00405303) January 21, 2019
"Umar" itni nhi thi
Jitne "sabak" Sikh liye 😓😓😓😓@BCCI plz plz plzzzz plzzzzz plzzzz 🙏 🙏🙏🙏🙏🙏🙏🙏🙏🙏🙏🙏🙏
Lift the ban🙏🙏🙏🙏🙏🙏🙏🙏🙏 we want #JusticeForSreesanth @sreesanth36 @Bhuvneshwarisr1 pic.twitter.com/OLFUIutjF2

— kamble {sreesanth fan}🤗 (@SnehalK66303185) January 21, 2019
We miss ur aggression on field#JusticeForSreesanth pic.twitter.com/V0Hd0NefD3

— Saif Siddiqui (@SaifSid61571217) January 21, 2019
@BCCI Plz Bring Back SREESANTH to Indian cricket team..!!

Please support. @sreesanth36 #JusticeForSreesanth pic.twitter.com/R2AbdioQA2

— 💥Drakesis 🏏#JusticeForSreesanth 🙏😇 (@drakesis_) January 21, 2019
He don't need any clean chit from @bcci .#SupremeCourt verdict clears him.
Authorities can't keep away from ground .
Make Corrections & @ICC
He deserves all his credentials back .#JusticeForSreesanth

— balu biyani (@biybalu) January 23, 2019
#JusticeForSreesanth #SreeFam
LOVE YOU @sreesanth36 SIR @Bhuvneshwarisr1 PLZZ @BCCI
BE FAIR WITH SREE SIR pic.twitter.com/4odshj2u7n

— AńshūŁ Kūmâř (@itsanshulkumar) January 23, 2019
"Strength does not come from physical capacity..
It comes from an indomitable will"..#JusticeForSreesanth pic.twitter.com/8oy3Lxt6cj

— Tanisha💖Sreesanth (@tanisha31437163) January 21, 2019
#JusticeForSreesanth I met a legend ….Plz remove bann from sree bhai ….India wants him back …we want to see him again in blue Jersey..BLEED BLUE…

He deserves to play …this man can destroy any batsman in the world …sreesanth will be back soon …. pic.twitter.com/5TXZ38y4u1

— Feel my…👊 (@Atharva06218414) January 22, 2019
#BCCI Plz lift the ban..Let him play..!! @sreesanth36#JusticeForSreesanth pic.twitter.com/QiVFBd0Nfx

— Riya Patil #SreeFam 🏏🤗💖💖 (@RiyaPatil_) January 21, 2019
Sree never cheated India team.please lift the ban from sree.@BCCI
Sree sir ko ek chance milna chaie apne apko sahi prove kerne ke lie.warna ye unfair hoga sree sir ke sath.please BCCi ban https://t.co/CWgS2tmpKu from Bangladesh.#JusticeForSreesanth #Sreesanth pic.twitter.com/LlZSedXSJi

— Tasin Mahazabin#justice for sreesanth #sreefam (@TMahazabin) January 21, 2019
Follow us on Telegram