S Sreesanth's wife Bhuvneshwari lashes out at Bigg Boss host Salman Khan
She also didn't forget to show her unconditional love for her better half.
Updated - Oct 30, 2018 12:30 pm
14.6K Views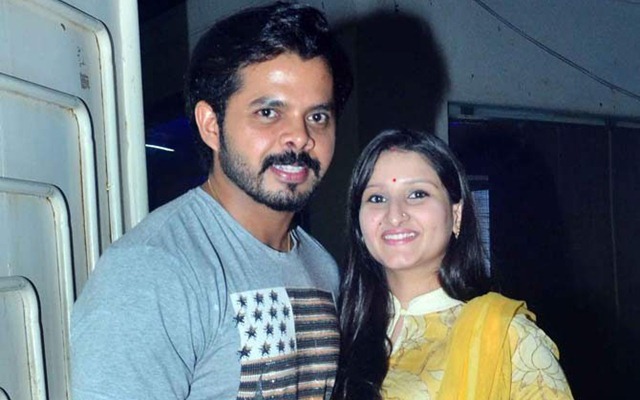 Follow us on Google News
Tainted Indian fast bowler S Sreesanth is currently taking part in the Bigg Boss Season 12 and has turned out to be a controversial figure inside the house. He has threatened to leave the house on a number of instances and he mentioned the same as a strategy to stay put in his position inside the house. He has also been a recipient of a severe amount of negative feedbacks.
The 35-year-old has been slammed by the audience as well as Salman Khan, the show's host, in the 'weekend ka vaar' episode for mixing dishwasher during a task and was also accused of making homophobic jokes on a contestant. In the meantime, Bhuvneshwari Kumari, to whom the speedster has been married ever since December 2013, has come out in his support.
She reckons her husband has been targetted inside the house and also warned the people to not call him a fixer. Moreover, she went on to slam Salman for the partiality he has shown towards the other contestants. Bhuvneshwari didn't forget to show her unconditional love for her better half and promised to be by his side during every other difficult circumstance.
I genuinely feel that Sree is being targeted
"I wonder if Sreesanth would have said 1% of what she had said to any contestant would it not have been a topic of discussion on WKV. I am quite sure it would have been a topic of nation. So why such partiality? When u say every contestant in Bigboss house is equal, then you shouldn't target or highlight Sreesanth alone whereas other contestants have said and done worst things like kicking the table and breaking the plate during the same week, I think it's very unfair.
Thank you Sreefam for all the love and support. And for those who r asking; YES, I LOVE SREE unconditionally and will continue to do so in every circumstance. XOXO," Bhuvneshwari was quoted as saying in a note on Twitter.
"I genuinely feel that Sree is being targeted a lot inside as well as outside the house for publicity and footage to which I have or he has no control over. We can only choose to ignore, which we all saw, Sree did the last whole week after being called by every possible names like Kala kauva, International kauva, Neech, Ghatiya, Pagal, Farzi, Launda, mental.
Dimag meinkeeda, dumb, deaf, idiot, makkar, ghatiyaaadmi, aisimarungi ki Teri Puste yaadrakhengee, Gira huainsan, sala and many many more things crossing every possible line of decency and also dragging family and generations who has got nothing to do with any of it. Still it is not taken seriously and person who says such things is given Free Hand. Every weekend ka vaar really makes me upset" she added.
Get the latest Cricket News and updates, Match Predictions, Fantasy Cricket Tips and lots more on CricTracker.com.
Follow us on Telegram