Twitter ridicules Rishabh Pant for his bland show with the wicketkeeping gloves in Southampton
Pant conceded a staggering 23 byes.
Updated - Aug 31, 2018 2:07 pm
6K Views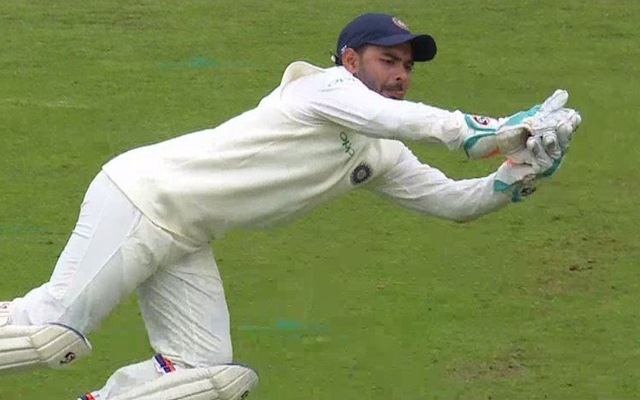 Follow us on Google News
Rishabh Pant's foray into international cricket was an audacious one as he got off the mark in the format with a six in his very second delivery of the third Test at Trent Bridge in Nottingham. During his knock, he showed an unruffled temperament and notched 24 hard fought runs. Thereafter, the Uttarakhand-born cricketer pouched seven catches in the match to capture the imaginations of the supporters.
Albeit, he couldn't deliver with the willow in the second innings, he was showered with praises from the cricketing fraternity. The 20-year-old performed well enough to ensure that he finds a place in the eleven for the fourth and penultimate Test of the series at The Ageas Bowl in Southampton. Only one day has gone by in the contest and the match has already turned out to be a disaster for Rishabh Pant.
Pant's indifferent show with the gloves
He had a difficult time with the wicketkeeping gloves. England scored 246 runs and almost ten percent of those runs were scored off byes. To be precise, Pant conceded a staggering 23 byes. The youngster mostly missed out on collecting the balls down the leg side. He made valiant attempts with full-length dives, but unfortunately couldn't latch on to the deliveries.
Moreover, he dropped Jos Buttler when the batsman unsuccessfully tried to leave the ball off Mohammed Shami. He misjudged the ball and grassed the catch. To Pant's relief, the missed opportunity didn't cost India much as the swashbuckling English batsman could only manage 21 runs in 24 balls and was nipped out by Shami itself.
Pant's only moment of joy in England's first innings came when he took Jonny Bairstow's catch off fast bowler Jasprit Bumrah. In the meantime, Twitterati wasn't satisfied with Pant's indifferent performance behind the wickets. Some even reckon that Wriddhiman Saha, who is recovering from a shoulder injury, would easily replace him if he doesn't stand up to the task.
Here is how Twitter reacted
To all who criticising @RishabPant777 out there
I bet none of them had watched the match live..
All byes were so tough to grab
He put all of him save all those#EngvInd #RishabhPant

— Chandan Kushwaha (@imcr_chandu178) August 30, 2018
Tough day behind the stumps for Rishabh Pant, but he has kept much better than the scorecard says.

— Shashank Kishore (@captainshanky) August 30, 2018
Rishabh Pant has been excellent as a wicketkeeper. The ball is swinging before it reaches him and he still has managed to stop runs and also caught well. There was one chance but that was tough, anyone would have dropped that! Well done @RishabPant777!! 🔥💪 #ENGvIND #INDvENG

— Shivam (@itsShivam18) August 30, 2018
On a day like today, stats can be misleading. If you merely look up the number of byes, you'll likely think Rishabh Pant has had a shocker of a day. But, you need to have watched him in action to appreciate how good he was, especially when the ball moved late #ENGvIND

— Arun Venugopal (@scarletrun) August 30, 2018
Return back @Wriddhipops as soon as possible.
The technique of Rishabh pant is totally waste in terms of wicket keeping.
Saha continued to save more runs behind the stumps but rishabh not!
That is the successful point that saha have ..

— Tanweer Hasan (@tanweerhasan264) August 30, 2018
Spare a thought for Rishabh Pant, had a trying day behind the stumps. Scorecard says 22 byes but most of them wasn't really his fault. All part of the learning curve though #ENGvIND

— Deep Dasgupta (@DeepDasgupta7) August 30, 2018
Rishabh Pant is having a tough time on his right side. Way too many extras conceded #ENGvIND

— Sriram (@Sriram_MSD7) August 30, 2018
Rishabh Pant proving you should always have the best WicketKeeper in the team!!!

— Josh Winterton (@josh_winterton) August 30, 2018
Rishabh Pant ~ I Love You…

Girlfriend ~ You Are Lying, You Don't Even Miss Me…

Rishabh Pant ~ Baby I Miss You More Than I Miss Catching Balls Down The Leg Side…#ENGvIND

— Babu Bhaiya (@Shahrcasm) August 30, 2018
While Sam Curran has tried to play like Ian Botham why has Rishabh Pant kept wickets like Kamran Akmal? 23 byes!?!? #ENGvIND

— Budhaditya Roy (@budhadityaroy) August 30, 2018
Rishabh Pant needs to work on his wicket keeping technique. Horrible horrible technique he has. Else Saha would out kick him easily. #EngvInd

— Ecstasy (@Pungebaaz) August 30, 2018
Guess @nassercricket did a great job jinxing Rishabh Pant's keeping today. After Nasser's segment on the Indian keeper, Pant has dropped a catch and has conceded 22 byes already.#ENGvIND

— Sidhant Maheshwari (@msidhant) August 30, 2018
Team India seem to be missing a reliable hand behind stumps like @Wriddhipops …23 byes for Rishabh Pant..not good on your CV as a keeper…got to make his bat talk to overcome all of this.#INDvENG #ENGvIND

— G. S. Vivek (@GSV1980) August 30, 2018
For more news and developments, stay tuned on CricTracker.com.
Follow us on Telegram