Twitter rips apart Rohit Sharma for playing a pathetic shot
The shot which Rohit played was certainly not on at that moment.
Updated - Dec 6, 2018 9:51 am
4.9K Views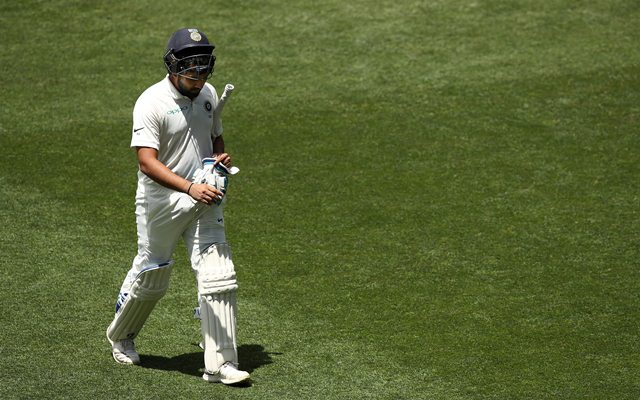 Rohit Sharma's inclusion ahead of Hanuma Vihari in the first Test of the four-match series surprised many. Surely, their concern was understandable as the latter looked more assured in the practice game as well and was coming off confident knocks in New Zealand in the lead-up to the series. But Virat Kohli opted for more experience and attributed to Rohit's ability to bat with the tail at the toss.
Coming in to bat at 41/4 in the first session, India's limited-overs vice-captain got off the blocks quickly and for a moment it felt that the decision to back him would work. Those crisp drives off the backfoot were back and he was also challenged to play a pull shot with the short ball. While he ducked under a few of those, Rohit also smashed one into the stands making a statement.
Though the shot of the day has to be the lofted front foot drive over deep cover for a six off Pat Cummins which many could only dream to play. Rohit looked so subtle in his approach and swiftly went past the 35-run mark even as his partner Cheteshwar Pujara was adamant on holding one end up.
Brain-fade moment
In the 38th over, Rohit Sharma decided to take on Nathan Lyon and swept one in the air which just went past the ropes. Rather he was lucky to survive at that moment with the debutant Marcus Harris taking a clean catch but the momentum took him past the line as he failed to get rid of the ball in time.
But, for some inexplicable reasons, Rohit came down the track off the very next delivery. Lyon smartly pulled his length back to cramp the batsman for room and Rohit went through with the shot in the same area. It was evident to the naked eye that he didn't time it at all and Harris took the catch this time easily and didn't have to move an inch at all.
After batting so well for his 37 runs and almost had the opposition on the backfoot with a promising partnership building, Rohit Sharma once again threw away his wicket to leave his fans bewildered not for the first time in his "Test" career.
Here's how Twitter reacted to his dismissal:
At this stage of his career, Rohit Sharma must look at every Test match opportunity as a rare privilege. Can't be squandering opportunities like this. #AUSvIND

— Sanjay Manjrekar (@sanjaymanjrekar) December 6, 2018
Rohit Sharma what the hell 😳😳 ya can't do that big man 🤣🤣🤣🤣 History's Page *Ryan Hinds* voice 🤣🤣🤣🤣🤣🤣😆😆😆😆😆 #AUSvsIND

— Tino95 (@tinobest) December 6, 2018
Rohit pic.twitter.com/sxMQrncRP0

— John Hastings (@johnhastings194) December 6, 2018
What was @ImRo45 thinking.. Is India playing a T20 or is India 350/4.absolutely appalling shot by such a mature player. He shouldn't have played in the first place in my books simply cos Vihari had done no wrong. How can the shorter format be the basis for his selection #AUSvIND

— Hemang Badani (@hemangkbadani) December 6, 2018
Bhai set batsman getting out deserves more criticism !
Rohit Sharma is my current fav @BCCI bat , but no way can you defend that shot ! https://t.co/hWycjDlPTU

— Anirban (@basuscion) December 6, 2018
Rohit Sharma is Indian Lukaku 😂

— AlphaBe (@KatyushaBlaze) December 6, 2018
Makes me cringe.

Please let this be the last test match Rohit Sharma ever plays. #AUSvIND #cricketaustralia

— Anshuman Mahanty (@mahanty_a) December 6, 2018
Rohit Sharma is just missed triple century by 269 runs . @SRKrider1 sad. #AUSvIND

— Mrs. Shah Rukh Khan (@SRKkiSoni) December 6, 2018
Rohit Sharma just dismissed himself! A player playing as a pure batsman in a three day school level game wouldn't get out to such an ugly hoick! Let alone get out he wouldn't dare to play such a shot!
😠😠😡😡😡#Rohit #AUSvIND

— Left Arm Chinaman (@leftarmchinamen) December 6, 2018
Virat kohli said on the toss that Rohit Sharma can play well with the tail, but still what the question remains is will he stick till the tail comes?? #RohitSharma #imkohli #INDvAUS

— Aunsh jani (@aunsh_jani) December 6, 2018
Rohit Sharma, hahaha. My vote in 2019 is going to the party that puts in its manifesto – in writing – that Rohit Sharma will never wear India whites again. His worst shot ever in the most important test. Genius.

— A/S (@slicesofIife) December 6, 2018
Rohit Sharma refused to encash on the helpful conditions he got. Mark of a great batsman. #AUSvIND

— Avin Chhangani (@AvinChhangani) December 6, 2018
Fans when Rohit Sharma returns back to pavilion #AUSvIND pic.twitter.com/BjF9TfCukp

— Gajender Singh (@gajender00) December 6, 2018
Why is Rohit Sharma giving me a reason to hate him? Being a fan, i literally feel he should give up playing test cricket for d sake of his own self. There is a hell lot of difference between limited overs & Skills + Temperament = Test Cricket. #chodnamat @SPNSportsIndia #AUSvIND

— Pumpopur (@Pumpopur) December 6, 2018
[interaction id="5c07ab096c97eef321f356cd"]