Twitter slams Hardik Pandya and KL Rahul for choosing Virat Kohli as the 'better batsman' over Sachin Tendulkar
Rahul and Pandya's answer, however, has not gone down well with the fans.
Updated - Jan 8, 2019 11:09 am
977 Views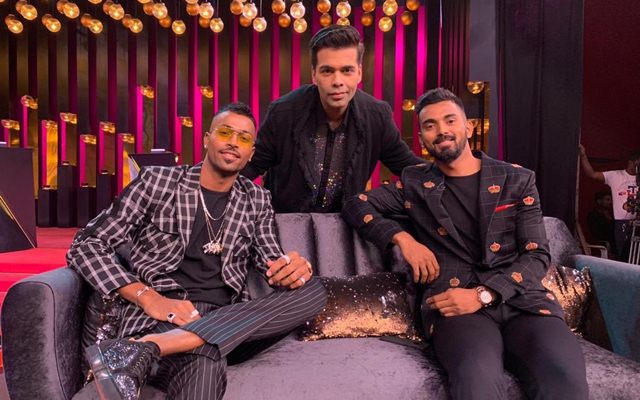 India cricket stars KL Rahul and Hardik Pandya were the latest guests in the famous chat show Koffee with Karan. On the very expected lines, Karan Johar, the host of the show, put forward some interesting questions and two did not hesitate in answering all of them. One of those questions was to pick the better batsman between the legendary Sachin Tendulkar and modern maestro – Virat Kohli.
The debate over who is better between the two is nothing new in the cricketing world. While Tendulkar is arguably the most accomplished batsman of all time, Kohli is well on his way of creating his own legacy. Only time will tell how much Kohli achieves by the end of his career but if he continues to bat in the manner he is doing now, he can very well retire as one of the most decorated batsmen in the history of the game.
At just 30, he has already been given the legend status by many. Last year, he broke Tendulkar's long-standing record of fastest to 10,000 ODI runs. It took Kohli just 208 innings to achieve the feat while Tendulkar had taken 259 innings to get there.  He has also scored a staggering 38 centuries in ODIs and 25 in Tests. He averages over 50 in both Tests and ODIs which shows his remarkable consistency.
On the other hand, Tendulkar retired from the game with almost all the major batting records to his name. The former India batsman finished his illustrious Test career with a record 15,921 runs in 200 Tests including 51 centuries and 68 fifties. His ODI career was even more impressive where he played 463 games, scoring 18,426 runs and made 49 centuries, each of them a world record.
Not surprisingly, the majority find it tough to pick one between Tendulkar or Kohli. In most of the cases, the cricketing personalities end up giving diplomatic answers. However, Rahul and Pandya had no hesitation whatsoever as both picked Kohli over Tendulkar without thinking much.
Pandya and Rahul face the heat:
Rahul and Pandya's answer, however, has not gone down well with the fans. As a result, the fans took to Twitter to vent their anger and frustration. Here are some of the reactions:
When hardik pandya said Virat is better than Sachin*

Mumbai Indians – pic.twitter.com/lJjirDwem4

— Maha Purush! (@MahaPurushhh) January 6, 2019
This is so classic! All guys are offended that Hardik Pandya chose Virat over Sachin and not by his absolutely disgusting, classless, misogynist behaviour. #KoffeeWithKaran

— Pradnya (@topradnya) January 6, 2019
Hardik Pandya : Virat is better than Sachin!

Sachin Fans be like pic.twitter.com/lDryy7rmlp

— $iđđhesh🇮🇳 (@IamSiddhesh89) January 6, 2019
#KoffeeWithKaran
After seeing kl and hardik choose virat over sachin.
Me : pic.twitter.com/Kcsy9piUrh

— KP (@sabhya_purush) January 6, 2019
Hardik Pandya says Virat is better a batsman than Sachin.

Truly courageous Pandya that he doesn't even fear God

— Ra_Bies (@Ra_Bies) January 6, 2019
Hurting religious sentiments of an entire generation. https://t.co/DENO9YiUSR

— SAGAR (@sagarcasm) January 6, 2019
Hardik Pandya saying Virat is better than Sachin is actually a point more in favour of Sachin than Virat.

— The-Lying-Lama (@KyaUkhaadLega) January 6, 2019
If Virat is better than Sachin then KL Rahul is better than Sehwag and Hardik Pandya is better than Kapil Dev#KoffeeWithKaran #ChamanChand

— Indian Curd Rice (@Indiancurdrice) January 7, 2019
Get the latest Cricket News and updates, Match Predictions, Fantasy Cricket Tips and lots more on CricTracker.com.