Twitterati lashed out at Rishi Kapoor for a strange tweet for Indian Team
Kapoor was criticised for his tweet on the ongoing Women's World Cup finals between Inda and England.
Updated - Jul 24, 2017 1:06 am
4.9K Views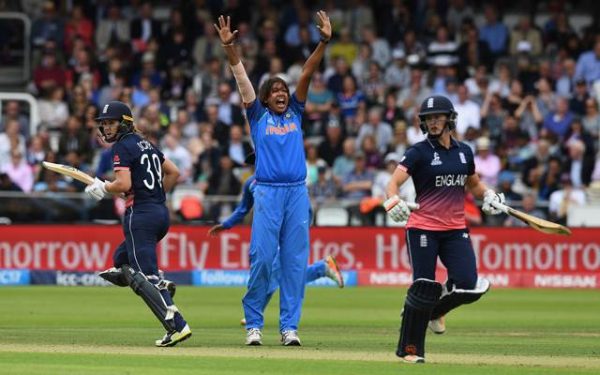 Mithali Raj & Co. did a fantastic job by qualifying for the finals of the ICC Women's World Cup. This is just their second appearance in the finals, the last one coming 12 years ago in 2005. After losing the toss at Lord's, India did exceptionally well by restricting England for a modest score of 228 for 7 after 50 overs.
Fond memories of Lord's
One of the most famous Lord's memories for Indian cricket has been Sourav Ganguly's T-shirt waving incident. India recorded a famous win at the home of cricket in 2002 when they chased down 326 to win the NatWest Final against hosts England. At that time, it was the second highest chase in the history of ODI cricket. India overhauled the huge total after a middle order collapse and it was down to young Yuvraj and Kaif to achieve the unachievable. Ganguly, after the winning runs were struck, couldn't hold himself back to take his jersey off and wave it in the air in a bid to reply Flintoff's similar stunt a few months ago in India.
Rishi Kapoor didn't choose his words perfectly
Bollywood actor Rishi Kapoor known for his outrageous statements tweeted after India's phenomenal bowling performance. Since the finals are held at Lord's, where Ganguly's team scripted that NatWest win, Rishi wanted a similar result for the Indian Women's team.
He posted a picture of Ganguly waving his jersey 15 years ago and wrote that he was looking forward "for a repeat of Sourav Ganguly's act on the balcony of Lord's".
Waiting for a repeat of Sourav Ganguly's act on the balcony of The Lords Ground,London,when India beat England 2002 NatWest series final! YO pic.twitter.com/z1XAde3JLb

— Rishi Kapoor (@chintskap) July 23, 2017
This tweet was expected to draw the ire of the fans. They were prompt in pointing out that the Women's team can't do the repeat of the act for obvious reasons. Maybe Rishi Kapoor didn't mean that but being a popular celebrity, he must choose his words wisely before posting statuses on social networking sites.
Here are some of the best replies from the users:
Sir they are not cheap Bollywood people to do such vulgar things. Show some respect.

— π@Z®❗Y∆ (@Nazriyatweets) July 23, 2017
Sir konsa brand mar liya ??
???

— sahitya bhavsar #Gsm (@sahitya786) July 23, 2017
You are so unparliamentary yet funny… LOL

— P D Sathish Chandra (@pdschandra) July 23, 2017
Sir Sunny Leone team mai nahi hai

— नवजोत सिंह GST (@00manthan) July 23, 2017
You do understand what your words imply sir, right? It Sounds so wrong.

— Sohail shaikh (@so_haill) July 23, 2017
Sirjee..i understood ur feelings..but whom u r expecting to do the act in the lords balcony, i hope nt the players..think b4 tweet sir

— Ronnie chowdhury (@ronnie_d_one) July 23, 2017
Wrong picture selected ? pic.twitter.com/atpauK5X8u

— Yasin Dudhwala (@im_Dyasin) July 23, 2017
Wait…what…if you have commented this on our Women's team then u r in deep trouble sir..Sorry ??

— Anubhav Choudhury (@Achy35MSDfan) July 23, 2017
Definitely..IndiaW .will be win..what are you saying …Dirty Man..apni age ka to khayal rakho. ..

— Sayyed Maqdoom (@Maqdoom716) July 23, 2017
This is a wrong act Sir
Don't encourage respected women cricket team to do it plzzz..

Well best of luck May India win

— Ejaz hasani (@EjazEa92) July 23, 2017
A person of yr caliber shouldn't b making such cheap comment,Respect women

— Aish (@farasha30) July 23, 2017
Rishi ji knows how to create a storm with 140 characters!

???

— ✌V!shwajeeT (@VKondi) July 23, 2017
Rishi clarifies
Later the Bollywood actor clarified his statements and said that he was being misconstrued by people who have a "wrong mind".
WHAT WRONG HAVE I SAID? I DIDNT SAY ANY FEMALE PLAYER SHOULD!I ONLY SAID SOURAV GANGULY SHOULD REPEAT HIS SHOW. YOU HAVE A WRONG MIND DEAR!

— Rishi Kapoor (@chintskap) July 23, 2017