Twitterati question Adil Rashid's Test comeback after opting out of red-ball cricket
The first Test match starts on August 1 in Birmingham.
Updated - Jul 26, 2018 5:40 pm
3.6K Views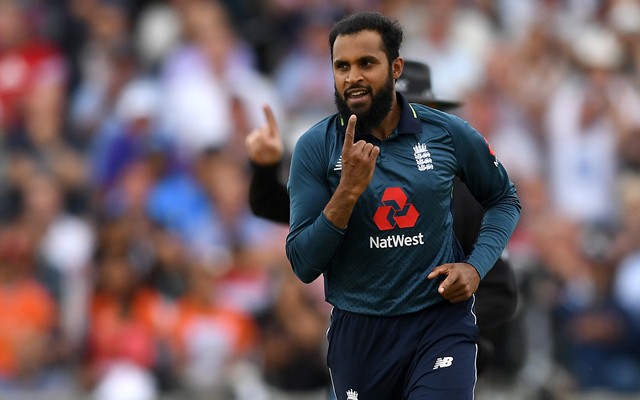 The England and Wales Cricket Board (ECB) picked a 13-man squad for the first Test against India on Thursday. The selectors made a bold move by including Adil Rashid in the squad after the leg-spinner had denied signing a first-class contract with his county and had clearly stated his little interest in red-ball cricket. His recall was completely based on the fact that he troubled most Indian batsmen in the limited-overs leg of the tour especially Virat Kohli.
The English summer is at its peak and Rashid is their best option to exploit the dryness in the wickets. There are no major changes in the line-up as the home team has opted for a full body pace attack with two spinners in Rashid and Moeen Ali. The final selection on what the bowling combination will be would depend on the nature of the wicket and the climate.
Rashid while signing only a white-ball contract with Yorkshire had said: "It was a decision made purely because of how I felt playing red-ball cricket at this time. My mind's not there, my heart's not there."
As far as the rest of the squad is concerned – Keaton Jennings will be Alastair Cook's opening partner followed by skipper Joe Root at No.3. Root's form in the ODI series will certainly reflect when he takes the field in whites and commands his troops. Along with them the two wicketkeepers Jonny Bairstow and Jos Buttler are also the men in form. Their middle and lower order batting will revolve around the duo.
The bowling looks tight with James Anderson and Stuart Broad at the front – Sam Curran and Ben Stokes form the second line among the seamers. 25-year-old Essex pacer Jamie Porter who is yet to make his debut is another option in hand. 
England squad for the first Test:
Joe Root (C), Alastair Cook, Keaton Jennings, Dawid Malan, Ben Stokes, Jonny Bairstow (wk), Jos Buttler, Moeen Ali, Sam Curran, Adil Rashid, James Anderson, Stuart Broad, Jamie Porter
Here is how Twitterati reacted to the English selection:
This England selection is proof too that performances in white ball cricket are increasingly influencing selection in red ball cricket.

— Harsha Bhogle (@bhogleharsha) July 26, 2018
So we have picked someone who cannot be arsed with 4 day cricket for the Test Team … Forget whether he is good enough or not I find this decision ridiculous … !!!

— Michael Vaughan (@MichaelVaughan) July 26, 2018
Adil Rashid being picked for the test squad sends a bad message to all county spinners, imagine working so hard to get an England call up but then this guy who doesn't play any red ball cricket gets picked, I feel sorry for players like Jack Leach who have worked hard #ENGvsIND

— Aatish Parmar (@Aatish_p22) July 26, 2018
Adil Rashid included in England squad for the First Test against India … despite refusing to play red ball cricket for @YorkshireCCC

Your thoughts? Should he have been called up? pic.twitter.com/XesLqWKd9d

— ScarboroughNewsSport (@SN_Sport) July 26, 2018
This, sadly, is one of the worst England test squads I can remember for a long time. This could be an horrific series #ENGvIND

— George Martin (@George86Martin) July 26, 2018
@GaleyLad as yorkshire coach do you think it Right that Rashid is in the England test squad? Having not played for us in red ball cricket this season

— Billy Wilks 🐝 (@BillyJW1996) July 26, 2018
I think it would be a stretch to look at recent England Test squads and conclude the powers that be know exactly what they're doing.

Some punts made in hope rather than expectation…

— David Charlesworth (@charlie_4444) July 26, 2018
Rashid in the test squad. That is a disgrace, the @ECB_cricket @englandcricket are a disgrace for picking him. Undermines cricket in England at every level possible

— Damian Sutton (@DamoAngry27) July 26, 2018
Rashid's selection in the England test squad having taken a year off from first class cricket is an absolute joke.

— Enough Of That Now (@AndyGilder) July 26, 2018
Adil Rashid, Moeen Ali, Jamie Porter in England squad for first Test: England handed recalls to spinners Adil Rashid and Moeen Ali, while Essex seamer Jamie Porter is included in a Test squad for the first time

— IPL Club (@IPLCLUB) July 26, 2018
Haha it looks like @AdilRashid03 got himself back in the England test squad with one ridiculous ball to Virat Kohli. I love it. https://t.co/u9NHTDiphR

— Dan Joslyn (@daniel_joslyn) July 26, 2018
No idea why @AdilRashid03 is England Test squad he hasnt played red ball cricket this season for Yorkshire what a joke

— Billy Wilks 🐝 (@BillyJW1996) July 26, 2018
Poor from @englandcricket to pick Rashid for the Test Squad, good player but doesn't even play Red Ball Cricket, literally a slap in the face to all the others who commit to play Week in Week out. #England #Cricket

— KP (@KaiPidgeon94) July 26, 2018
Looking at the England squad for the first test against India. pic.twitter.com/bl5vS0MeyR

— Matt Smart (@MattSmartNDG) July 26, 2018
Rashid in the Test squad. I like the lad, but you shouldn't be able to give up championship cricket and then get the nod for England. Doesn't sit right with me, we need to promote the domestic game.

— Harry Watt (@gigHaWatt) July 26, 2018
Wow to the England test squad to play India. Rashid & Moeein back in, first call up for Jamie Porter. Jennings still in as opener.

Root, Moeein, Anderson, Bairstow, Broad, Buttler, Cook, Curran, Jennings, Malan, Porter, Rashid, Stokes.

— Barny Read (@BarnabyRead) July 26, 2018
Adil Rashid quits red ball cricket and gets called up to the England Test squad. Makes sense…

— Neil Monnery (@neilmonnery) July 26, 2018