Twitterati slam KL Rahul for wasting a review against Afghanistan
He reviewed despite being hit in the line of the stumps which irked the Indian fans.
Updated - Sep 26, 2018 4:06 pm
265 Views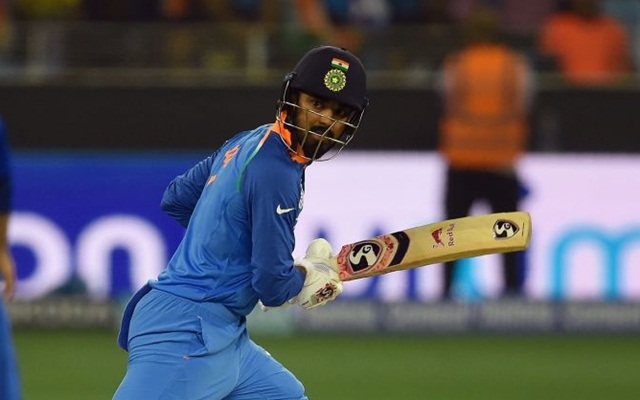 Follow us on Telegram
While the Decision Review System (DRS) has emerged as a boon in international cricket, wise utilization of the feature is an absolute must when it comes to extracting the best results out of it in a match. The Indian batsman KL Rahul made an error of judgement while using it against Afghanistan in Tuesday's match and as a result, was severely bashed by the Twitterati for his mistake.
Playing at the Dubai International Stadium, India faced Afghanistan and the match turned out to be an absolute nail-biter. Having put up a decent score of 252 runs on the board in the first innings, Afghanistan were stellar with the ball as they managed to bind India in a tie with a ball to spare in the game. The match also marked MS Dhoni's 200th ODI as captain.
Rahul takes an erroneous decision
Opening the batting for India, KL Rahul played according to the call of the situation, composed and calm interspersed with stylish boundaries. As his opening partnership with Ambati Rayudu flourished, the Indian fans would've hoped for a swift victory. However, Rayudu was dismissed in the 18th over by Mohammad Nabi and soon after, followed the debacle by Rahul.
Facing Rashid Khan, Rahul was given out LBW off the third ball of the 21st over and after a long chat with his partner Dinesh Karthik, he opted to go for a review. The dismissal being a plumb out, Rahul had to walk back almost immediately as the DRS showed three reds on the screen.
The real repercussion of this wasted review came back to haunt India later as Dinesh Karthik was wrongly given out LBW when the ball was actually going down the leg side. India, being out of reviews, were unable to challenge the decision and Karthik had to make the long walk back to the pavilion. Even the captain Dhoni was wrongly adjudged leg before from where Afghanistan started to take the control of the game.
Twitterati wasn't impressed with Rahul for utilising the review unnecessarily and lashed out at him over the same.
Here's how Twitter reacted to it:
KL Rahul was also famous for wasting reviews in recent Test Series Against England

Selfish Player#INDvAFG

— Dharmesh (@Mumbaiikar) September 25, 2018
#KLRahul needs a kick on his back-side:
a) awful shot to hit at that time
b) stupid decision to review his LBW, cost the two wickets (MS and DK) and eventually the game. #DRS #INDvAFG #AsiaCup

— Rahul Dugal (@rahuldugal) September 25, 2018
KL Rahul I've a new full form for your Initials.

Kyun Liya Review#INDvAFG

— Ankit Sonu (@ASonu699) September 25, 2018
KL Rahul should be punished for wasting that review, he should give that sardar kid a ride on his back in the ground. 😡😂 #AsiaCup2018#INDvAFG

— Jim-Camina-Carry (@camina_carry) September 25, 2018
Oh that poor sardar kid crying. He should be allowed to beat up KL Rahul for taking that review, and one baby slap to Jadeja too.

— Rahul Roushan (@rahulroushan) September 25, 2018
Kl Rahul bad review was the main reason the wicket of MSD nd karthik could have been saved with the review #INDvAFG

— Pankaj #Lostsoul🎬🏏 (@lost_boy23) September 25, 2018
#KLRahul and #DK will remember that review forever… #INDvAFG #AsiaCup2018 #AsiaCup

— …Rachit (@rachit_g2) September 25, 2018
KL Rahul should be worried. pic.twitter.com/kMh9BYD7ix

— cricBC (@cricBC) September 25, 2018
👉No Sound On Ultra Edge
👉Was Missing The Stumps

If KL Rahul Wouldn't Have Wasted That Review, MS Dhoni Would've Been Notout And Still On The Crease. #INDvsAFG #INDvAFG #AFGvIND #AFGvsIND pic.twitter.com/wkDetLtHco

— Sir Ravindra Jadeja (@SirJadeja) September 25, 2018
Legends take review to save themselves :;)

Ultra -legends take review to
Out two batsmen :;)#KLRahul #INDvAFG

— Abhishek Kumar (@Alwaysheru) September 25, 2018
KL Rahul played a fancy reverse sweep exposing middle &Leg stumps,knowing that he was out wasted the review,as no reviews left Dhoni & Karthik both had to pay for POOR UMPIRING,
Rayadu also thrown his wicket when he was set.
DISAPPOINTING !
Jadeja Rashid Dhoni Asia Cup #INDvAFG, pic.twitter.com/BoqmfXkP3O

— royjoy (@royji7306) September 26, 2018
Also, it was very selfish of KL Rahul to take that review when his Non striker partner hinted otherwise & he had unnecessarily played a high risk shot without situation warranting so #INDvAFG

— Shreyas Pendharkar🇮🇳 (@ShrinkShreyas) September 26, 2018
Be careful in taking reviews finally it costs Dhoni and Dinesh Karthik wickets…

— Dhamo44 (@Dhamo441) September 26, 2018
Ind vs Afg what a match everyone telling that this tie is win for Afg but no one showed that at this level what is the quality of umpiring had been shown by umpires . I think KL Rahul wasted review his wicket is not as important as team india win

— ASHUTOSH DEEPAK (@ashutosh_deepak) September 25, 2018
If you've watched match carefully, kl rahul wasted the review for his wicket which was clear out & in ODI teams get only one review.

— Peter Kavinsky 😎 (@VinamraSinha1) September 25, 2018
Careless shot and bad review by kl rahul

— Rahul Mishra (@RahulMishra9872) September 25, 2018
That review taken by kl rahul was the turning point of the match

— iamanubhav (@anubhav_kawatra) September 25, 2018
1. Poor fast bowling
2. #KLRahul blunder review
3. Poor umpiring
4. Struggle against spin
5. Middle order downgrade

Major incidents that cost India a lot. Alert indeed.#INDvAFG #AsiaCup2018

— Dev Vrat Saxena (@DevSxn) September 25, 2018
Keep following CricTracker for more news and updates.
Follow us on Google News