Twitterati wants Rahul Dravid to replace Ravi Shastri as Team India's coach
Dravid is currently at the helm of India U19 and A teams.
Updated - Aug 14, 2018 4:51 pm
1.8K Views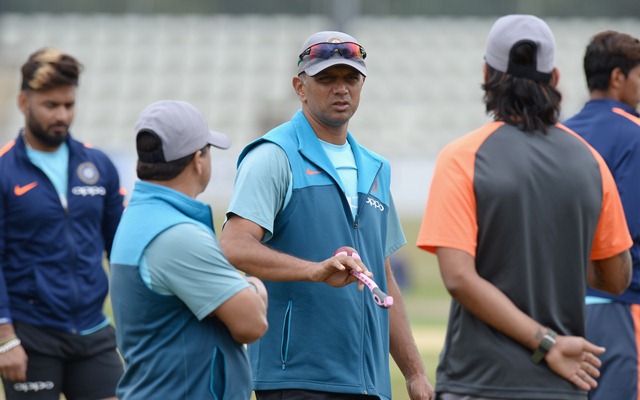 Follow us on Google News
The clamour seeking ouster of Team India's head coach Ravi Shastri was already growing. Now, it has been accompanied by a strong demand for roping in former Indian captain and currently U19 and A team coach Rahul Dravid as the new head coach of the national team. This has transpired after India suffered one of their worst overseas defeats at Lord's on August 12 and conceded a 0-2 lead to England in the ongoing Test series.
India were thumped by an innings and 159 runs by a formidable English bowling in the second Test after they fell 31 runs short of victory in the first match at Edgbaston. Sensing that there is little this Indian team can do to recover now in the series that they are on the verge of losing, the fans have gone after Shastri's head, accusing him of doing nothing substantial other than "giving looks".
Twitter was abuzz with a demand to make Dravid the next coach. The legend was appointed the batting coach for overseas tours but the former ace batsman made it clear that he would not be available to travel with the senior team since he has heavy commitments for the India 'A' and U19 teams. His role was subsequently changed from coach to consultant.
Dravid has registered quite a bit of success as the coach of the Indian colts' teams, including the U19 World Cup 2018 win in New Zealand. It is also under his tutelage that India 'A' defeated Sri Lanka 'A' in a two-match unofficial Test series at home. However, his commitments for the junior teams have not stopped the fans from taking his name as their preferred coach for the national side.
Dravid has succeeded in England both as captain and batsman
He had done well in England both as a captain and a batsman. He is only the third Indian captain to win a Test series on English soil in the history, after Ajit Wadekar in 1971 and Kapil Dev in 1986. Dravid led India to a win in the three-Test series in 2007.
As a batsman, too, he has an enviable record having amassed 1,376 runs in 13 Test matches in England at an average of 68.80. He made his debut there in 1996 with a 95 and on his last tour of that country as a 38-year-old in 2011, Dravid was jointly chosen as the man of the series with Stuart Broad for scoring 461 runs. He scored six Test centuries in England.
Here are the reactions from the fans:
#India's batting is struggling and at 2-0 down, there's just one person who can help the team get to grips with the conditions and instil in them the temperament needed to thrive there. India needs Rahul Dravid, once again. This time, as a batting consultant. #INDvENG #AakashVani pic.twitter.com/30ddq7DvpQ

— Aakash Chopra (@cricketaakash) August 14, 2018
Sack Ravi shashtri and bring Rahul dravid and Anil Kimble as coach and step down Virat Kohli

— RAHUL (@Rinku88615781) August 14, 2018
Politics in team selection and playing eleven damage performance of Indian cricket team. Ravi shashi is a great destructive politician. Rahul dravid is best to replace Ravi.

— Dipankar malakar (@DipankarMalakar) August 14, 2018
Maybe send Rahul Dravid as a batting consultant for team India for the next 3 tests against England?
What's your view?#RahulDravid @BCCI

— Priyanuj_Sarmah (@Priyanuj_Sarmah) August 14, 2018
Random thought.

Remember the time when Rahul Dravid was *officially* announced as "overseas batting consultant" by the BCCI and then nothing came out of that?

Sigh.#ENGvIND

— Vinayakk (@vinayakkm) August 14, 2018
India need Rahul Dravid as A batting coach @cricketaakash

— Sadan.Suryawanshi22 (@SSuryawanshi22) August 14, 2018
@BCCI Rahul Dravid is the best option for Team India coach. Esa Kohinoor jese insaan kaha milega?

— Mahesh Aswani (@MaheshAswani10) August 14, 2018
Dear @BCCI can u appoint Rahul Dravid as batting coach for the remaining test series ? #ENGvIND #INDvENG

— Dipak jha( Arnav) (@ArnavAshu2) August 14, 2018
#BCCI Call back Rahul Dravid as batting consultant for Indian cricket team @cricketaakash for last 3 test matches #callbackthewall

— Siba.9 (@Siba912) August 14, 2018
Dear @BCCI @imVkohli appoint Mr. RAHUL DRAVID, OR Mr. @SGanguly99 as the manager, because the team does not need any coach, it needs a perfect manager who can understand the player.

— SOUMIK (@SOUMIK43195222) August 14, 2018
@BCCI When are you going to sack Ravi Shastri?????
Do it immediately and appoint Rahul Dravid as Head Coach and Zaheer Khan as bowling consultant…

— Syed Atif Yamani Quadri (@atif_yamani) August 14, 2018
We need the Wall as Head coach of our Indian Team #RahulDravid. Go back as commentary #RaviShastri pic.twitter.com/PbUlUk8PkF

— Dhamu Grazy (@Dhamu5) August 14, 2018
dear BCCI (@BCCI)
for betterment of indian cricket #sackravishastri and appoint #rahuldravid otherwise enjoy defeat on every foreign ground,even forget the 2019 world cup. stop treating post of coach like employment guarantee scheme. #ENGvIND 😠😠😠😠😠😠😠😠😠😠😠😠

— ajpatil (@aj2coolpatil) August 14, 2018
@BCCI Please make @rahuldravid as batting coach for india in overseas..itz needed urgently..❣️

— ashishjain (@ashishj03707937) August 14, 2018
@BCCI -what a load of rubbish team you have sent. Don't have spine to last 50 overs in each innings. I paid £200 for my tickets @ Lords and India lasted 50 overs. Change @RaviShastriOfc and get Rahul Dravid asap.

— Deleep Sathyanarayan (@DeleepSathya) August 13, 2018
#AakashVani there is no better person than Rahul Dravid but he has to be given full freedom.. that will happen if Dada becomes BCCI president or we need both dada and Rahul Dravid work together @cricketaakash

— Bhadri (@bhadriee) August 14, 2018
If indian batsmen don't know how to play test cricket in England take help of #RahulDravid and plz remove m vijay like some are just casual batting plz save 0-5 @BCCI @RaviShastriOfc @vikrantgupta73 @bhogleharsha @StarSportsIndia @imVkohli

— santosh (@santoshmondkar) August 14, 2018
We want @SGanguly99 as @BCCI President,#RahulDravid as #IndianCricketTeamCoach & @RaviShastriOfc plz back as a Commentator,missing your voice..#INDvsENG #ChangeNeededASAP

— iamankit4u (@MarinerAnkitJo1) August 14, 2018
Indian batsman are struggling big time. I remember Rahul Dravid was supposed to join as Overseas Batting Consultant. @BCCI He should be there with team. U-19 now india A is doing well under him. #CallTheWall

Dear crcktlovers, Pls RT and trend #CallTheWall

— ⚡DEEPAK RANA⚡ (@Iamdpkrana) August 14, 2018
Pls Give Opportunity To #RahulDravid (Batting Consultant ) For #TeamIndia …

— KARTHIK (@karthik250392) August 14, 2018
@cricketaakash advice to a indian team and support staf to call up to rahul dravid sir. Bcoz 2011 same situation and rahul sir is one man army…#AakashVani

— Karan Ahir (@KaranChhuchhar) August 14, 2018
Ravi shastri should be thrown out as a coach. Rahul dravid is the best fitted man.

— Dipankar malakar (@DipankarMalakar) August 14, 2018
First Asked Rahul Dravid Neither Bring Back @anilkumble1074 @cricketworldcup 2019 Gives us Double Salary and absolute power

— CWC (@CWC70407284) August 14, 2018
India needs Rahul Dravid as coach rather then over smart ravi shastri..

— KAPIL SINGLA (@singlagtrading) August 14, 2018
Follow us on Telegram