Two Peters mock Indian fans' superiority complex in a game which Hong Kong almost won
India just about managed to scrape through a win against Hong Kong after a Associate team gave them a real scare.
Updated - Sep 19, 2018 10:04 pm
522 Views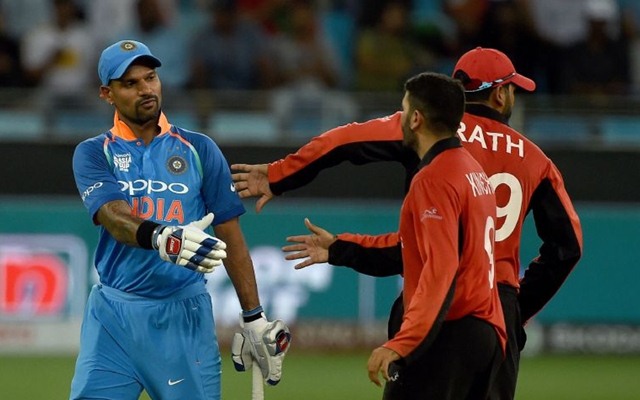 Follow us on Google News
In the world of cricket, the gap between the top and second tiers is so big that many a time, games are 'won' and 'lost' even before the first ball is bowled. It is because the perception of fans of big teams towards the smaller ones often decides the outlook towards games played between heavyweights and not-so-heavy ones. The match between India and Hong Kong in Asia Cup on Tuesday was another example of the prejudice that is rampant in the world of cricket.
At the Dubai International Cricket Stadium, Rohit Sharma-led India was asked to bat first by Hong Kong after the latter won the toss and riding on opener Shikhar Dhawan's scintillating 127, the defenders put up a score of 285 for 7 in their allotted 50 overs. It was an ordinary finish by India as they could not even score at a run per ball in the final 10 overs.
However, India's nightmare was about to come in the second half as Hong Kong openers – Nizakat Khan (92) and captain Anshuman Rath (73) put on 174 runs to give the Men in Blue and their fans a serious scare. The qualifiers eventually could not win it as they lost too many wickets to end up at 259 for 8. But it was show enough to challenge the prejudice that supporters and pundits harbour when big sharks take on small fishes in the circuit.
Peter Miller, a cricket writer and broadcaster, pounced upon this very aspect during the game which saw David almost slaying Goliath and mocked the hardcore fans who expected India to smash Hong Kong into smithereens but only saw their favourite team staging just about an escape.
He tweeted: "Things seemed to have changed pretty fast from talk of double hundreds and massive scores in this India v Hong Kong match. When will people learn that cricket is far bigger than just the old guard? The times, as Bob Dylan foresaw, have changed."
-'India will make a thousand and Rohit a 500'

-'this wicket is terrible'

– 'hk won't make 100'

-'this is an India b team'

-'this wicket is really flat'

— Peter Borren (@dutchiepdb) September 18, 2018
Another Peter – Borren – a former international cricketer from the Netherlands came up with a reply to Miller that had enough in it to incite the Indian fans. The former captain of the Dutch international cricke team perhaps felt it more since he also led a team also termed "minnows" in world cricket, said:
"-'India will make a thousand and Rohit a 500'
-'this wicket is terrible'
– 'hk won't make 100'
-'this is an India b team'
-'this wicket is really flat'"
Borren clearly had his dig at supporters of the bigger team on the occasion as they kept on underestimating Hong Kong till the time the latter almost turned the tables on them. At such game-changing junctures, the fans started focusing on the fact that not India's best side went to play the tournament and that the wicket was too placid for the bowlers.
Follow us on Telegram