Virat Kohli can be intimidating in the dressing room: Ray Jennings
As a captain, Virat is still not at his best feels Jennings
Updated - Feb 6, 2018 1:14 pm
889 Views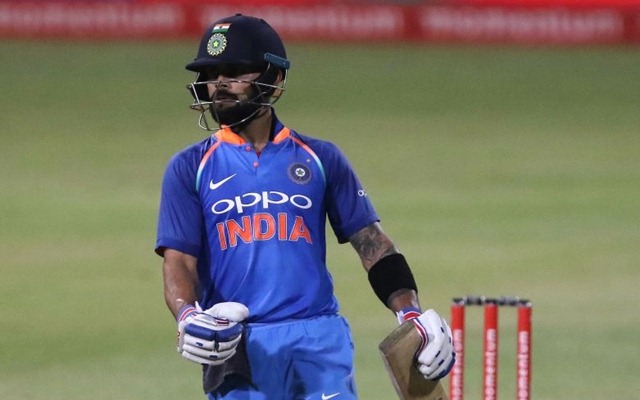 Former South African coach, Ray Jennings opined that Virat Kohli is still not at his best as a captain. Jennings has witnessed Kohli progress from his days as an Under-19 cricketer as he was associated as a coach with Royal Challengers Bangalore. Kohli has always been an aggressive cricketer on the field and loves to give it back to the opposition with his words and actions.
'Virat Kohli can instill "fear" in youngsters'
The Indian team witnessed a drastic change from MS Dhoni's captaincy style to Virat Kohli's style. The two men are two different poles as far as captaincy is concerned. MS usually kept his calm and liked things smooth and simple. However, Virat likes to be in the face of the opposition and doesn't shy away from a verbal fight. This very approach has landed him up some great success but according to Jennings, this can cause him troubles too.
"As captain, I think, he is still not at his best. The Indian cricket system has to feed off Virat Kohli. Going from MS Dhoni to Kohli has been a drastic change. Dhoni is so calm and Kohli is the complete opposite. He can be intimidating the dressing room and sometimes his teammates can wonder who Kohli really is," Jennings told PTI during an interaction.
Kohli can instill "fear" in youngsters, is Jennings' observation and that's why a calm mentor is need of the hour. "There can be a fear factor in the dressing room and you don't want that with so many youngsters coming into the side. Indian cricket, thus, has to find people who can help and influence Kohli into ways of improving and becoming an even better leader," Jennings said.
'Kohli will get better with time'
Also, Jennings opined that Kohli will get better with time. "With age, Kohli will get better and calm down a lot naturally. He will not be so aggressive and in your face all the time. But in certain situations, when things are not so calm or even just to take that fear factor away from the dressing room, who will teach Kohli to become a better version of himself? He is smart enough and passionate enough to want to change. He wants to be the best, and he does have skills to be the best player in the world, yet he needs some assistance," he added.
Jennings was also in awe of Kohli's accomplishments with the bat. He said that Kohli can get better in the next 3-4 years and also can add up many more centuries to his count. "In all my experience, he is the best player against spin that I have ever seen. Is he better than Sir Don Bradman? I don't know, but he is definitely amongst the top-two batsmen in the world at the moment," declared the veteran coach.
Follow CricTracker for updated cricketing news