Virender Sehwag remembers the incident when Suraj Randiv bowled a no ball to deny him a century
Updated - Aug 16, 2016 8:22 am
68 Views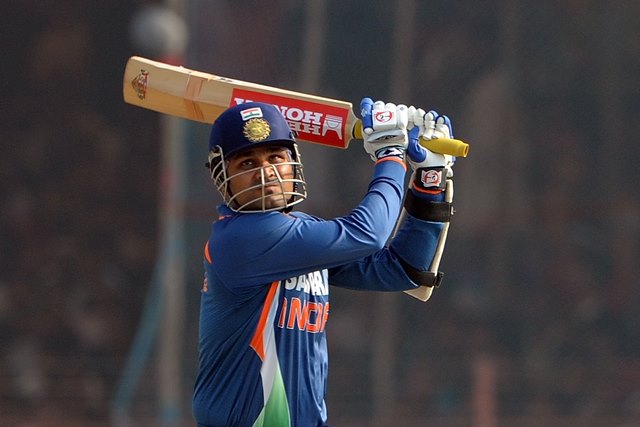 Former Indian opener Virender Sehwag today shared an incident from the past that happened on this day 6 years ago. Sehwag was at the receiving end of the distasteful act by Sri Lankan spinner Suraj Randiv. In the 3rd ODI of the Sri Lanka v India series at Dambulla, the Indian team was just one run away from victory and Sehwag who had led the batting charge for the men in blue was one short of a well deserved hundred.
Viru like he had so often done, decided to hammer the ball over for a six to not just win the game for the team in style but to also get to his century. But the bowler decided to deny him the century and intentionally bowled a no ball. Sehwag hit it for a six, but since the team was awarded a run for the no ball which was all they needed to overhaul the Sri Lankan score, the six was not taken into account and thus Sehwag remained unbeaten on 99 at the end of the game.
After the match when the Indian opener was asked about the incident he had said, "Yes, it was done deliberately,"
"Because [of the size of the no-ball] … that much from the crease. Till now in Test matches he hasn't bowled a no-ball [Randiv bowled two at the P Sara Oval], he hasn't bowled no-balls in one-day cricket, on 99 only why did he bowl a no-ball? And not a small no-ball, not a small margin, from one foot ahead." Sehwag had said.
The Sri Lanka Cricket was under immense pressure to act against Randiv and it did by handling the bowler a one match suspension immediately. In a statement, the SLC had said, "Sri Lanka Cricket is extremely proud of its team and their achievements over the years. It is of paramount importance to maintain the discipline of the Gentlemen's game, especially with Sri Lanka Cricket being winners of the 'ICC Spirit of the Game' award for two consecutive years," it said.
It happened on this day and Sehwag shared the picture of the bowler overstepping in a Tweet where he wrote – '6yrs ago on this day,Hewa Kaluhalamullage Suraj Randiv Kaluhalamulla did this,was hit fr a 6,but I remained 99notout'
6yrs ago on this day,Hewa Kaluhalamullage Suraj Randiv Kaluhalamulla did this,was hit fr a 6,but I remained 99notout pic.twitter.com/iwhOFdtQNL

— Virender Sehwag (@virendersehwag) August 16, 2016