Virushka wedding reception: Gayan Senanayake emotional after his experience
The thrilled and excited Senanayake opened up after the reception.
Updated - Dec 28, 2017 11:06 pm
3.1K Views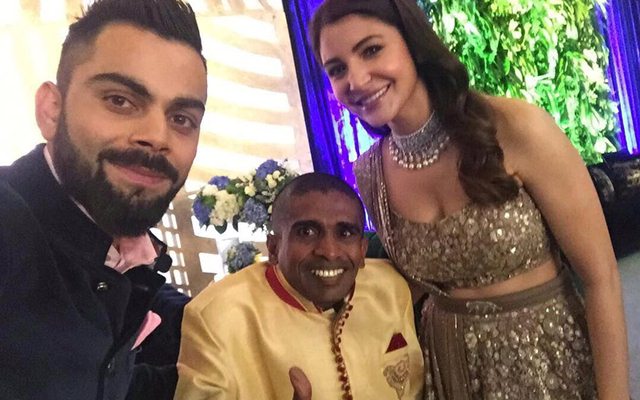 Follow us on Google News
Virat Kohli and Anushka Sharma hosted their second wedding reception in Mumbai on Tuesday (December 26). It was attended by most of the Indian cricketers and Bollywood celebrities but no one had the kind of experience Sri Lankan super fan Gayan Senanayake had.
Senanayake, who is a die-hard fan of Sri Lankan Cricket Team and has been travelling all over the world to extend his support to the Islanders. He first met the Indian captain Virat Kohli during the U19 Cricket World Cup 2008 in Malaysia and has been his devote ever since.
Senanayake's comments
Virat invited the differently abled fan to his wedding reception and was widely appreciated by his fans for his faithful gesture.
"I was the only fan to attend Virat's reception. I felt on top of the world. Virat is a great human being and this gesture was very touching since his reception was only for his close friends, teammates and family members," said the over emotional Gayan as quoted by Mid-Day.
The passionate follower of the sport was about to leave the country after the third and final T20 international encounter between the two teams. But after he was invited, he cancelled his trip to Colombo to attend the reception party in Mumbai.
He further stated, "I called my travel agent to cancel my original ticket and delayed my departure to Wednesday."
Senanayake took a selfie with the Indian captain and the bride Bollywood actress Anushka Sharma which went viral on social media. The overwhelmed  Senanayake said, "He took a selfie with me. He then introduced me to his wife Anushka Sharma."
Danced with Kohli
During the reception, Senanayake also met several other Indian cricketers like Sachin Tendulkar and Ravindra Jadeja and took pictures with them. At last, he commented about his memorable dance experience with Virat. "He also danced with me. These moments will stay with me forever," he concluded.
More news stories and coverage on Virushka and more on CricTracker.com.
Follow us on Telegram