'Waiting for the Helicopter shot' – Twitter expresses its excitement to watch MS Dhoni on the field in IPL 2020
Fans have been pouring their love and excitement for Dhoni in the form of tweets and memes.
Updated - Jul 26, 2020 11:15 am
793 Views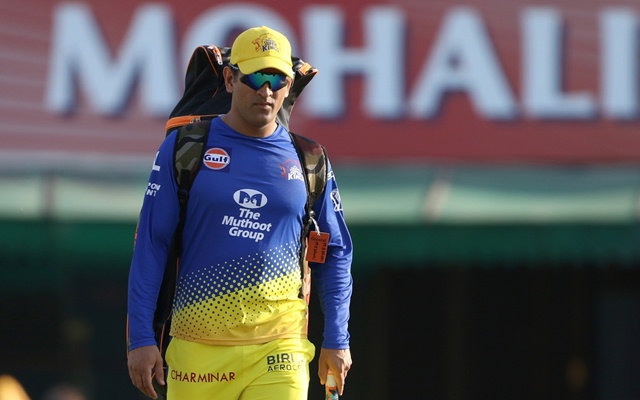 Follow us on Google News
The BCCI is all set to host the much-awaited 13th edition of the Indian Premier League (IPL 2020) from September 19 to November 8 this year in the United Arab Emirates (UAE). Under this schedule, 60 matches will now be played in the 51-day window with around 12 double-headers which means two matches each on both Saturdays and Sundays.
The IPL chairman Brijesh Patel had confirmed the dates and had also said that the Governing Council meeting will happen within a week to discuss the final schedule of the cash-rich league. Ever since the IPL 2020 dates have been announced, fans of former India skipper MS Dhoni are excited to see the return of their 'Thala' on the cricket field.
MS Dhoni's comeback on the field
Dhoni has not played international cricket since World Cup 2019 where the Kiwis outshined the Asian giants in the semi-finals. There are rumors of his retirement from the game but he hasn't made any statement regarding his future in Indian cricket. However, he was supposed to be back on the cricket field as IPL franchise Chennai Super Kings skipper this year.
The Ranchi stalwart had practiced in the CSK's training camp in the month of March and was looking forward to being back on the match field. The tournament was scheduled to start on March 29,2020, with the inaugural match between Mumbai Indians and Chennai Super Kings. However, BCCI had to suspend the league for an indefinite time owing to the coronavirus outbreak in India.
Now that the T20 league is scheduled to commence in less than two months' time, fans across the world are eager to see their favorite Thala in the yellow jersey again. Fans have been pouring their love and excitement for Dhoni in the form of tweets and memes.
Here are the best tweets
Great to know #IPL2020 is happening.
I'm excited and looking forward to see @msdhoni play again! 💪🏻

— Kidambi Srikanth (@srikidambi) July 24, 2020
Thala we are waiting for your helicopter shot…. 🏏🏏🏏😘💕 #IPL2020 #captaincool@msdhoni pic.twitter.com/XUQBK7CMj3

— Phagal.M (@phagal) July 25, 2020
MS Dhoni All Set For Comeback As Chennai Super Kings To Leave For UAE Early For IPL pic.twitter.com/gM3CL28jN4

— Perry bala (@PerisamyB) July 25, 2020
Excited to watch @msdhoni 👑🥰🔥#MSDhoni #IPL2020 #IPL #IPLinUAE pic.twitter.com/1iIQzo8Ru5

— Raphtaar Sanadi (@_Raftaaar_) July 25, 2020
I so eagerly want @IPL and for only one reason >>> I want to watch @msdhoni play. @ChennaiIPL #IPL2020

— Manish (@mbhatia007) July 25, 2020
It's almost 383 days to see @msdhoni batting 🥺🥺
55 days to go🥳🥳🥳
Thala roar 🦁💞 #MSDhoni
Countdown for #IPL2020 🤩🤩#CSK #IPL

— yerrababu pspk (@yerrababu3) July 26, 2020
The IPL2020 will begin on September 19 in the UAE with final to take place on November 8!!🔥
CSKians Be Ready!!!🔥#MSDians #MSDhoni #CSK #ChennaiSuperKings #IPL2020 #IPL pic.twitter.com/Pj4i5ZLeoC

— Invincible MS Dhoni ⚡ (@InvincibleDhoni) July 25, 2020
I'm not a fan of IPL; just wanna see Dhoni playing ❣

Then even if RCB wins, it will not matter for me 😅#MSDhoni #msdians #IPL2020

— Amol 🇮🇳 (@humorouslyAN) July 25, 2020
Ready for IPL.And excited to see Thala in the field again💛#Thala #MSDhoni #VaathiComing pic.twitter.com/rg8sSPuQ2S

— Aswinram (@acchumsd) July 25, 2020
#bittertruth
🏏Every ipl team is preparing to do well in ipl, but @ChennaiIPL Csk is thinking which team ll come to play the finals against him😂 @ImRaina @msdhoni @IPL @vikrantgupta73 @harbhajan_singh @cricketaakash @aajtak #csk #IPL2020

— Sitanshu Raj🇮🇳 (@SitanshuRaj3) July 25, 2020
19 September 2020…. First IPl match CSK vs MI….
All the MAHI fans ur wait will be over and u will get to see him back on the field with his charming smile. @msdhoni @IPL @ChennaiIPL @BCCI @BCCIdomestic @BCCIWomen @ICC pic.twitter.com/7CVdeO9qwL

— Shalini Rasgotra (@BeingShalini_) July 25, 2020
Runs Scored By Dhoni In IPL ( YEAR WISE )

2008 – 414
2009 – 332
2010 – 287
2011 – 392
2012 – 358
2013 – 461
2014 – 371
2015 – 372
2016 – 284
2017 – 290
2018 – 455
2019 – 416
2020 Loading ⏳#MSDhoni | @msdhoni pic.twitter.com/pmbuWpwWOy

— Aakash cherry (@CherryAakash) July 26, 2020
@msdhoni Look forward to seeing you in IPL 2020 😊

— Sumangla Vegad (@summivegad) July 25, 2020
Tera Baap Aaya Feat :- CSK Team!
This is for all #CSK fans and csk haters.
Love csk Or hate csk but u can't ignore csk. @ChennaiIPL @msdhoni #MSD #Dhoni #ipl @msdfansofficial @DHONIism @CSKFansOfficial pic.twitter.com/gYvU3RfwPd

— Aaghaz Creations (@aaghaz14) July 25, 2020
According to Reports:

Full team of CSK along with Ms Dhoni will travel UAE for upcoming IPL in 2nd week of August to get enough practice session 💛

This is damn good news 😍 😍

— प्रखर पटेल (@Prakharpatel30) July 25, 2020
Great to know @IPL 2020 is happening.
I am exited and looking forward to see @msdhoni play again! #thaladhoni ❤️ pic.twitter.com/dzyPM9bUu9

— Jayrajsinh Yogendrasinh Vaghela (@JayrajsinhY18) July 25, 2020
IPL 2020 to be played from 19th sep

Every DHONI 's fan right now to DHONI –#IPL2020
#return_of_thala_dhoni pic.twitter.com/qvOsErJtgp

— shubham kushwaha (@shubham81178197) July 24, 2020
@msdhoni @ChennaiIPL @IPL #Mahi

The best the #Thala
Can't wait to see him in action pic.twitter.com/AA5aIoEOTI

— Shivam (@MeShivam0007) July 25, 2020
sept 19…..we r cmg🥳🥳🥳🔥🔥@ChennaiIPL 😎

THALA DARSHANAM 🙏✊✊@msdhoni #IPL2020 pic.twitter.com/i6HV7ALTUU

— SuryaBhai🔥 (@MB_MSDIAN_FAN) July 24, 2020
The lion is gonna roar again 💛@msdhoni #IPL2020 #CSK pic.twitter.com/cWSIPNbRNB

— Chirag Agarwal (@ChiragAgarwal08) July 24, 2020
Wait & watch !
Thala is coming 😎💯.@msdhoni ❤️❤️❤️❤️❤️❤️ pic.twitter.com/zpMBqZcciR

— Himanshu Rawat (@Himansh41209063) July 24, 2020
MS Dhoni is one of the most successful captains in the history of the Indian Premier League. He is the only captain to have led his team in nine out of the 12 finals so far. The IPL franchise Chennai Super Kings has won the T20 Trophy three times under Mahi's leadership. MS also has the record of winning the most number of matches as the captain for his team in the tournament.
Follow us on Telegram