'Wake up, NZ Cricket' poster hogs the limelight at the Eden Park
A similar occurring took place at the Westpac Stadium as well.
Updated - Feb 8, 2019 7:58 pm
35.1K Views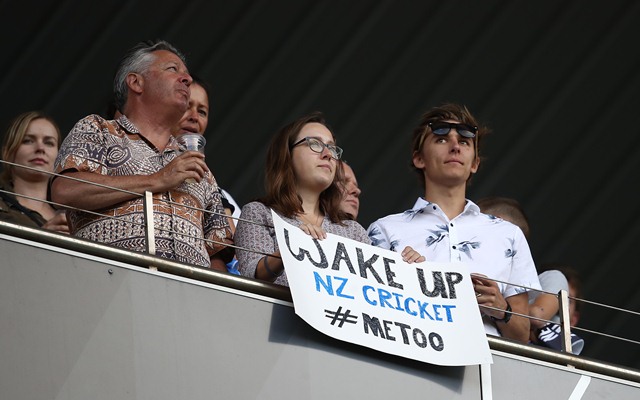 The ongoing T20I series between New Zealand and India has already been a witness to a couple of encounters in Wellington and Auckland respectively. The series is currently level with one match remaining to be played at the Seddon Park in Hamilton on Sunday, February 10. In the meantime, both matches were marred by controversy, directed at all-rounder Scott Kuggelejin.
Back in February 2017, the 27-year-old Northern Districts cricketer was found not guilty of rape, following a trial at Hamilton District Court. Nevertheless, the crowd has been seen protesting against Kuggelejin's selection in the Black Caps' national team. In the first game at the Westpac Stadium, a woman put up a banner, which said "No Means No", promoting sexual content.
Another mini-controversy in Auckland
The security personnel confiscated the banner and escorted the woman, holding it away from her seat. On Friday at the Eden Park, another such incident came to the fore. During the game, a poster, which read, "Wake up, NZ Cricket, #MeToo" did the rounds as per reports in ESPNcricinfo. It won't spring a surprise if even the Hamilton T20I sees another of those protests from the New Zealand supporters.
Back in 2017, Kuggelejin made his international debut against Ireland in 2017 and has only played two matches, both against Ireland. This year, New Zealand have also entrusted him with three T20 Internationals, both all at home. Recently, New Zealand Cricket and Westpac Stadium apologised for removing the banner in the first encounter and admitted that there was nothing offensive in it.
"The policy [signage targeting a player] is a guideline only and is not written in stone. I think, on this occasion, we should have shown better judgment and exercised more discretion. We'll be having a chat about it in our debrief with a view to making sure that doesn't happen again, and we're sorry," Richard Boock, the NZC public affairs manager, mentioned.