Wasim Jaffer Interview by Anis Sajan: On Sachin Tendulkar, Ranji Trophy, Mumbai's rival, India debut, Virat Kohli and more
Catch some interesting topics from Jaffer's illustrious career in this interview.
Updated - Jul 6, 2020 9:07 pm
799 Views
Mumbai cricket might have strained a bit in the three years or so, but there was a time when it was a class apart from the rest. So did the players from the domestic team, Wasim Jaffer was one of them. The right-hander was an epitome of concentration and perseverance; scoring runs only elevated his hunger for success. After making his debut as an 18-year-old in 1996, there was no stopping him.
The bearded boy wasn't the glam boy of Indian cricket, he was rather the boy-next-door. Despite being a domestic stalwart, he had to work out of his skins to don the national jersey. His career for India spanned eight years from 2000 to 2008. Five centuries and 11 fifties in 31 Test matches aren't meek numbers by any stretch of the imagination. But an average of 34.10 didn't help his cause.
He is the only Asian batsman to smash two double centuries in first-class cricket after turning 40. He decided to retire from the game in the last Ranji season where he scored 263 runs in seven games. Though he averaged 29.22 in the tournament, he has garnered success, enough to inspire generations.
In the meantime, Anis Sajan, the owner of the Delhi Bulls in the T10 League, decided to catch up with the 42-year-old and chatted on some interesting topics from Jaffer's illustrious career.
Here are some excerpts from the interview:
How does it feel, being appointed as Uttarakhand's head coach?
It's a new challenge for me as I've only retired recently. I have seen the development in Vidarbha cricket when I worked alongside their coach Chandrakant Pandit. My aim was to stay connected to the game and then try and help the youngsters, make them understand their potential, and improve a team. It's something I really enjoy and I'm looking forward to my coaching stint.
After retiring, you said in your second innings, you wished to become a coach or commentator. Your thoughts:
I have gotten some coaching assignments, having worked with the Bangladesh Cricket Board (BCB), worked with their U17 and U19 boys in their academy and then I'm Kings XI Punjab's batting coach as well in the IPL. But the role in Uttarakhand is a big assignment. Being a head coach, one needs to control everything, look after the players and the support staff and the management.
After making your debut in 1996 and playing domestic cricket for 25 years, you scored almost 19,000 runs. Take us through your journey:
I'm very fortunate that god gave the talent, without which I wouldn't have come this far. My parents and brothers have sacrificed a lot and I owe my success to them. I was lucky to play for a team like Mumbai. I watched Sachin Tendulkar, Vinod Kambli and Sanjay Manjrekar, who all were my role models as I learned a lot from them. The atmosphere and competition made the cricketer I became.
Then I moved to Vidarbha, had my share of injuries and lot of people remember me for being a successful first-class cricketer and not an international cricketer. I'm proud of playing 30 odd Test matches (31) for India. Though I could've done much better, the journey was incredible.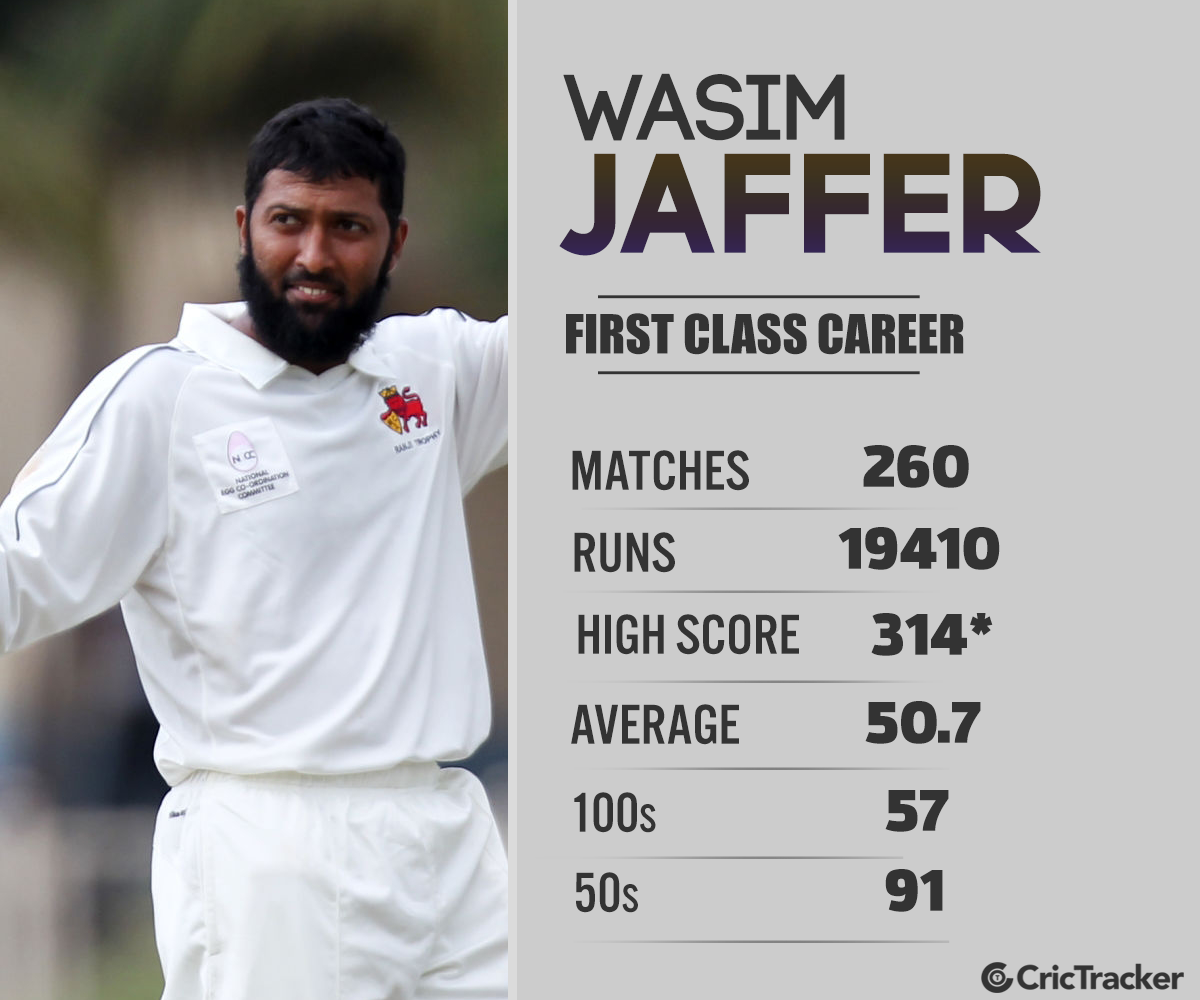 Tell us about your first captain in Mumbai?
Sanjay Manjrekar was my first skipper and on my debut, we opened the innings together. He was available since he was dropped from the Indian team. And Manjrekar wanted to make his India comeback as an opener and hence, he decided to open the batting. We also went on to win the Ranji Trophy that season. I was fortunate enough to have shared the dressing room with him.
He was a strong character and he doesn't budge to outside chaos. A number of players have said that he has strong opinions, very critical at times. But towards the end of his career, he mellowed down. When you play for a team like Mumbai, you learn so much. Apart from Sachin, Vinod and Sanjay, there are so many great Ranji cricketers, stars and match-winners in their own rights.
You scored you maiden triple-ton in only your second game. Tell us about it:
In the first match, I got out cheaply and then we were playing against Saurashtra. In those days, one-day cricket happened before the four-day games and I only played the Ranji Trophy. We fielded for around two and quarter days after losing the toss on a good batting strip.
The opposition declared after scoring around 595 and the declaration came as they knew that even if Mumbai chase the score, they would get one point. If they don't get the result, they'll get nothing. Then I got a triple ton and that knock invariably cemented my place in the Mumbai team.
Which of your 67 centuries in first-class and List A cricket is the closest to your heart?  
The ones I scored in the Ranji finals are very close to me. Those are the games where I needed to make my presence felt. I got a 286 in Irani Trophy at the backend of my career, a couple of years before I retired, and it's very close to my heart as well. Rest of India (ROI) was very much a strong unit and I was happy to score big against them.
Mumbai cricketers are referred to as 'Khadoos'. Tell us about it:
'Khadoos' means finding a way to perform, to win, irrespective of what's the situation and your position in the game. You need to be mentally tough to fight it out for yourself and your team. There's no excuse and you need to find a way and that's the culture in Mumbai cricket. We used to play in Azaad Maidan and when I was growing up, playing club cricket was also a tough task.
There was cut-throat competition and only the exceptional players could shine. That's the 'Khadoos' nature. One can throw tantrums and complain about the nature of the pitch and playing conditions. If you score a hundred, you need to convert it into a double century and there's no stopping. That's what helped Mumbai cricket grow immensely and they don't expect anything, but the best.
Mumbai are the Manchester United of cricket, winning 41 Ranji Trophy. Your thoughts?
Unfortunately, Mumbai haven't done well in the last three years or so. If I'm not wrong, once they won 15 or 16 Ranji titles on the trot. The cricketers they have produced have dominated world cricket, not only in domestic cricket for Mumbai.
When did you first share a dressing room with Sachin Tendulkar?
Before the Ranji Trophy, I played a couple of times against him. When I was in Bandra Urdu high-school, we had a pre-quarter final game against Sharadashram, the team Sachin played for. He only batted one day and scored 170 odd runs. He didn't even field and went to play Ranji Trophy cricket.
When I was around 13 and 14 years and studied in the seventh standard, we used to go and watch him play. That's how I go to know about him. He was a wonder-boy back then and was destined to become a great name for Mumbai and Indian cricket. He lived up to all his potential.
Sunil Gavaskar once said that temperament is what separates the men from the boys. Your thoughts:
Without a doubt, there's no shortcut. The longer the game, the mentally tougher you need to be. In a marathon, shortcut goes out of the equation. There's no hiding, you need to run around 40 kms. In Test cricket, since there's no limitations on bouncers or field restrictions, opponents will identity your shortcomings. If you don't have the energy to bowl 20 to 25 overs in a day, you are in danger.
In a T20 International, you bowl four overs, not even in a single spell. When a player score runs or take wickets in Test cricket, they earn respect. T20 cricket is definitely exciting and the public likes it, but if you score a hundred or get a five-wicket haul in Tests, the happiness you get is amazing.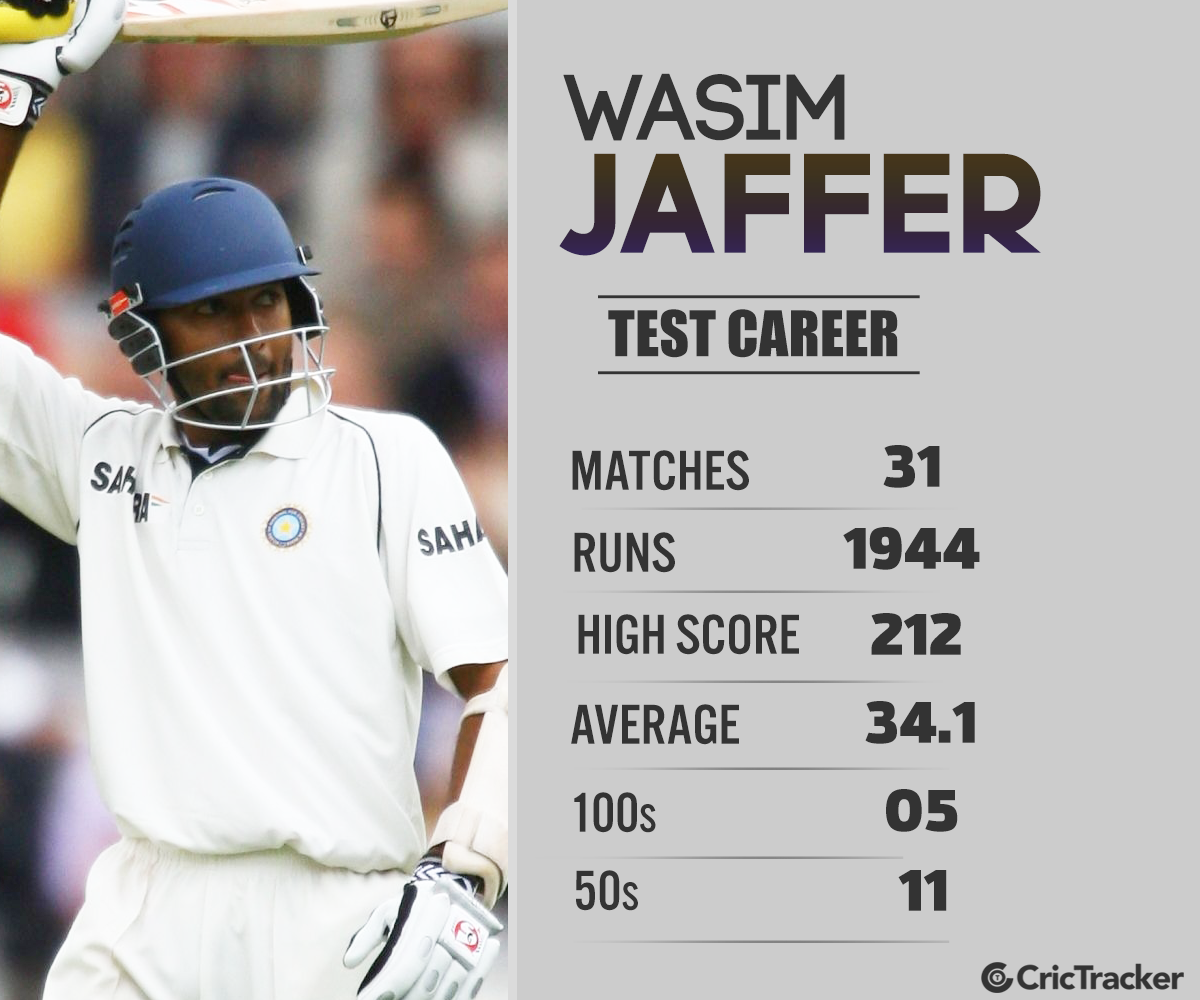 Who's the biggest rival for Mumbai in domestic cricket?
I would say Delhi, the strongest rivalry and even Karnataka and Maharashtra. In earlier times, we used to play in West Zone, which had Saurashtra, Gujarat and Maharashtra. Within that group, Mumbai and Maharashtra shared the toughest competition.
They also wanted to beat Mumbai very badly. Away from the West Zone, it's Delhi because, they are also very star-studded.  Rajasthan also played seven finals against Mumbai, though they haven't won. So, they were also very close rivals with the Mumbai team.
Did Wasim Jaffer sledge anybody on the field?
I didn't do it as I'm quite and laid-back. But people would say things to upset your concentration. That's something which goes around and you need to take it in your stride. Some guys react to it, some stay quiet and I fell in the second category. I used to move away and did what I had to do.
How did you help Vidarbha cricket grow?
I didn't do any magic, to be honest. The major reason was Chandrakant Pandit's appointment as the head coach. He came in and changed a lot of things, he brought discipline and strictness. They boys were very talented, but they needed direction. They were happy with their own performances and weren't worried about the team. So, with my help, he tried and bring the 'Khadoos' attitude.
The results are there for everyone to see, they are very evident. A team like Vidarbha, who never played a Ranji semis in their lifetime, went on to win two Ranji and Irani Trophy titles. The coach was very efficient in man-management.
Tell us about your Test journey with India:
I was very nervous facing South Africa on debut without a doubt. I was young and immature, but I was proud of the moment. I felt very happy as my father wanted one of his sons to play for India. I was only informed around about an hour ago before the match that I was playing. Looking back, I feel I wasn't ready for international cricket. I did well in patches and then I was dropped.
India lost the first two Tests you were a part of. Those defeats must have been a setback for you. Your thoughts:
There are changes when you lose. The match-fixing scandal happened after the series and there was a big break with no Test series for a while. When you lose there are so much chopping and changing. I also didn't do well and made way for somebody else. I went back to the drawing board, scored runs and came back in 2002. In my last comeback when I played from 2005 to 2008, I was okay.
After I was dropped, I became even a better player, but I never got an opportunity. Year after year, I kept on plundering runs in Ranji Trophy, but I never got a look in. I was around 30 years old and it was a bit disappointing. I became much more matured and understood my game, my strengths and weaknesses. But it's a bit of a regret that I didn't get to represent India again.
How special was your first century against England in Nagpur?
It gave me peace that I belong to international cricket. Facing England when they had (Andrew) Flintoff, (Steve) Harmison, (Matthew) Hoggard and Monty Panesar, was tough. They were in after beating Australia in the Ashes in 2005. I got 80 odd runs in the first innings and it released pressure from me. On the fifth day, we had to bat through to save the game and I managed to score a ton.
It was also Alastair Cook's debut Test. Marcus Trescothick had left midway through the tour because of mental health issues. Cook was playing somewhere in the West Indies and was called upon an urgent basis after Trescothick's departure. He played, got a century in the second innings.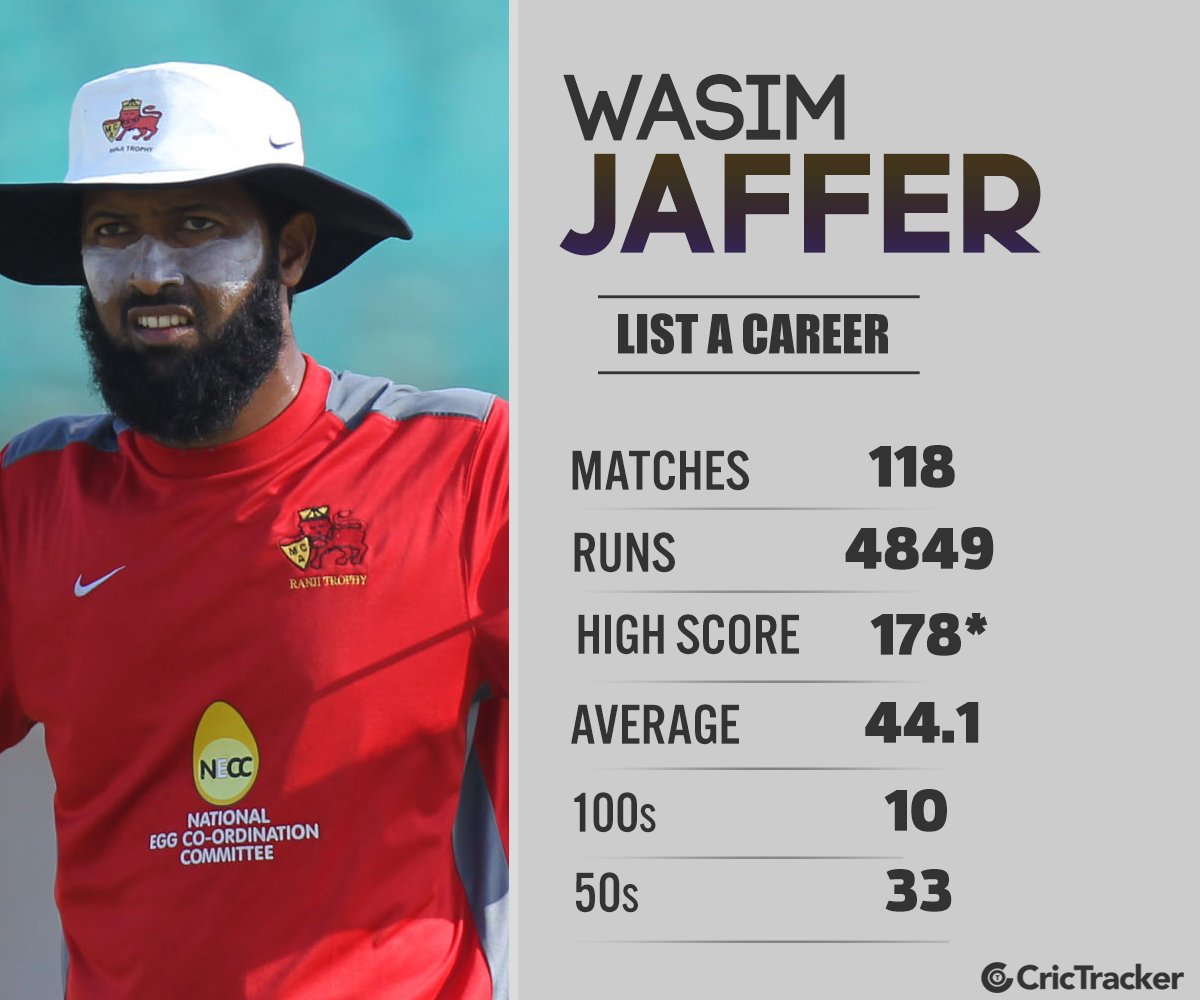 How's it like playing in English conditions?
I played in 2002 and 2007. Conditions hold importance. In April-May, it's cold, windy and misty out there. The pitches are green and fast bowlers tend to dominate. As soon as summer starts, the batsmen enjoy it. It's a strange country. If you are playing in London, the weather is hotter.
At Headingley, the ball starts to swing and seam. Even though it's a small country, the conditions keep changing. Suddenly the clouds come in and the ball starts to swing. The Dukes ball also doesn't swing in the start, but after 15 overs, bowlers get the leather to generate swing and reverse swing.
Tell us something about your double century against Pakistan at the Eden Gardens:
Playing against Pakistan is always special because of the rivalry. But the camaraderie between the players was very heart-warming. I remember playing a lot for Lashings in England and there was  Inzamam (ul-Haq), Saqlain (Mushtaq), Mohammad Yousuf and Mushtaq Ahmed and we enjoyed each other's company. We look like the toughest of enemies, but it's not like that.
About the double ton, I was unbeaten on 192 on the first day. I could've gotten the double ton, but we missed out six to seven overs due to bad light. That was the last time, India and Pakistan played a Test series. It was very satisfying. We beat them in Delhi and came close to beating them in Kolkata and in Bengaluru as well. Younis (Khan) and Misbah-ul-Haq had a decent series back them.
Your favourite batting partner in Test cricket- Virender Sehwag or Sachin Tendulkar?
It has to be Virender Sehwag, purely because he was entertaining.
The toughest bowler you have faced- Shoaib Akhtar or Brett Lee?
Both of them, but Brett Lee was the more accurate of the two.
Having played under many captains, who was the one your favourite?
Sourav Ganguly was the one who made the team after 2000. He had the temperament, backed the players and gave them a longer rope. He made Sehwag open the batting and brought players like Zaheer Khan, Yuvraj Singh and Harbhajan Singh.
Pick one between Shubman Gill and Prithvi Shaw?
Both are very talented. If Shaw keeps his head in the right space, he has miles to go. With the kind of game he possesses, he is a special talent. But he needs to maintain the balance. Even Gill has grabbed the chances with both hands and has gotten quality.
Best white-ball cricketer for India- Sachin Tendulkar, Rohit Sharma or Virat Kohli?
Virat Kohli.