We don't want to always depend upon Virat Kohli: Bhuvneshwar Kumar
He conceded that the loss was a reality check for India to not get complacent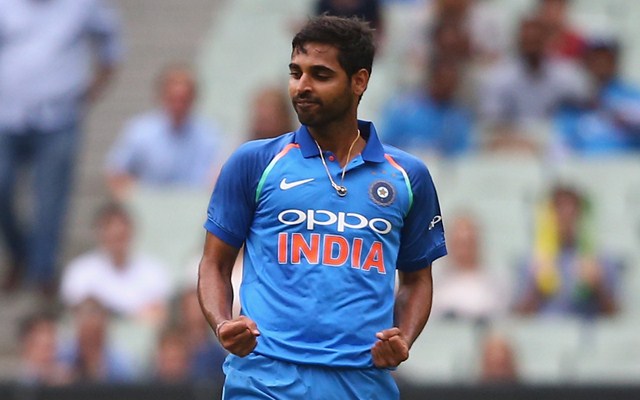 The Indian team suffered a terrible defeat at Hamilton. Put to bat first by the Black Caps, the visitors were put to task by the pacers. India ended up being bundled for a paltry 92 runs. In return, the hosts ended the chase with more than 35 overs to spare. The game was inconsequential as India have already won the series.
However, the win was a confidence boost for the Kiwis. The fifth ODI will be played in Wellington on Sunday. Bhuvneshwar Kumar spoke at the press conference following the heavy defeat. He conceded that the loss was a reality check for India to not get complacent. The pacer added that the services of Virat Kohli were missed.
The loss is a kind of a reality check for us
India has displayed tremendous form in the limited overs format in the last one year. After winning in South Africa and Australia, India ended up gaining an unassailable lead in New Zealand too. However, yesterday's performance was nowhere up to the mark. Bhuvneshwar Kumar felt that it was an eye opener for the Indian team. Further, he credited the NZ pacers for their amazing bowling.
"If you look at the cricket we have been playing in the last few months, we have played good cricket and such matches come after some time. So it is a kind of reality check what we can do and improve in the next matches. We were confident after winning the series but things didn't go our way. I don't want to take credit away from these guys. They bowled really well and outplayed us." he was quoted as saying by India Today.
We don't want to always depend upon Virat Kohli
As the Indian batsmen returned back to the pavilion in a speed of light today, a prominent figure was missing. Bhuvneshwar highlighted the same but also remarked that they cannot always be dependent on him. He further refused to acknowledge that it was a lost chance for the middle order to show its value.
"We can't say that from just one match. It was a tough wicket to bat. It wasn't a lost opportunity but it is a learning for all of us. See you always miss Kohli in such kind of wickets but at the same time, it was an opportunity for Shubman Gill who came in his place. What Kohli has done is amazing but we always don't want to depend on him."