We used fake names while talking to the wedding caterer, says Anushka Sharma
Anushka and Virat got married to each other in December 2017.
Updated - Mar 4, 2019 3:35 pm
21.1K Views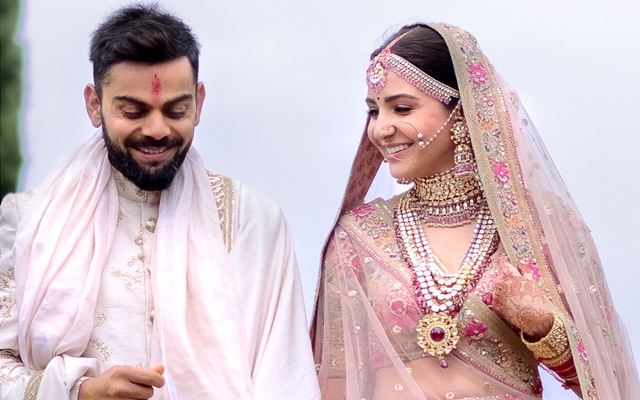 Indian captain Virat Kohli and his sweetheart, actress Anushka Sharma tied the knot on December 11, 2017, in a private ceremony in Tuscany, Italy. As the couple really wanted the affair to be a private one, all the preparations for the wedding were kept secret. The secrecy was, in fact, was the most thrilling part of their wedding and to achieve it they had to take up a lot of troubles and execute a lot of hard work including using fake names to sign the wedding caterers.
To keep it a low-key affair was a huge challenge since both the people involved were big celebrities with a huge fan-base. The wedding took place in Borgo Finocchieto, a lavish point in Tuscany and the newlyweds were only surrounded by a close assembly of loved ones from both sides of their family. Unlike big fat celebrity weddings like the Priyanka Chopra- Nick Jonas or the Deepika Padukone- Ranveer Singh wedding, the "Virushka" wedding was relatively kept low-key.
However, there were no stones unturned to make the event as lavish as the other ones. The arrangement of the functions was like a typical Indian wedding. They had a welcome lunch, a sangeet and engagement on the first day. The second day was a vivacious and colorful Mehendi followed by a beautiful bonfire family program at night. The rains had led to a karaoke wherein everyone present participated in singing. The third day was the grand finale, the big fat Indian wedding wherein Virat Kohli and Anushka Sharma got hitched.
"Today we have promised each other to be bound in love forever. We are truly blessed to share the news with you. This beautiful day will be made more special with the love and support of our family of fans & well wishers. Thank you for being such an important part of our journey." This was newly wedded Anushka Sharma's message on her big day. And till date, the couple remains as strong together.
Virat's name was Rahul
Speaking to Vogue India, Anushka revealed that the couple wanted a very close-knit celebration for their wedding and hence disclosed as to how they were able to keep it a secret. "We used fake names while talking to the caterer; I think Virat's was Rahul," Anushka unveiled. She also told the magazine that apart from their immediate friends and family, only her wedding planner Devika Narain,  her manager, and her stylist, Allia Al Rufai were aware of the secret affair.
[interaction id="5c78dc3da61be13c816d4628"]