West Indies coach, Stuart Law wants his team to ignore Curtly Ambrose's scathing comment
Former West Indian pace legend, Curtly Ambrose lashed out at his current national side after their nightmarish outing at Edgbaston, calling them "pathetic".
Updated - Aug 24, 2017 4:25 pm
47 Views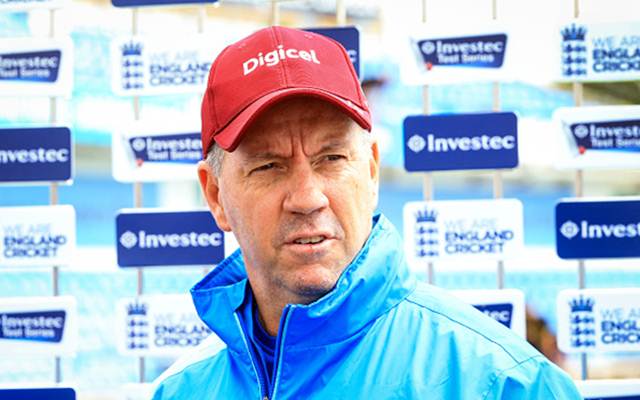 Current West Indies coach, Stuart Law has urged his boys to ignore the scathing comments made by former great, Curtly Ambrose. The Windies side is nursing fresh wounds as they crumbled to an unceremonious inning and 209-run defeat in the series opener at Edgbaston against England. The historic inaugural day/night Test ended inside three days, leaving the visitors with nothing but a silver lining in the form of Jermaine Blackwood.
Former West Indian pace legend, Ambrose lashed out at the current national side after their nightmarish outing at Edgbaston, calling them "pathetic". Law expressed his disappointment with the veteran's remark and pleaded his boys to play to the best of their abilities. He also lauded Blackwood for his sensible innings and hailed him as somebody his teammates can draw inspiration from.
Stuart Law disappointed with Curtly Ambrose's criticism
Ambrose, who up till very recently was the bowling coach for the Windies, criticised the team for their insipid performance against England. Reacting to the fact that Ambrose had chosen to express his indignation in a British newspaper rather than directly to the players, Law said, "Curtly not long ago was the coach of this team so it is disappointing that criticism comes," as reported by the AFP.
To understand the shaken-up demeanour of the usually fearless Caribbean side, the absence of key senior players, a bitter dispute with their own board and a clash with the lucrative Caribbean Premier League Twenty20 tournament has to be taken into account.
What went wrong in the first Test match
Speaking about what went wrong with the team's performance and what remedial measures could be taken to prevent it from happening again, Law commented, "We have to understand why it is there. We are not performing as well as we want. What can we do? We have to get our noses down, our backsides up and play better. I believe in these young men. They have got high skills. It is just the experience of learning how to play in a very tough environment."
Lastly, he showered praise on the 25-year-old aggressive lower-middle order batsman, Jermaine Blackwood for his gritty, unbeaten knock of 79 runs in the first innings of the Test match.
"He showed a beautiful solid defence and hit the bad ball away, we can't ask much more. He is only 5ft 2in but he walks around like he is 10 foot tall and that is the sort of attitude that really warms my heart," the former Australian batsman said, hoping that Blackwood's teammates could draw inspiration from his intent.