West Indies and Zimbabwe coaches criticise DRS rule changes
Heath Streak was opined for having four or five reviews in Test cricket.
Updated - Nov 3, 2017 12:24 pm
747 Views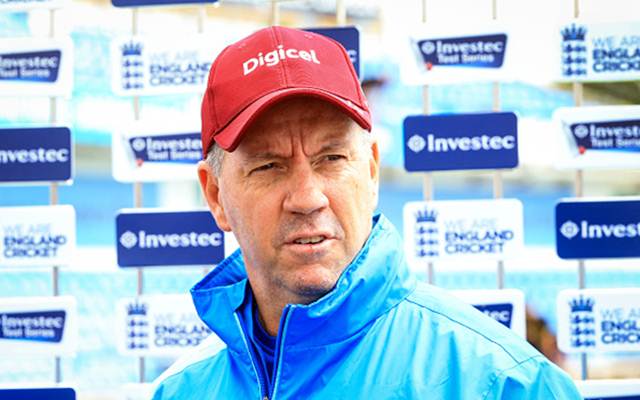 Follow us on Telegram
Zimbabwe and West Indies played out a hard-fought draw on Thursday in the second and final Test match of the series in Bulawayo. Both the teams were guilty of not having reviews up their sleeve when they required it the most. The hosts were reprieved as many as three times on the final day and only lost 3 wickets in the process. However, Stuart Law and Heath Streak, the coaches of Windies and Zimbabwe, have criticised the rule changes regarding Decision Review System (DRS) which were implemented in October.
International Cricket Council (ICC) decided the teams will retain their review in case of Umpire's call but also removed the system of them being topped up after every 80 overs in Test cricket which was previously the case. But they still have two unsuccessful reviews with them throughout the innings. Though in the just-concluded Test match, both the teams were left ruing their incorrect reviews as they didn't have one when it was most required.
If you have the machinery then use it
Law and Heath Streak came hard on the newly implemented rules and felt that the result of the match would have been different if the reviews had topped up after 80 overs. "To only be able to use (the DRS) for two incorrect appeals, I think, is ludicrous considering that you had $400,000 worth of machinery around and you can't use it. "I probably can't comment on that because I'll get into big trouble," Stuart Law said.
"To me that doesn't quite make sense. But we've got to be smarter and understand that we do only have two reviews. From my understanding, the technology has been incorporated to stop the absolute howler. Umpires are human and they make mistakes, we all do. But it's there to stop the howler and if there are decisions where you feel you've been hard done by and you're not able to use it, I think it's something that must be looked at," he continued.
Former Zimbabwe legend Streak also agreed to the opinion of his counterpart and said, "If you're going to spend that much money, I think four or five reviews should be necessary to get the correct decisions. I don't see any reason why they should limit it to only two." Moreover, his team had wasted their reviews when not needed and the captain of Zimbabwe Graeme Cremer admitted that they need to improve their usage of the reviews under the new rules.
Follow us on Google News