When Andrew Flintoff rushed from toilet to abuse Sourav Ganguly after his 99-run knock
It was Steve Harmison's Test debut and he got main man Dada for 99.
Updated - Jul 16, 2021 10:49 am
65.6K Views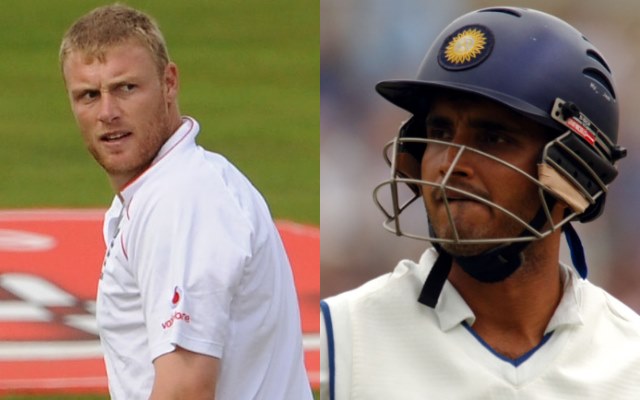 Follow us on Telegram
It is the intense rivalry between the players that always brings the best out of each other. It is either by abuse, a cold stare, or wild celebration from the bowlers which, frustrates the batters. One such duel was between Sourav Ganguly and Andrew Flintoff, which brought the best out of each other.
While Flintoff's name isn't surprising, Ganguly's is a bit, due to his otherwise calm demeanor while dealing with most of the players. The duo's rivalry dates back to the early 2000s when both were not best of friends. If the former England all-rounder ran amok at the Wankhede Stadium after winning the ODI match against India, then Ganguly went a notch further by waving his T-shirt at the Lord's balcony after winning the NatWest Final in 2002.
The duo would always want to come on top of each other and would try to give their level best to help their team win matches too. During one such Test match between the two teams in 2002, the then young fast bowler Steve Harmison, who made his Test debut in that particular game, dismissed Ganguly on 99, to deny him the much-deserving hundred. Now, Harmison opened up on this particular incident on Brad Hogg's show 'Test of Time'.
When he eventfully dismissed the southpaw, Flintoff was not there on the ground and gone off for a break. But as soon as he saw Ganguly got out, he made sure to run back from the toilet, just to abuse Dada and the duo exchanged heated words before Ganguly walked back to the pavilion.
Steve Harmison opens up on Andrew Flintoff and Sourav Ganguly rivalry
Although Ganguly came across as a tough competitor, he also made sure to be always aggressive on the field, which many cricketers didn't like.
"What was it with Sourav? He rubbed people off the wrong way. People didn't get along with Sourav Ganguly. I remember playing my debut and I got him out for 99 first ball of an over. Andrew Flintoff had just gone off to the toilet, and literally, Freddie ran the drinks back on to abuse Sourav as he was going back for 99. Ganguly is a lovely guy but it was just something about Sourav Ganguly that people did not get on with him," Harmison said on Hogg's YouTube channel.
Follow us on Google News