Who is the greatest left handed opener for India in ODIs
Ganguly, apart from being the favourite partner of the 'God' himself, was known for his excellent captaincy which changed the Indian cricket completely.
Updated - Jul 24, 2020 7:38 pm
4.1K Views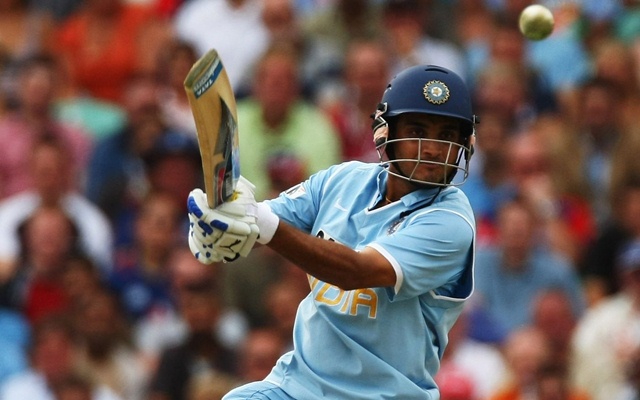 Follow us on Telegram
Left-handers have been one of the most beautiful and handy players with unique abilities since the initial days of cricket in India. Ajit Wadekar was the first left-hander to make his mark on world cricket. Yuvraj Singh, Suresh Raina, Rishabh Pant all of them are known for their six-hitting ability but it is always good to have an opening pair with a left-right combination.
In the 21st century, India have produced 3 excellent left-handed opening batsmen in ODIs who have ruled even the top-class bowling line ups. We are talking about Sourav Ganguly, Gautam Gambhir and Shikhar Dhawan. They have formed reliable and dangerous opening pairs with Tendulkar, Sehwag and Rohit respectively but more important was the class and elegance they have all around the wicket.
Ganguly, apart from being the favourite partner of the 'God' himself, was known for his excellent captaincy which changed the Indian cricket completely. Gambhir was known for being a big match player as he had produced his best innings while playing batting in 2 World Cup finals, making India champions on both the occasions.
Dhawan, the late bloomer in his career, is known for his hand-eye coordination and excellent strike in the early part of the innings. He also has a formidable record in ICC trophies which tells you how important he is for Team India.
Let's have a discussion on who is the best among them in ODIs:
Performance against the high performing pace attacks
The real test of an opening batsman is against the new ball. Australia, New Zealand, South Africa and England have had the best fast bowling line ups from last 20 years and Ganguly averages under 40 against all of them except South Africa against which he averages more the 50, even under 25 against the best team of his era i.e. Australia. Dhawan averages less than 35 against NZ and England but he averages more than 45 against Australia and almost 50 against South Africa.
Gambhir averages in mid 35 against both the Ashes rivals but averages 73 against New Zealand and just 15 against South Africa. However, Dhawan's strike-rate of more than 90 against all of them makes his way to the top and his excellent hand-eye coordination against the swinging deliveries makes him beautiful to watch.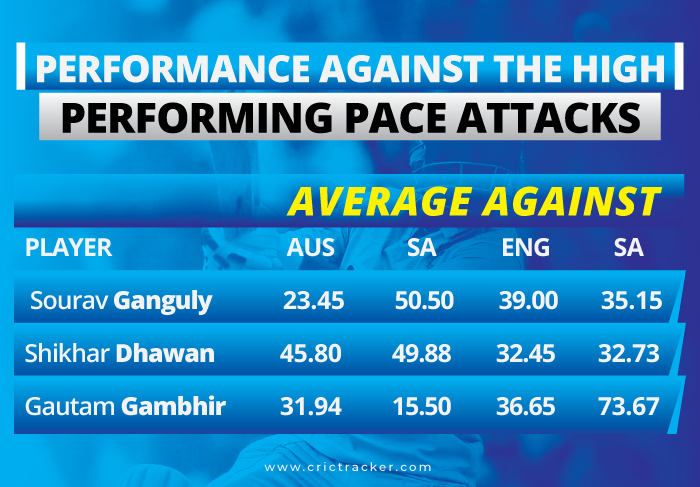 *Record against Pakistan are not counted as their bowling has dipped a lot during the recent times as compared to early 2000s.
Though the modern-day mentality of having a tornado start and new powerplay rules also impact the same.
Chasing and ICC trophies
The chasing have always been an art in limited over cricket. Though India always had great finishers during this century, openers are always needed to lay a perfect foundation for them.
Ganguly's average dips by just three runs(42.58 to 39.33) while chasing and his strike-rate remains the same of 73. Gambhir's average increases from 33 to 45 during chases and his strike-rate is also of a respectable 86. Dhawan averages 43 while chasing with the strike-rate of 93. This shows how good both Dhawan and Gambhir were while chasing which a must for a modern-day opener.
There is no doubt how well Dhawan has played in all ICC trophies he averages more than even Virat Kohli. Gambhir played excellent in the 2011 WC final but Dhawan has always been a class act in ICC events. His Man of the Tournament performance in CT 2013 played a major in India clinching the title.
Performance while chasing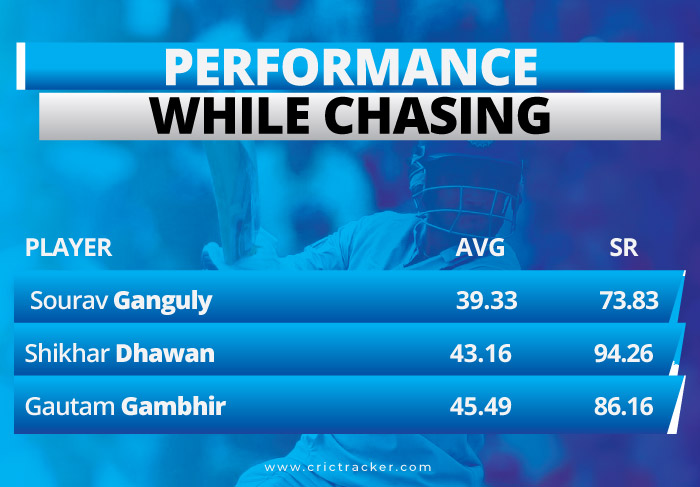 The overall picture
Ganguly had a strike-rate of the early 70s and an average of 41 while opening however the mindset, the bats, the powerplay rules, the pitches were not as batting friendly as now.
Gambhir's average of 39 and SR of 86 is great with his match-winning abilities and his contribution in winning us the world titles twice can't be denied. Dhawan's performance in the ICC events and his excellent average and strike-rate speak for themselves. He has always provided a quick start for Rohit and Virat to utilize in the later stage which is commendable.
An opener's role is to play a longer knock to make sure there is a set batsman throughout the innings and Dhawan's innings per hundred of 7.82 is far better than Ganguly's 12.42 and Gambhir's 11.37.
The whole analysis tells us that Ganguly and Gambhir were one the greats produced by India but Dhawan's excellent striking ability and his consistency is well above anyone. Whether Dhawan is the most underrated white-ball opener of India, let's keep this discussion for another day!
Follow us on Google News