Why Ajinkya Rahane deserves to be celebrated
In his Test career so far, Rahane has scored 12 hundreds. Out of his 12 hundreds, not even one of his three-figure scores has resulted in a loss for India.
Get every cricket updates! Follow us on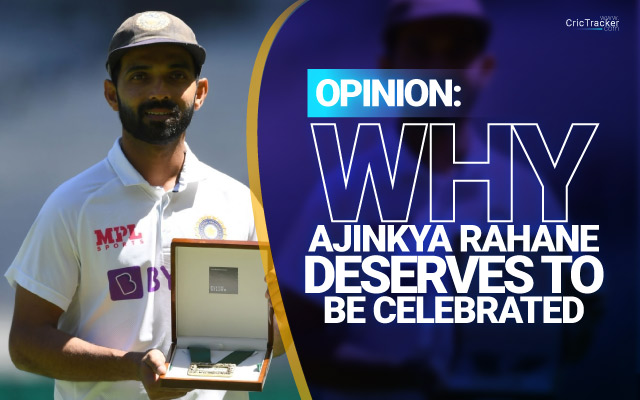 Exactly ten days ago, on 19th December 2020, Indian cricket went into an all-time low. One and half hours of crazy mayhem on the morning of Day Three at the Adelaide Oval meant that India recorded their lowest ever total in Test cricket. The second innings of the Indian side had lasted just 21.2 overs, and the visitors were bowled out for a paltry 36.
None of the Indian batsmen could even cross double figures in the second innings at Adelaide, as the fiery Australian pace attack sliced through the Indian batting line up to leave the side in shambles. To make matters worse, Indian skipper and batting talisman Virat Kohli had to immediately leave the tour for personal reasons, and their 'key' bowler, Mohammad Shami was ruled out of the second Test.
The Boxing Day Test at the iconic Melbourne Cricket Ground (MCG) came calling, and India had their backs against the wall.
Could India save further embarrassment at the MCG?
Could they put up a fight against a raging Australian bowling attack?
An innings of character from Rahane
The visitors started the second Test in a positive fashion, by bundling out the Aussies for a total of 195. All eyes were on the Indian batting line up now. How would they fare, sans their batting Superstar Virat Kohli?
India lost their opener, Mayank Agarwal, for a duck, and for a brief while, Shubman Gill dazzled with his effervescent stroke play. But then, India lost two wickets in quick succession and were in deep waters at 64/3. Pat Cummins had his tail up after having scalped both Gill and Cheteshwar Pujara in the space of two overs.
It was at this stage that Ajinkya Rahane put his hand up and played an innings of character. At the beginning of his knock, Rahane was more content with getting his eye in. However, when the opportunity presented itself, he latched onto it. When Josh Hazlewood bowled a short delivery on his hips, the diminutive right-hander swiveled onto his backfoot and pulled him past square leg into the boundary.
Of course, there were also moments when the Aussies roughed him up. There were a few edges that went past the slip cordon, and a few deliveries where Rahane did not look comfortable.
But, he hung on.
When the tall Cameron Green delivered a low full toss, Rahane punched the ball with ease down the ground. The 32-year-old brought up his fifty with a flick off Mitchell Starc. When the wily Nathan Lyon tossed the ball up, Rahane danced down the track and hit him against the spin past cover for a boundary. Rahane stood up when it mattered, he stood up at a time when the Aussies were trying to obtain a stranglehold of the Test.
The stand-in-skipper got to his hundred with a sizzling square cut that raced past point. It was a hundred scored against probably the best pace attack that a visiting batsman could face in the modern era. In the absence of Kohli, Rahane stood up. He showed what India had lacked in the first Test- CHARACTER.
Even in the second innings, when India were reduced to 19/2 in pursuit of a paltry target of 70, Rahane again came to the fore and scored an unbeaten 27*. He allowed India to script a famous win on Australian soil, at a time when even the staunchest Indian fan would have written the side off after the debacle at Adelaide.
The importance of Rahane
Let us get a fact out of the way first. In his Test career so far, Rahane has scored 12 hundreds. Out of his 12 hundreds, not even one of his three-figure scores has resulted in a loss for India.
In the table below, let us compare Rahane's centuries in a win or a draw as against two of the celebrated batting behemoths of the Indian Test side- Virat Kohli and Cheteshwar Pujara.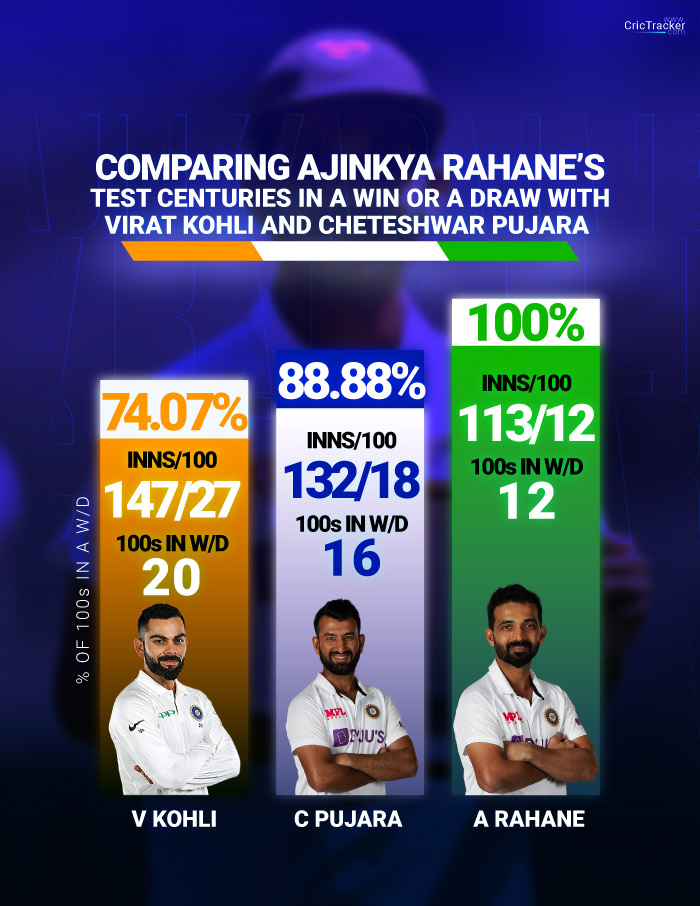 From the above table, we can see the impact that Rahane has created every time he has scored a hundred in the whites. While Kohli has only 74.07% of his Test hundreds resulting in a win or a draw, and Pujara has scored 88.88% of his three-figure scores in a win or a draw, Rahane's record is mind-numbing. Out of Rahane's 12 Test hundreds, there has not been a single hundred of his that has resulted in a loss for his country.
Rahane has a perfect 100% record in terms of his hundreds helping his side to win or draw a game. Also, out of his 12 hundreds, 8 of them have come away from home, and his hundreds have resulted in a victory for India in places as diverse as England, Australia and the West Indies.
Now, let us analyze the numbers of these three batsmen in Tests won or drawn away from home.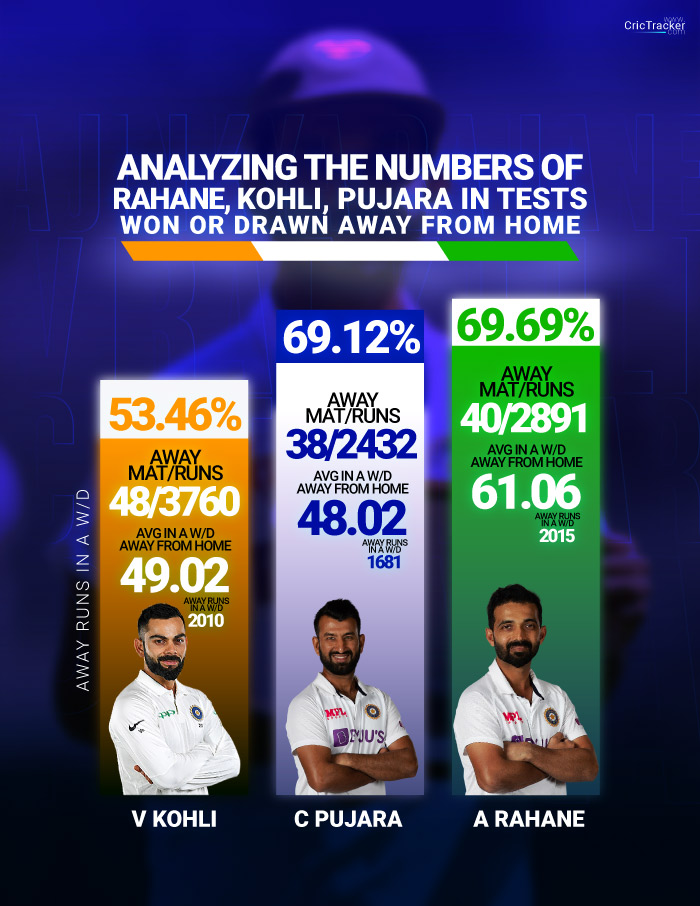 From the above table, we can see that Rahane clearly pips the other two. Rahane has scored the most number of runs away from home in won or drawn Tests Tests among the trio. Also, 69.69% of his away runs in Tests have resulted in a win or a draw for India.
However, the biggest factor that allows Rahane to dwarf the other two batsmen is his average in a win or a draw away from home. While Kohli and Pujara average 49.02 and 48.02 respectively, Rahane averages a colossal 61.06 in Tests won or drawn by India away from home.
Why Rahane should be celebrated
In the last decade, the spotlight has mainly been on Kohli and Pujara as far as batting in Test matches is concerned. Kohli is revered for the class he oozes at the crease, while Pujara is hailed for the solidity that he exhibits in the middle.
But then, the diminutive Rahane has proved that he too, is as important to the fortunes of the Indian side like his illustrious teammates. And, his scintillating hundred in Melbourne stands testimony to the same.
Note: All the stats have been taken from Howstat cricket, Cricinfo and have been updated as of 29th December 2020