'Why you looked at me, you are small' – Khaled Mahmud recalls when Wasim Akram 'insulted' him in the 1999 World Cup
Mahmud was the Player of the Match in Bangladesh's historic match against Pakistan in the 1999 World Cup.
Updated - May 15, 2020 11:56 am
8.1K Views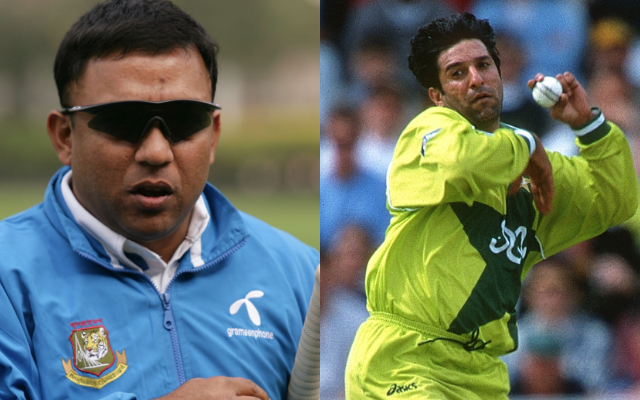 Khaled Mahmud, the former Bangladesh all-rounder, went down the memory lane and recalled an incident when he had an altercation with the legendary Wasim Akram. The occurring took place in the match against Pakistan at the County Ground in Northampton during the 2019 World Cup. Mahmud, who won the Player of the Match, tried to ruffle Akram's feather.
The medium pacer picked up the wickets of Shahid Afridi, Inzamam-ul-Haq and Saleem Malik to exert pressure on the Pakistan batting unit. And then, he gave Akram a stare in an over where the left-hander drove the pacer for a four down the ground.
"I took 3 wickets against Pakistan in the 1999 World Cup and they were under pressure. We had nothing to lose at that time. Wasim Akram played an over of me. I conceded a four in that over on straight drive. I looked him in the eye from the first ball of the over," Mahmud was quoted as saying by BDcrictime.
I showed aggression with my eyes: Khaled Mahmud
To start with, Mahmud wasn't comfortable to sledge Akram. However, the then Tigers' bowling coach motivated him to show his aggression in the match. Mahmud said that Akram insulted him, calling him 'small'. Despite the hiding, Mahmud didn't budge and again looked Akram in the eye.
"There was a reason, we had a bowling coach … I forgot the name. In fact, one day in front of him, I was bowling to Shahriar Hossain in the nets. Shahriar played a great shot. I praised his shot but the coach asked me 'can you go to the match and say that?' I told him 'no, it's impossible'. Then he said 'just show your aggression with your eyes'," he mentioned.
"I used that towards Wasim Akram. I showed him aggression with eyes. Then he insulted me and said, 'why you looked at me, you are small'. Then I did it again and he scolded me again," Mahmud added.
It was Bangladesh's maiden appearance in a World Cup. The Tigers, led by Aminul Islam Bulbul, defeated the finalists Pakistan by 62 runs, bowling the opposition out for 161 in 44.3 overs. Akram got 29 off 52 before falling prey to Minhajul Abedin.