Will play 2023 World Cup if MS Dhoni is still around, says AB de Villiers
AB De Villiers says he was keen to play World Cup 2019, but because of his on and off form, he had to pull himself out.
Updated - May 18, 2019 12:27 pm
28.2K Views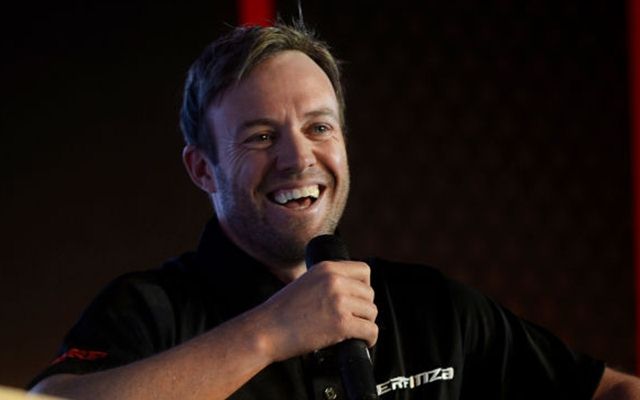 Follow us on Google News
Who would not like to see AB de Villiers donning the South Africa jersey again and light up the World Cup? De Villiers played three 50-over World Cups before retiring in 2018. And in all those three tournaments, he managed to leave a big mark. In the 2007 World Cup, he scored his maiden ODI hundred when he slammed a monumental 146 against West Indies. He scored another ton against West Indies in the 2011 World Cup before hitting a historic 162 from just 66 balls against the same opposition in the last edition of the tournament.
De Villiers will not play the upcoming World Cup, starting May 30 but there are chances he might play the next one in 2023. The former South Africa skipper didn't rule out being part of the 2023 tournament if he's 'still good enough'. In a freewheeling chat with Gaurav Kapur on his talk show 'Breakfast with Champions', De Villiers opened up on his chances of playing another World Cup.
Towards the end of the interview, Gaurav asked De Villiers if he would fancy playing the 2023 World Cup. De Villiers could not control his laughter and come up with a funny reply, The Proteas legend quipped that he would play the World Cup if India's MS Dhoni was also part of it.
"How old will I be (in 2023)? 39! I'll come back if MS (Dhoni) is still around (laughs). If I'm still good enough, who knows eh? I was keen to play the World Cup (2019) but I retired, so it was a very sensitive situation. For the last 3 years of my career, I was labelled as a guy who was picking and choosing when I was playing and when not," said De Villiers.
"So I got quite a lot of criticism from back home which also played a role in me retiring. And it was difficult for me to then go: 'Hey, but I'll still play the World Cup'. You know, it's the picking and choosing thing again. And it's quite arrogant to do something like that. But as they say, you can't have your bread buttered on both sides," he added.
De Villiers on being the team man
De Villiers also said that for him the team was always the first priority and it played an important role in his decision to retire. He also said that 'there' a lot of reasons' that made him move on but did not reveal the details about them. His young family and the stress of playing international cricket for 15 years also played a major role in his decision.
"I've always been about the team, it's never been about myself. But I found myself in a position where I had to make a decision where it's going to look like I'm thinking about just myself. There's a lot of reasons I had to move on. There's a lot of things that played a role. Family is definitely a big part of it. The longevity of, like, I mean, I've played for 15 years. I was tired of the whole international scene. It's quite busy. Very stressful," said De Villiers.
Follow us on Telegram