'Will try to pick his brain and learn more' – Ravi Bishnoi eagerly awaits to spend time with Anil Kumble in IPL 2020
Bishnoi, who hails from Rajasthan, will be playing in the IPL this season as a member of Kings XI Punjab who bought him for Rs 2 crore.
Updated - Feb 14, 2020 5:36 pm
872 Views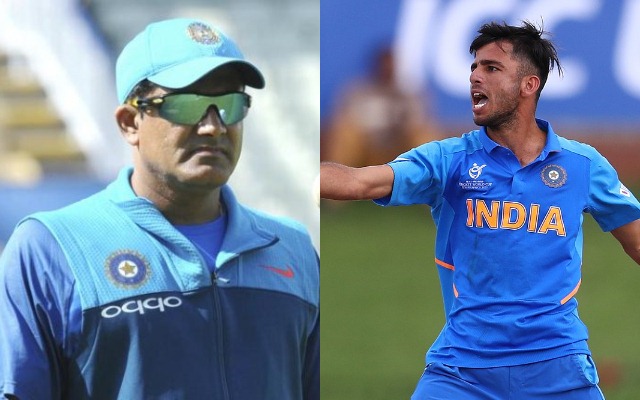 Leg-spinner Ravi Bishnoi tried his best to give India yet another U-19 World Cup last Sunday in Potchefstroom by taking four quick Bangladesh wickets but it was not enough in the end. The 19-year-old finished with the figures of 4/30 to become the tournament's highest wicket-taker with 17 scalps and there are talks already that he would soon replace Yuzvendra Chahal in the senior side.
But the youngster is in no mood to rush and looking forward to spending time with former India leggie Anil Kumble during the Indian Premier League (IPL) this year.
Bishnoi, who has also come under the scanner because of post-final fracas with the Bangladesh players, said he is now only aiming to pick the brain of India's most successful international bowler and learn the maximum from him. Bishnoi, who made his List 'A' debut last September, picked as many as three four-wicket hauls in the U19 World Cup with the best of four for five against Japan in Bloemfontein.
"I am very excited that I will get to spend quality time with none other than Anil Kumble Sir during the IPL and my only lookout is to pick his brain and learn as much as I can. I will look to stay around him and work on the finer areas of my bowling under his guidance." Timesnownews cited agencies quoting Bishnoi as saying.
Ravi Bishnoi refuses to comment on U19 WC final ruckus
Bishnoi, who earned a place in the ICC team of the 2020 U-19 World Cup, said winning matches for his country was his only motive when he took the field in South Africa. "I wasn't there for records. My aim was to win my team games and ultimately come back with the trophy. It was always on my mind that every time I take the field, I should contribute in a manner that we come out triumphant at the end of the game," the youngster said.
When asked about the team's failure to cross the final hurdle, Bishnoi said to say a "little disappointed" would be an understatement and that it will continue to haunt him for days to come. "We did well right through, but winning the final would have been the perfect way to end," added the leg-spinner.
When asked about the post-match clashes that saw five players from both sides getting sanctioned by the ICC, Bishnoi chose not to comment on that and said it was past and he didn't want to get into it. Bishnoi, who hails from Rajasthan, will be playing in the IPL this season as a member of Kings XI Punjab who bought him for Rs 2 crore.
Watch: Irfan Pathan's interview post his retirement