With political ties at a standstill, UAE is uniting many cricket loving India-Pakistan couples
India-Pakistan fans in the UAE are in luck this time.
Updated - Sep 22, 2018 6:32 pm
522 Views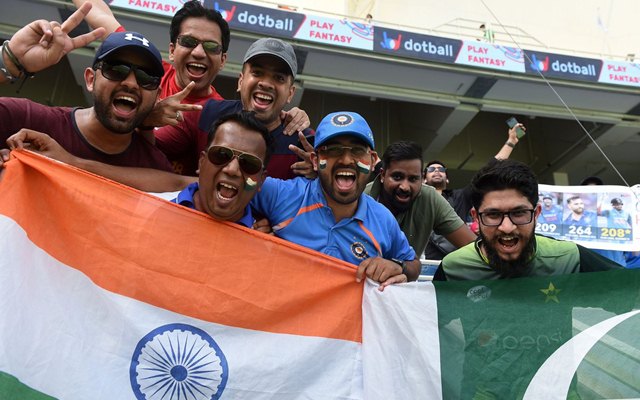 Follow us on Google News
India and Pakistan are arch-rivals on the field, the two countries are at loggerheads most times with little political and diplomatic cooperation. However, same is not the case with the people from the nations. There are several across the border love stories none more famous than Sania Mirza and Shoaib Malik and the advent of the internet has certainly helped the cause for the commoners as well. Most such couples opt to live at a neutral location and the UAE is certainly a preferred option.
The Asia Cup 2018 was to be hosted by the BCCI but since they cannot invite Pakistan to their country it was moved out to the UAE. A lot of India-Pakistan couples have turned up for the matches in Dubai and Abu Dhabi thus it has been a treat for the locals. The couples have made peace with the fact that both of them will support different teams and thus hasn't affected their love relationship in any way.
Mumbai-Lahore love story
Kasim Vakkil an Indian and his wife Ghazala who hails from Pakistan had to move to the UAE from Mumbai and Lahore to make the marriage work.
"My marriage would not have been possible if we were not living in UAE," Kasim was quoted as saying on NDTV. "Ghazala is from Lahore and I am from Mumbai but living at this neutral venue made our marriage possible."
It was cricket that brought them together. Kasim met Ghazala's father during a game between Pakistan and South Africa in the UAE.
"I went to watch a match between Pakistan and South Africa in 2014 where I met Ghazala's father which became the first step towards our proposal," he added.
The fact that Pakistan had to move their home matches to the UAE has given such fans more opportunities to watch their favourite players in action than they would've imagined and Kasim has nothing to complain about.
"I would not have imagined watching Pakistani cricketers like Shahid Afridi, Abdul Razzaq and Mohammad Amir before my own eyes but it became possible since UAE became a neutral venue for the Pakistan team."
India-Pak game brings nostalgia
They watched India play Pakistan for the first time since the Champions Trophy on September 19 and it brought back nostalgia for Ghazala.
"Now with India and Pakistan playing in UAE for the Asian title it has given us double joy as we get to see players from both the countries which gives us a nostalgic feeling," she said.
Team India will play Pakistan once again on September 23 and if the current form is any indication the two teams will meet for the third time in the final of the tournament.
[interaction id="5ba35646d6d3b0173ce76bab"]
Follow us on Telegram