World Cup 2019: 3 Teams that could miss out on a semi-final berth due to rain
Here is a list of three teams whose hopes of making it to the ICC Cricket World Cup 2019's semi-finals might be affected by rain.
Updated - Mar 16, 2020 6:41 pm
78.9K Views
Follow us on Telegram
Before the start of the ICC Cricket World Cup 2019, the greatest cricketing spectacle on earth, many pundits predicted it to be the best World Cup ever. They had a very strong reason to back their claim, because this time around, only 10 teams are playing in the tournament, and each team is playing every other team. That implies, no dull matches and more cricketing action.
But hardly ten days into the tournament and fans have termed this as the worst World Cup of them all. Not the teams but nature is to be blamed, as instead of raining fours and sixes, it is raining cats and dogs in England. We have had only 19 matches thus far, and four of them have been wiped out. Besides that, rain is also hampering the chances of every team's promotion to semi-finals in a cruel manner.
Let us have a look at three teams that could miss out on a semi-final berth due to rain
1. West Indies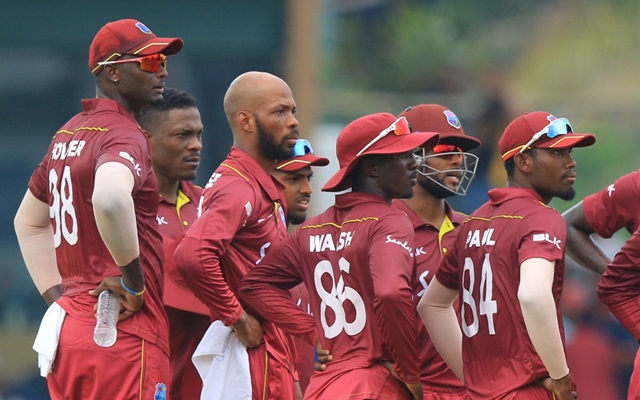 Though the Windies team features many superstars, not many considered them as a potential semi-finalist going into the tournament. But the way the demolished Pakistan in their very first match put the other teams on high alert. They lost their second match against mighty Australia, but it was a very narrow defeat. Hence, going into their third match against a South African team that was extremely down in morale, the big guys from the Caribbean were quite hopeful.
As expected, West Indies started the game superbly by taking two wickets within the seventh over. Unfortunately, a golden opportunity to get their second win was spoiled by the rain gods. As of their upcoming matches are concerned, there are 65% chances of rain in the crucial game against India on June 27.
On 1st July, Jason Holder's men are scheduled to play against Sri Lanka, a match where they are the outright favourites. Look away, West Indies fans, because there are 66% chances of rain on that day at Chester-le-Street. Also, on 4th July, they are scheduled to lock horns against backbencher Afghanistan. Nature apparently is not too fond of the men in red, as the chances of rain during that match is 57%. Hence, we can say that West Indies might end up losing a semi-final spot because of rain.
Follow us on Google News