World Cup 2019: Timeline of Ambati Rayudu's career from scratch to being a standby in India's squad
Rayudu's 15-month journey heading into the World Cup squad selection.
Updated - Apr 19, 2019 4:23 pm
592 Views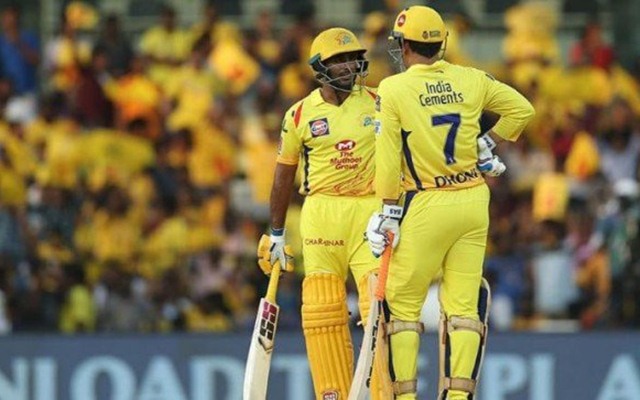 If there was one player who was affected the most by the selection of India's World Cup squad, it was Ambati Rayudu. This was probably the last chance for him to feature in a World Cup. The 33-year-old couldn't get an opportunity to prove himself despite his presence at the 2015 CWC squad. The middle-order batsman came into the scene as a No. 4 option about 12 months ago.
Things were going on his way until the end of 2018 with his consistent performances. The series in New Zealand earlier this year nearly confirmed him in the starting XI as No. 4. However, the home and away series against Australia exposed his incapability of facing quality pace. Rayudu couldn't do any better at the IPL, ended up losing the place to Vijay Shankar from being a sure shot No. 4 until a few months ago.
Here is the timeline of Ambati Rayudu's 15-month journey heading to WC selection
February-March, 2018
After being part of controversial on-field and off-field incidents during the 2017/18 season, Rayudu was bought by Chennai Super Kings in the IPL 2018 auction. He geared up for the tournament by leading the Hyderabad team to Vijay Hazare Trophy semi-final. He scored 216 runs with help of two fifties across five innings in that tournament at an average of 43.20.
April-May, 2018
Ambati Rayudu was the first player to join the CSK practice camp ahead of the IPL 2018. He ended up as the 4th highest run-getter of the tournament and the highest for CSK. Rayudu scored 602 runs at an average of 43 and at an S/R of 149.75. He struck three fifties and also hit his maiden Twenty20 ton. Rayudu's flexibility in the CSK line-up was hailed as he was consistent throughout the despite moving up and down.
May 8, 2018
Following his exploits, Rayudu was called back into the Indian ODI squad for the first time in nearly two years. He was picked for the 3-match ODI series in England and was expected to bat at No.4 straight-away.
June 16, 2018
BCCI made the yo-yo Test compulsory to be part of any Indian squad. On June 16th, they announced that Suresh Raina will replace Rayudu for the England ODI series as the right-hander failed the yo-yo Test.
August 2018
Rayudu cleared the yo-yo Test and fought his way back for Asia Cup which was held in UAE. He scored 187 runs across four innings in the 'A' team quadrangular tournament held in Bangalore with help of two fifties. Only Manish Pandey (306) and Mayank Agarwal (236) scored more runs in that tournament.
September 1, 2018
He was named in the India squad for the Asia Cup. He was set to bat at No.3 or No.4 with Virat Kohli rested from this tournament.
Asia Cup 2018
Rayudu played his first ODI in nearly 27 months at the Asia Cup. He scored 175 runs in six innings while batting in the top three positions. He averaged 43.75 in that tournament with two fifties.
India vs Windies in October 2018
Rayudu continued his form in the home ODI series against Windies where he aggregated 217 runs at an average of 72.33 across four innings. He struck a century during the crucial 4th ODI and also scored a fifty.
October 29, 2018
During the 4th ODI played in Mumbai, Rayudu scored a quick-fire hundred against the Windies. He shared a crucial stand with Rohit Sharma that helped India to take a 2-1 lead. After the game, Virat Kohli praised Rayudu's batting and backed him to be in the CWC squad.
"Happy that someone (Rayudu) with intelligence is batting at number four. We need to back him till 2019 World Cup," said Kohli in the post-match presentation.
November 3, 2018
After ODI series, Ambati Rayudu was set to lead Hyderabad in the Ranji Trophy from the 2nd round. A couple of days after the series, he announced his retirement from first-class cricket to focus on white-ball career.
ODI series in Australia in January 2019
After spending nearly two months away from the game, Rayudu struggled to get going against Australia in 3-match ODI series. He scored 0 and 24 in the first two matches and his performance against pacers looked a worrying factor. He was later dropped from the playing XI of the 3rd ODI.
ODI series in New Zealand in January-February, 2019
Rayudu returned to the playing XI in the series against New Zealand. He finished as top scorer in the 5-match series as he scored 190 runs across five innings at an average of 63.33. He survived through the tricky period against the Kiwi pacers to score 90 in the 5th ODI and was named as the player of the match.
January 28, 2019
India had a run riot in three ODI matches in which Rayudu finished off with an unbeaten 42-ball 40 not out along with Dinesh Karthik. After the game, Virat Kohli said, "When he (Rayudu) starts playing like that, you start feeling more confident."
Home ODI series against Australia in March 2019
The home ODI series against Australia was the last international assignment for India prior to the World Cup. Rayudu's performance wasn't up to the mark as he scored 13, 18 and 2 in first three matches of the series. His batting against the quality pacers was once again under scrutiny. The 33-year-old was eventually dropped from the last two matches of the series.
IPL 2019 in March-April
After a forgettable ODI series, Rayudu failed to utilize the IPL as he scored only 138 runs from 8 innings until the selection day. He scored those runs at an average of 19.71 and S/R of 86.25 with only one fifty. Playing at the slow Chennai wickets also didn't help Rayudu's case to put on impressive performances.
April 15, 2019
Ambati Rayudu failed to make a cut into India's World Cup 15-member squad. Speaking of Rayudu, chief selector MSK Prasad said "It's not anything that went against him. It's only the thing that went in favour of Vijay Shankar because he adds a bit more dimensions to that role and with his fielding and bowling abilities. That's where he scored ahead of him."
April 16, 2019
A day after his exclusion, Ambati Rayudu came up with a sarcastic tweet that he is ready to watch the World Cup with 3d glasses. It was subtle dig over what the chief selector said MSK said about Vijay Shankar's three-dimensional skills which helped the all-rounder edge over Rayudu in final 15.
April 17, 2019
Rayudu was named among the standbys for India's 2019 World Cup squad. He along with Rishabh Pant and Navdeep Saini will be among the first ones to replace an injured player in the squad.