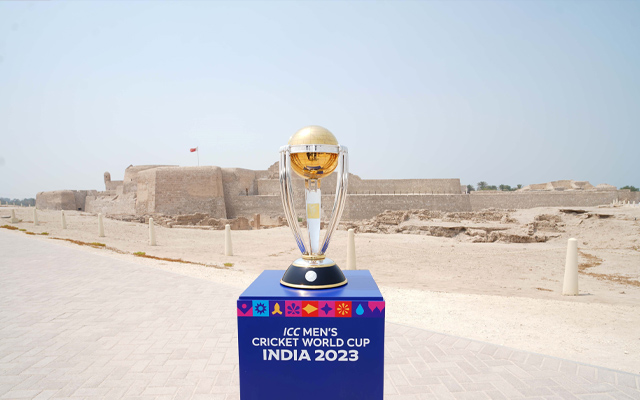 The eagerly-anticipated 2023 ODI World Cup is all set to commence on October 5, as defending champions England will lock horns with New Zealand in a recap of the 2019 final in the curtain raiser. With 12 editions played previously, Australia have been the most successful side, having won the title a record-extending five times.
It is worth noting that Australia and West Indies are the only two teams to have won the titles in consecutive years. While West Indies clinched back-to-back titles in 1975 and 1979, Australia won it thrice on the trot in 1999, 2003, and 2007.
Sri Lanka, as the co-host of the 1996 World Cup, became the first host nation to lift the trophy. The dominant Aussies have reached seven of the 12 finals played thus far whereas New Zealand are yet to lift the title despite coming close as runners-up two times in 2015 and 2019.
The BCCI and the ICC announced the much-awaited ODI World Cup Schedule on Tuesday, June 27, and as many as 10 cities have been confirmed to host the marquee event. It is worth noting that team India have won the coveted title twice thus far, in the years 1983 and 2011.
Speaking about the format of the forthcoming event, each of the 10 teams will play every other team in a round-robin fashion. The top four teams in the ODI World Cup Points Table will then progress to the knockout stages, slated to begin on November 15 and the final to be played at the Narendra Modi Stadium on November 19.
ODI Cricket World Cup Winners & Runners List
| | | | | | |
| --- | --- | --- | --- | --- | --- |
| Year | Host | Winner | Score | Runner-Up | Score |
| 1975 | England | West Indies | 291–8 | Australia | 274 |
| 1979 | England | West Indies | 286–9 | England | 194 |
| 1983 | England | India | 183 | West Indies | 140 |
| 1987 | India and Pakistan | Australia | 253–5 | England | 246–8 |
| 1992 | Australia and New Zealand | Pakistan | 249–6 | England | 227 |
| 1996 | Pakistan, India and Sri Lanka | Sri Lanka | 245–3 | Australia | 241 |
| 1999 | England | Australia | 133–2 | Pakistan | 132 |
| 2003 | South Africa | Australia | 359–2 | India | 234 |
| 2007 | West Indies | Australia | 281–4 | Sri Lanka | 215–8 |
| 2011 | India, Bangladesh & Sri Lanka | India | 277–4 | Sri Lanka | 274–6 |
| 2015 | Australia and New Zealand | Australia | 186–3 | New Zealand | 183 |
| 2019 | England and Wales | England | 241 | New Zealand | 241–8 |
| 2023 | - | - | - | - | - |
ODI Cricket World Cup Winners List with Captain, Man of the Match, and Player of the Series
| | | | | |
| --- | --- | --- | --- | --- |
| Year | Winner | Captain | Man of the Match | Player of the Tournament |
| 1975 | West Indies | Clive Lloyd | Clive Lloyd | - |
| 1979 | West Indies | Clive Lloyd | Viv Richards | - |
| 1983 | India | Kapil Dev | Mohinder Amarnath | - |
| 1987 | Australia | Allan Border | David Boon | - |
| 1992 | Pakistan | Imran Khan | Wasim Akram | Martin Crowe |
| 1996 | Sri Lanka | Arjuna Ranatunga | Aravinda de Silva | Sanath Jayasuriya |
| 1999 | Australia | Steve Waugh | Shane Warne | Lance Klusener |
| 2003 | Australia | Ricky Ponting | Ricky Ponting | Sachin Tendulkar |
| 2007 | Australia | Ricky Ponting | Adam Gilchrist | Glenn McGrath |
| 2011 | India | MS Dhoni | Mahendra Singh Dhoni | Yuvraj Singh |
| 2015 | Australia | Michale Clarke | James Faulkner | Micthell Strac |
| 2019 | England | Eion Morgan | Ben Stokes | Kane Williamson |
| 2023 | - | - | - | - |
Most Titles Wins in ODI Cricket World Cup
| | | |
| --- | --- | --- |
| World Cup Team | World Cup Trophy | World Cup Winner |
| Australia | 5 Times | 1987,1999,2003,2007,2015 |
| India | 2 Times | 1983,2011 |
| West Indies | 2 Times | 1975,1979 |
| Sri Lanka | 1 Time | 1996 |
| Pakistan | 1 Time | 1992 |
| England | 1 Time | 2019 |
*Last Updated on 18th September, 2023