After AB de Villiers' 360-degree batting, a bowler comes up with 360-degree bowling run-up
The on-field umpire immediately called it a 'dead-ball'.
Updated - Nov 8, 2018 1:14 pm
3.6K Views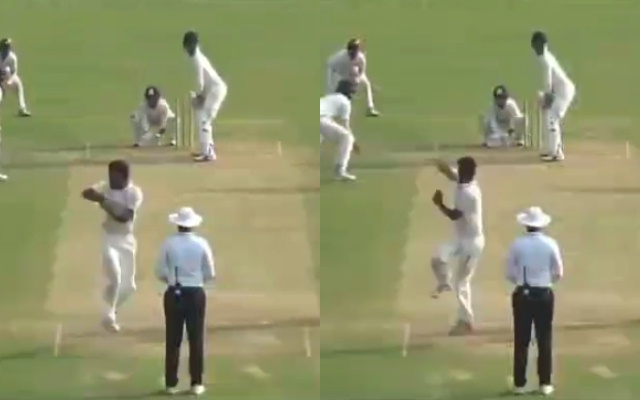 Follow us on Telegram
Cricket has become a batsman's game over the years and it has become paramount for the bowlers to churn out variations in order to curb the batsmen from unleashing their range of strokes on the cricket pitch. Recently, a spinner from Botswana by the name of Mmoloki Mooketsi came up with an action where he took a couple of small steps before sending down the ball.
The world has also been a witness to some indifferent action at the international circuit. Former South Africa spinner Paul Adams used to twist his entire body while bowling. A decade ago, Sri Lankan fast bowler introduced a delivery where the ball was delivered from a side angle owing to which it was difficult for any new batsmen to read him in the initial stages.
Another indifferent bowling action
Even the current Indian team has Jasprit Bumrah, who doesn't have a conventional bowling action. Recently, another such bowling action hit the scenes. In a domestic match in India, a left-arm spinner turned his entire body around while bowling. From the video, it seemed as if he's a fan of the Proteas great AB de Villiers, who is popularly known as Mr. 360 degree.
Also, it was surprising how despite having the peculiar action, he bowled it with sheer accuracy. The leather pitched on and around the middle and leg stump and the batsmen made a forward push to pat the red cherry straight to the short leg fielder. Quite expectantly, everyone on the field was taken aback by the occurring. The on-field umpire immediately called it a 'dead-ball'.
The wicketkeeper and the close-in fielders came towards the umpire to get more clarity on the reasons behind its illegitimacy. The umpire remained unfazed and clearly suggested to the bowler that such an action isn't permitted. Moreover, he also asked the players to carry on with the game.
Here is the video
Follow us on Google News