Chris Gayle in trouble for his controversial statements against Ramnaresh Sarwan and Jamaica Tallawahs
According to CWI President Ricky Skerritt, Gayle brought the league into disrepute with his comments.
Updated - May 13, 2020 8:18 pm
897 Views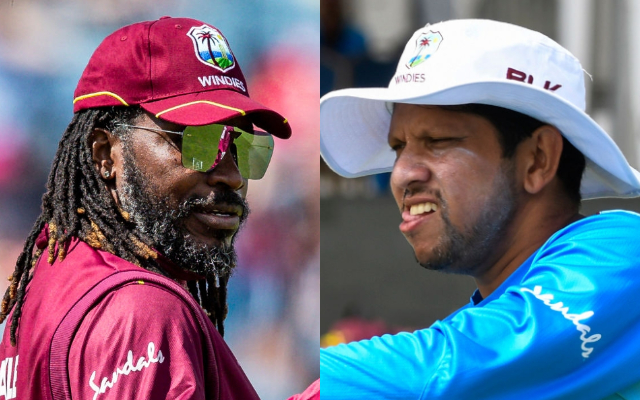 West Indies batsman Chris Gayle recently invited controversy after Jamaica Tallawahs didn't retain him for the upcoming Caribbean Premier League (CPL) season. He alleged Ramnaresh Sarwan to play a role in him getting released and termed him 'dangerous than Coronavirus' in a Youtube video. Cricket West Indies President Ricky Skerritt has now responded to it stating that Gayle won't go unpunished for his statements.
Apart from Sarwan, the Universe Boss had also taken a dig at franchise chief executive Jeff Miller and and owner Krish Persaud for playing a game with him. Gayle had signed a three-year contract last year with the Tallawahs but the team didn't do well ending up at the last position in the points table. Following the poor show, the management took a decision not to retain him according to the franchise's released statement.
Skerritt, while speaking about the controversy to ESPNCricinfo, stated that Chris Gayle is answerable to the CPL as he is a contracted player. According to the contract, a cricketer cannot bring the league into disrepute with his actions. He also mentioned that if the southpaw was retired player, he would've been spared citing him as an outsider critic.
"If however, a player is contracted to a club or a franchise or to Cricket West Indies, then (due to) the contract they have signed, that kind of behaviour brings that contract to some level of disrepute. So I would expect that this most recent matter is not over. But my point is I think Chris is going to face…I'm sure there's some kind of discussion taking place at the moment between Chris and the CPL because Chris is signed into a franchise team," he said.
Chris Gayle is still connected to CWI through CPL
Chris Gayle isn't centrally contracted with Cricket West Indies but Ricky Skerritt pointed out that he is still connected to the board through CPL. For the same reason, CWI did have 'watching interest' in the matter and he will now have to go through the process for not adhering to the contract.
"If he was on contract with Cricket West Indies, and to a certain extent it is by being in the CPL, so we kind of have a watching interest. But we'll wait and see what happens. Look, am not condoning Chris, am not judging Chris. Chris clearly has a number of concerns on his mind and he decided to go public.
"Personally I think that was unfortunate, but the process will have to take its course and that process will get triggered because he is a contracted player in the CPL within the West Indies league," CWI President added. Chris Gayle is set to play for the St Lucia franchise in the upcoming CPL season under Darren Sammy's leadership.