CoA advices Virat Kohli to stay humble
Kohli's recent controversial comment is the reason.
Updated - Nov 17, 2018 11:24 am
6.4K Views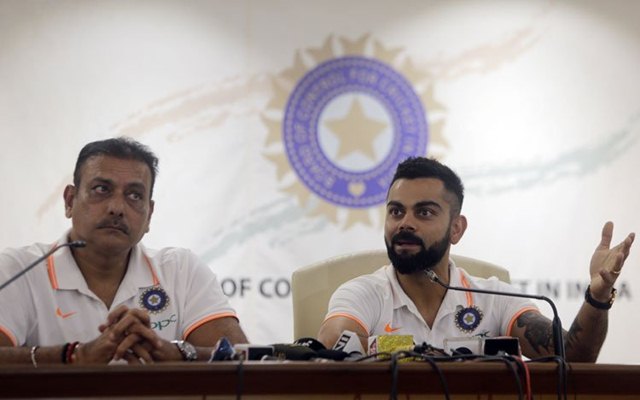 Despite all his heroics with the bat, the Indian captain Virat Kohli has always been in the news for the wrong reasons. Recently, his reaction to a fan's comment of liking the players from other countries had irked many and the outrage on social media was huge. Kohli also clarified his stance on the same but clearly he didn't agree that it was a mistake on his part.
Meanwhile, the Supreme Court-appointed Committee of Adminstrators (CoA) is supposed to have adviced the Indian captain to behave properly. They have instructed Kohli to conduct with humility during Australia tour which is all set to get underway on November 21.
CoA member instructs Kohli on WhatsApp
One of the CoA members took to the chat application WhatsApp in order to get connected to Virat Kohli in the days lead up to Team India's departure for Australia. The interaction between them was all about being civil and courteous while confronting media and fans down under. He was also told to behave in a manner which befits the captain of the Indian team.
"He was told to be humble, in his interactions both with the press and the public," a CoA official was quoted as saying by Mumbai Mirror. The chat was also followed by a phone call in which the same was reiterated to Virat Kohli probably in strict words it seems.
The change in Kohli's demeanour was straight away visible during the press conference before embarking on Australia tour. His subdued behaviour while speaking to the reporters was a testament to it. Though Kohli's actual response to the CoA's suggestion is not known yet.
What was the controversy?
Virat Kohli, on the occasion of his birthday, responded to some of the fans' comments on his official application in a video. While doing the same, he across a comment which stated that the fan doesn't see anything special in his batting and would rather prefer watching England and Australian players. In response to this, Kohli, probably not in a cheeky manner, said that the fan shouldn't live in India.
The reaction created controversy with many prominent celebrities lashing out at the Indian captain after which Kohli himself had to clear the air.
[interaction id="5bea2f5b9075635e44f8e752″]